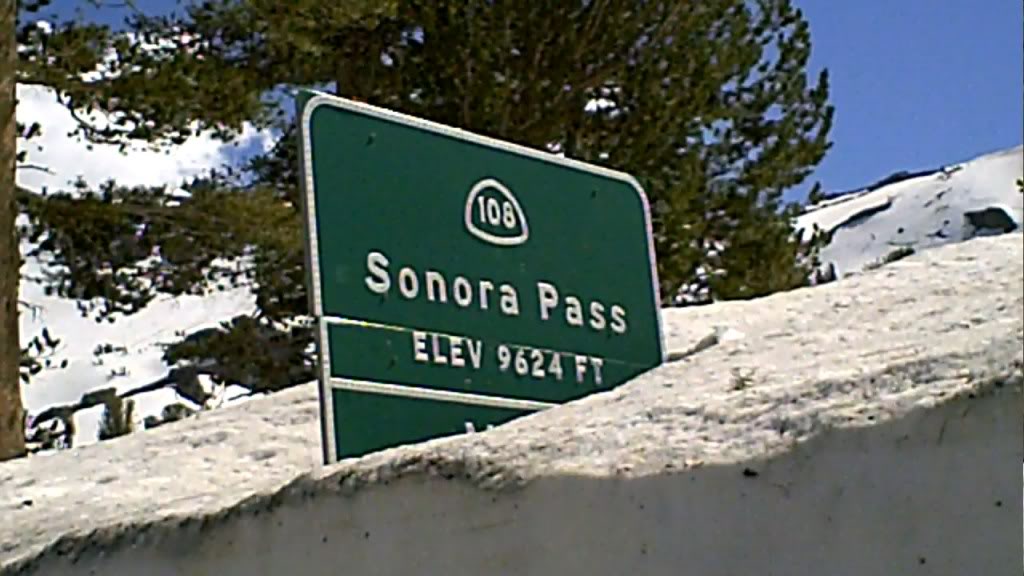 State Route 108/Sonora Pass has been closed due to ice and snow.
Travelers are advised to seek alternate routes.
SR 108 is closed from 26.4 mi east of Strawberry (Tuolumne Co) to the the jct of US 395 (Mono Co) /Sonora Pass/ – due to snow – motorists are advised to use an alternate route

– CalTrans
Currently, there is no estimated time of reopening. The pass opened for the summer on Thursday, May 12th, 2022.
The NOAA has issued a special weather statement for the area:
Special Weather Statement
National Weather Service RENO NV
332 AM PDT Mon Sep 19 2022

CAZ070>073-NVZ001>005-201100-
Surprise Valley California-Lassen-Eastern Plumas-
Eastern Sierra Counties-Greater Lake Tahoe Area-Mono County-
Mineral and Southern Lyon Counties-Greater Reno-Carson City-
Minden Area-Western Nevada Basin and Range including Pyramid Lake-
Northern Washoe County-
Including the cities of Cedarville, Eagleville, Fort Bidwell,
Portola, Susanville, Westwood, Sierraville, Loyalton,
South Lake Tahoe, Tahoe City, Truckee, Markleeville, Bridgeport,
Coleville, Lee Vining, Mammoth Lakes, Hawthorne, Yerington,
Smith Valley, Mina, Schurz, Stateline, Glenbrook,
Incline Village, Sparks, Verdi, Gardnerville, Virginia City,
Fernley, Fallon, Lovelock, Silver Springs, Nixon, Imlay, Empire,
and Gerlach
332 AM PDT Mon Sep 19 2022

...Cold and Wet Through Wednesday...

* An early season storm will continue bringing well below normal
  temperatures and chances for rain, and even some snow for
  elevations above 9000 feet, through Wednesday. A few
  thunderstorms will be possible each afternoon as well, with a
  10% chance for a stray nocturnal storm Tuesday night. While
  overall rain rates do not appear excessive, burn scars in
  northeast CA, such as the Dixie Fire, will still need to be
  monitored for flood threats.

* Liquid totals will be highest for the northern Sierra into
  northeast California, where 1-2 inches of rainfall is possible
  over the multi-day period. Wetting rains are also anticipated
  through the Tahoe Basin and into far northwestern Nevada. Totals
  will be much less, if anything, from southern Mono County to
  areas of western Nevada east of Highway 95.

* It will be rather damp and chilly through Wednesday with daytime
  temperatures 10-20 degrees below average. Cloud cover will
  moderate overnight lows through Tuesday, with Wednesday night
  likely to be the coldest night as skies begin to clear.
  Overnight lows could drop into the 20s in colder Sierra valleys,
  with typically colder spots in western Nevada dipping to near
  freezing.

* While snow will be limited to mainly areas above 9000-9500`,
  keep in mind travel can still be impacted by wet roads and
  lowered visibility. Allow extra time, especially if you are
  traveling across the Sierra.
Motorists can visit quickmap.dot.ca.gov/ for current road conditions across California. Ebbetts Pass and Tioga Pass remain open at the time of writing.
Highway 108 over Sonora Pass leaves Hwy 49 in Sonora, CA, and rolls about 50 miles up to the Tuolumne/Mono County line at 9624′, before dropping 16 miles down to Highway 395 at Sonora Junction north of Bridgeport, CA. Highway 108 is the access to Dodge Ridge Ski Area, Eagle Meadows, Kennedy Meadows, Sonora Pass, and Leavitt Lake, all of which provide jumping-off points for backcountry skiing. Above Kennedy Meadows, this is a steep, winding, narrow, two-lane road.