In South America, there's a meteorological phenomenon known as La Tormenta de Santa Rosa (The Santa Rosa Storm) that is both fact and legend. In folklore, it's said to be the most violent weather of the year, sinking ships and burying entire villages in snow with little mercy. Reality may be a bit different, depending on who you ask.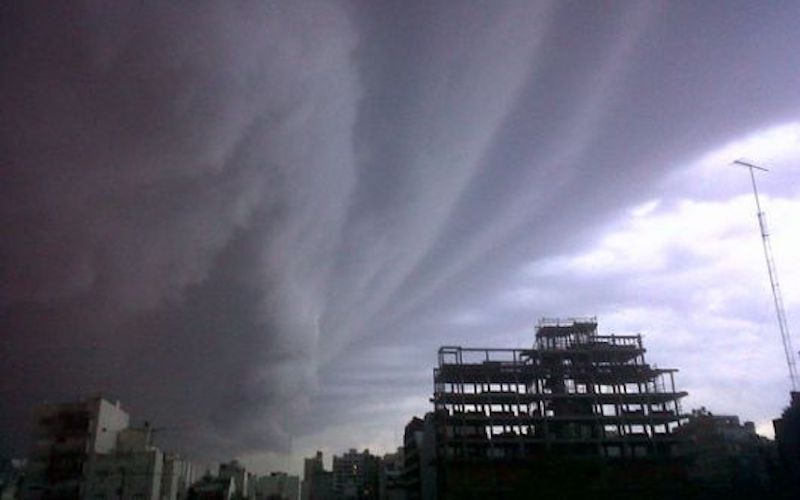 The festival of Santa Rosa is celebrated on August 30th every year in Lima, Peru, near the end of the South American winter. In Argentina, Uruguay, and Peru, locals believe the fabled storm always occurs within 15 days before or after the celebration, beginning in the south and gradually moving east until it reaches the Atlantic Ocean. The storm appears at the same time every year to take winter away and bring in months of nice weather in its wake.
The original Santa Rosa storm is said to have occurred in 1615. Isabel Flores de Oliva, who eventually became a saint (Santa Rosa de Lima), asked God to stop Dutch pirates from invading Lima, Peru. God whipped up a brutal storm that did just the trick, sank the pirate ships, and saved the city.
In a similar storm from the heavens, it's said that England was spared when the entire Spanish Armada was destroyed in 1588.  The "Black Irish" are thought to be descendants of those that made it to shore and were not killed or captured. In reality, few, if any, of the Armada survivors lived much beyond their landfall on the beach.
Meteorologists have a far different take on the Santa Rosa storm. It's likely nothing more than the first warm winds of spring clashing with Antarctic cold fronts at the end of the South American winter. Warm and humid air from the north, in combination with increased solar radiation and synoptic disturbances from the west, add up to create this weather phenomenon. It doesn't often occur either, with only 16 documented occurrences at the Villa Ortúzar SMN Observatory in Buenos Aires since 1861. Even so, typical rainy spring days seem to keep the legend alive among locals.
Die-hard Patagonian skiers will tell you that the meteorologists are lying, and this storm is a yearly occurrence. Typical storm totals are 40 to 120 inches! SnowBrains was there in September 2012 when six feet of snow fell on Bariloche, Argentina, in just three days. That's a myth worth believing in.