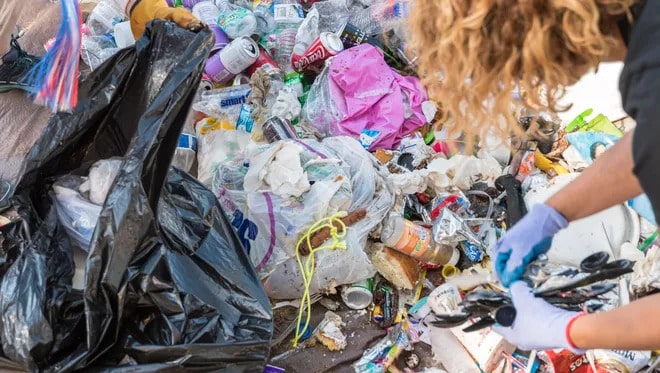 The South Lake Tahoe City Council voted recently to pass a ban on the local sale of single-use plastic water bottles and updated regulations on polystyrene and plastic food packaging. The bill was first proposed In September, voted into place early in October by the City Council, and appropriately will go into full effect on the next Earth Day (April 22, 2024). The ban prohibits local stores from selling disposable plastic water bottles under a gallon, includes actions to reduce the amount of polystyrene-based products, and an additional ban on plastic single-use food service ware. Also worth noting, the bill includes an exception when in case of emergency, like if a natural disaster creates a lack of potable tap water. 
The bill encourages cooperation with local partners to promote better consumer habits around reusable water bottles. Many hope this is just the first of many steps to decrease the environmental impact of Tahoe's many visitors. The City also approved a grant application from CalRecycle to funnel $275,000 into the purchase and installation of water refill stations around the community and is preparing to collaborate with local outreach and education organizations to encourage residents and tourists to embrace Tahoe's award-winning tap water. Environmentalists and local conservation organizations are celebrating this as a small step toward a more sustainable future for Lake Tahoe and applaud the decision as a necessary move to reduce the increasing levels of microplastics present in Lake Tahoe. 
Discarded and abandoned plastics are infamous for breaking down into smaller pieces, called microplastics, which never completely break down. These microplastics (smaller than 5 mm in length) are a massive threat to the health of aquatic ecosystems all over the world. Recent studies from scientists at the Tahoe Environmental Research Center are showing a constant presence of microplastics in nearly every sample taken. Microplastics enter the environment as fragments of plastic, clothing, and even cosmetics break down and can alter the food chain, change biochemistry, and show up in soil or drinking water samples. 
Lake Tahoe is the cornerstone of the area's economy and ecology, so the City hopes this new ordinance will showcase its priority in protecting such an important resource from further plastic pollution. Critics of the bill point out that the ban only applies to the local sale of goods and does nothing to prevent these visitors from bringing single-use plastic goods with them. To some, this is ban is not strict enough to make a true impact on plastic pollution. To others, like South Lake Tahoe Chamber of Commerce CEO Duane Wallace, this ban will "…take out of local merchants' pockets and give it to someone else's pocket." This topic brought a lot of public engagement, and ultimately the city of South Lake Tahoe voted in favor of conservation and positive habits for a more sustainable future. It's one small step in the direction of a society that prioritizes the health of the ecosystem as a whole, not just for the economic value it can provide.