[Sponsored by Sierra-at-Tahoe]
The beach in the springtime is overrated, full stop. Long live spring skiing! By now, everyone has seen the truly monumental amounts of snow the Sierra's, especially Sierra-At-Tahoe, received this winter and that only means one thing as we start to get into warmer months… SPRING SKIING! With an extraordinary 115" base that is primed for some perfect corn spring turns, Sierra-At-Tahoe will be firing on all cylinders this year.
But wait, there's way more than just spring turns to be had. Sierra-at-Tahoe will not only be the pinnacle for springtime conditions, but this resort acts the part too. Why go to Mexico, when Mexico can come to you? This spring, Sierra-at-Tahoe will transform into Sierra-at-Cabo. I'm talking full-on fun, sun, and shenanigans. Imagine taking hot laps with your best friends, wearing Hawaiian shirts, shredding the warm corned up snow, slashing that upper coping of the halfpipe, and getting some cold drinks at the base to top off the day. Sounds like I could put that on repeat all weekend!  
Don't think I know what I am talking about? Well here is what Sierra-At-Tahoe had to say for themselves:
"… we aim to provide a fun, laid back atmosphere that radiates the authentic California ski experience." Sounds pretty much like if you don't have fun at Sierra-at-Tahoe during Sierra-at-Cabo they will refund you. (Note: this is hyperbole and no refunds will be given to people not actually having a good time.)
Sierra-At-Tahoe will also be hosting some of the best spring skiing events for anyone to participate in! On April 6th, two amazing events will be happening: Shred the Love with Boarding for Breast Cancer & Hella Big Air presented by 10 Barrel Brewing.
Shred the love! Boarding for Breast Cancer is a fantastic event that will raise money to fight breast cancer. Who doesn't like raising money for an amazing charity while riding a chairlift?! There will be a full day of live music (performance by Mescalito), rail jam, silent auction, snowboard demo, and a huge raffle. Registration for the rail jam is $25, with $40 lift tickets. Feeling super generous already? Check out the donation page for Boarding for Breast Cancer!
Who doesn't like to see riders huck themselves out of orbit? (crickets) Of course, everyone does and Hella Big Air will be an adrenaline-fueled spectacle. Skiers and riders will be lick, stamp, and airmailing first class direct for a big cash prize off of a monster of a jump. The prize will be split between male and female riders in both ski and snowboard divisions. There will be two jump take-offs to accommodate for a wider range of athletes to ensure maximum air. There will be FREE live music and FREE admission. Sounds like a hella good time to me!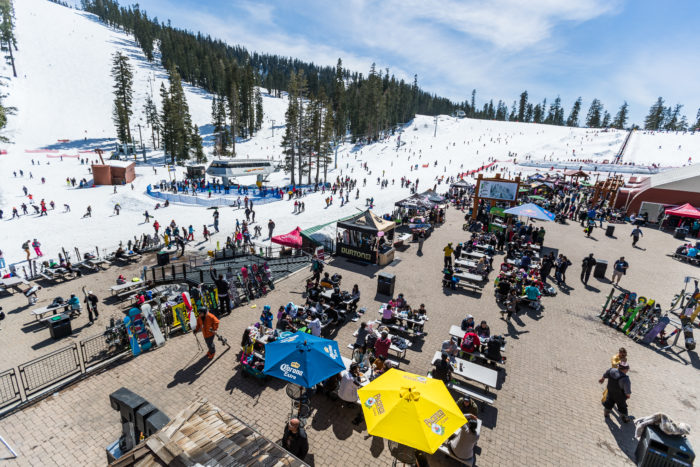 Do you know what is the best part of all of this fun? You can go ski for a killer deal at Sierra-At-Tahoe. The 2019/2020 Unlimited Season Pass just went on sale for only $369 and as soon as you buy it you can use it for the end of this season and into the next with tons of awesome perks. Perks start next season and include 3x $60 BFF tickets (ski with a friend for just $60!), 3 days at each Powder Alliance resort (50+ days of free skiing at 19 independent ski resorts like Loveland Pass and Timberline Lodge), and returning pass holders get two free ski tickets for midweek THIS season. Are you kidding me?! I don't even live close to Tahoe and I already want to buy a pass at this rate…
Bottom line, do yourself a favor, skip the beach, and head over to Sierra-At-Tahoe for amazing fun, sun, events, and more for a super reasonable price.