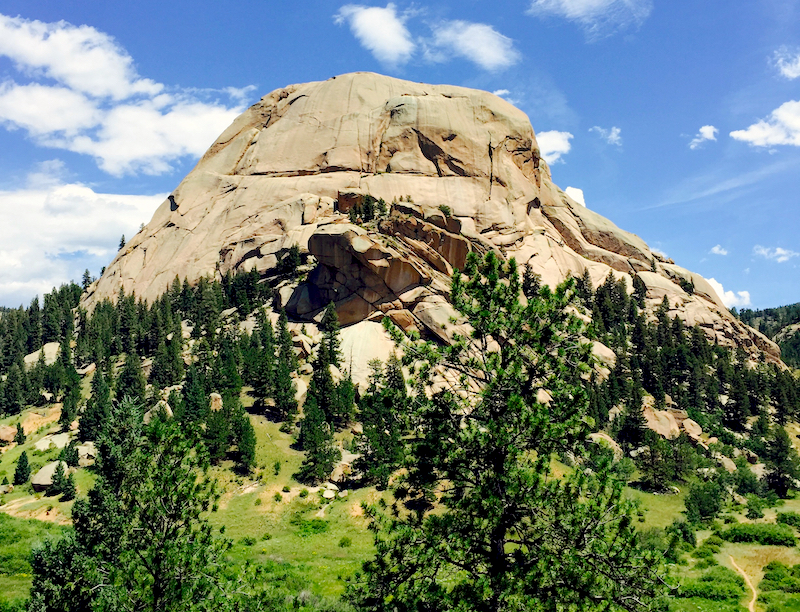 New times bring about new rules — and not always to everyone's satisfaction. 
The Colorado Parks and Wildlife Department is now requiring a fishing or hunting license to hike in Dome Rock State Wildlife Area this summer.
The Teller County property features a long loop trail with overgrown aspen groves, wildflower meadows, and the granite, jutting monolith. Outside Colorado reports that the trail is set to open July 15, as it usually does following the lambing period for bighorn sheep.
However, starting July 1, all persons 18 and older will have to buy a sporting license to visit Dome Rock as well as CPW's 350+ wildlife areas which cover a total of about 900,000 acres, according to Outside Colorado. One-day fishing or small game hunting license cost $13.90, and annual small game licenses are $30.11 while annual fishing licenses $35.17.
"Unfortunately, as Colorado's population has grown and physically expanded into closer proximity with many of these SWAs, public uses have increased and are reaching the point where they are not compatible with the original wildlife purpose," Brett Ackerman, CPW's southeast regional manager, told The Gazette.
Ackerman went on to tell The Gazette that he didn't believe it was fair to ask hunters and anglers to miss out on hunting and fishing opportunities because "other uses are becoming incompatible," and that it wouldn't be fair to ask those hunters and anglers to "pay the increased costs for management and operation of these areas resulting from these other uses."