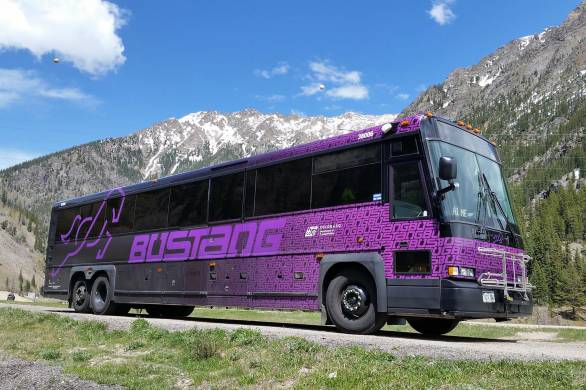 Calling all skiers: add Steamboat Springs to a growing list of Colorado ski areas committed to a new I-70 and beyond bus service 'Snowstang' launched by the state's Department of Transportation[CDOT].
"Snowstang", which the CDOT will begin this winter, off-shoots from 4 yr-old program 'Bustang,' a regional public transportation service called upon to visit Centennial State locales and (hopefully) reduce Colorado's already alarming traffic congestion.
CDOT announced in earlier that ski areas, Loveland and Arapahoe Basin had committed to the new program, and the City of Steamboat Springs has since climbed aboard for the ride.
More than half the bill for new bus transit will be met by subsidies from the areas serviced (60 percent) with the remainder coming from fares.
Cost vs. Commute:
Fares for Loveland and Arapahoe Basin will be $25 for adults, round-trip, with discounts for seniors and children

Steamboat fare will be $40, as the location is 145 miles from Denver's metro area

Vail, serviced by 'Bustang' while enroute to Grand Junction, for $17
'Snowstang' Timetables:
40 days of service to each resort

Runs weekends from Dec. 14 through April 19

Includes Martin Luther King holiday (Jan. 20) and Presidents' Day (Feb. 17)
The addition of bus services joins other financial incentives as well as carpooling perks already in place, but increasing ride-share usage and creating more efficient ski access might not be so easy to achieve.
Ski resort traffic, say nothing of Interstate transit, has become a big concern in recent years. Little Cottonwood Canyon, just outside of Salt Lake City, has succumbed to gridlock. In Colorado specifically the typically 90-minute drive from Denver Bus Station to Grand Junction might take up to 5 hours in traffic.
'Snowstang' is certainly a step in the direction of finding a solution. The program first hit the streets for a 2-day test run in 2017, but a better exam may be the December to April period of 2019/'20 winter.
Related: Traffic on Colorado's I-70 Finally Leads to Ski Area Bus Service from Denver