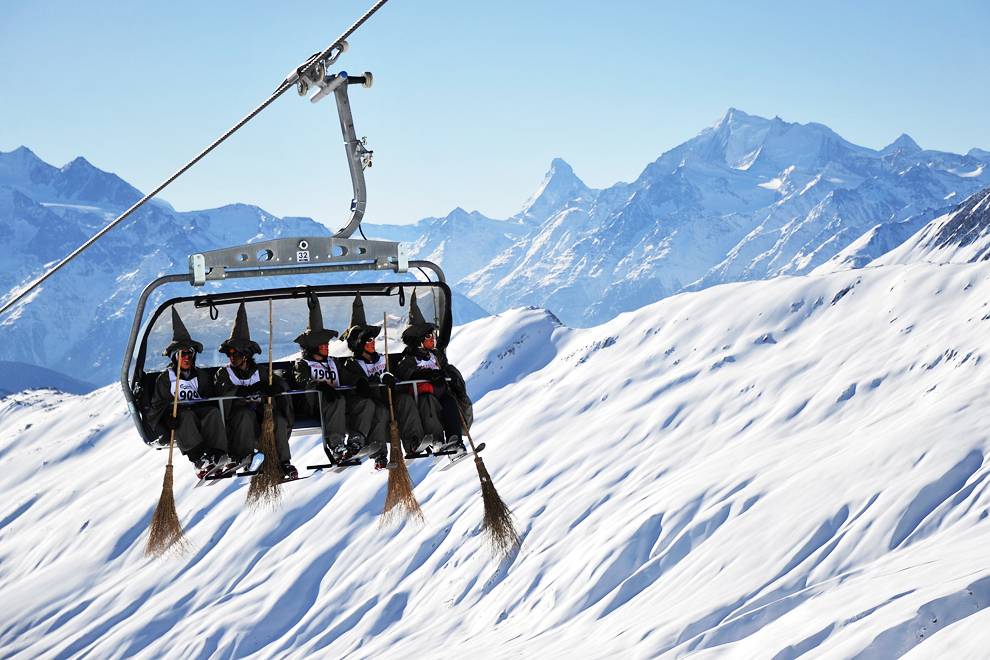 If you grew up in a region that received snow, you're probably familiar with the multitude of skiing superstitions. Whether it was wearing your pajamas inside out or flushing ice cubes down the toilet, every kid had their preferred method of playing with fate to force a snow day. Skiers, however, have taken snow superstitions to the next level.
A common superstition in the skiing world is the refusal to call the last run, as doing so can apparently heighten your risk of getting injured. Many around the country have also adopted the habit of burning old skis to summon Ullr, the Nordic god of snow. This tradition is especially connected to Telluride, Colorado. According to Outside Magazine, the Telluride tradition of burning skis to summon snow started in the 1980s after a dry spell.
"Telluride, a quiet resort town of 2,300 nestled in the San Juans, has hosted burns a few times each ski season since the 1980s, when poor snowpack pushed a group of animated women called the Epoxy Sisters to take matters into their own hands. The ceremony lives on three decades later…"
However, burning modern skis results in the combustion of some nasty chemicals, so it's recommended that wooden skis be burnt instead. When famed director Quentin Tarantino filmed "The Hateful Eight" in Telluride, the town was facing a dry spell that hampered filming since the movie's plot was centered around a blizzard. Tarantino found out about the tradition and organized a ski-burn. The next weekend, Telluride received 29 inches of snow, giving the movie the proper landscape it needed.
Since G.N.A.R's release, pole whacking has become an iconic sight on the mountain, and at this point, some would argue that it's a superstition to ensure a smooth line. Personally, dropping a cornice without pole-whacking it first makes me feel exposed and uneasy. Clicking ski poles together before starting a run is another frequent sight on the mountain that's regarded as superstition by many, but one could also argue that pole whacking and pole clacking are more traditions than a superstition.
The drive to your local ski area might also have a "silent rock". On the drive up, a certain rock just off the road is deemed the "silent rock", and if you make any noise whatsoever (including playing your music) while driving past this rock, you're bound to have a bad/painful day on the hill. This tradition apparently began at Mt. Hood in the 1980s but has gradually spread to other ski areas around North America. Many passionately swear by the power of Mt. Hood's silent rock.
A personal superstition of mine: If I don't put my right boot/right glove/right pole on first, I'm gonna have a rough time. What are some of your skiing superstitions?