Hollywood legend Robert Redford has agreed to sell Sundance Mountain Resort, UT to Broadreach Capital Partners LLC and Cedar Capital Partners Ltd, two real estate investment firms. The price has not been disclosed.
"I had been searching for years for the right people to take it to the next level so that I could take that weight off my shoulders and enjoy my life."

– Robert Redford
Robert Redford purchased the entirety of Timp Haven, the land that is now known as Sundance, in 1968; the Timp Haven resort was renamed Sundance after Redford's role in Butch Cassidy and the Sundance Kid. It has been his home in Utah since then. He spent significant time with the buyers to ensure they were suitable to operate the resort.
"I gave it some time and kept questioning him and pushing him. His answers held up. So I said, 'OK, this is the time and I think this is the right guy.'"

– Robert Redford
Broadreach Capital Partners is a real estate development company with luxury hotels and resorts worldwide. Its HQ is in Palo Alto, CA. According to the AP, Cedar Capital Partners, based in London and New York, has an international portfolio of luxury hotels.
A spokesperson for the companies revealed they plan to improve the resort's infrastructure by, among other upgrades, adding some ski runs and a high-speed lift.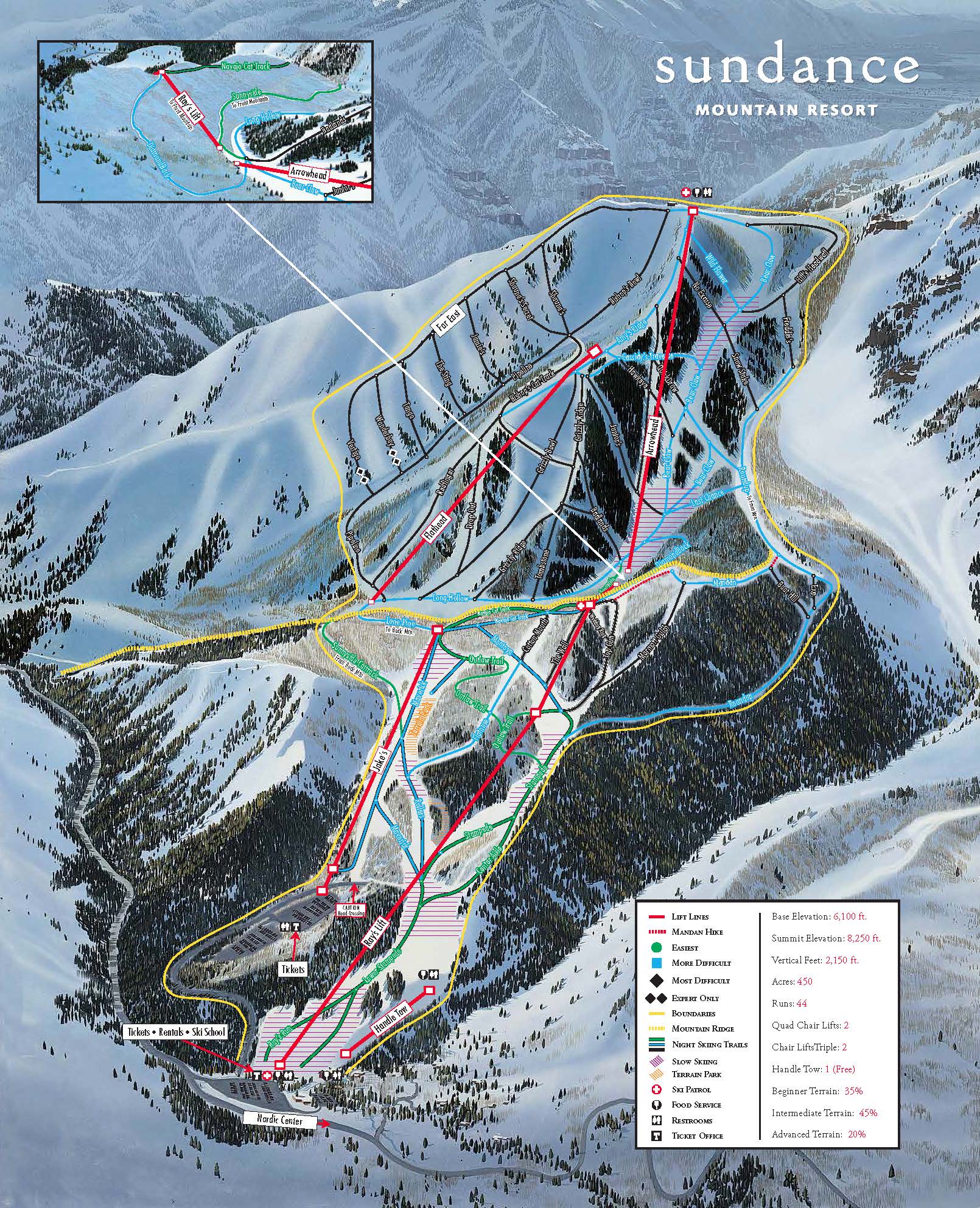 Sundance Mountain Resort – the goods:
Average snowfall – 300″
Base elevation – 6,100′
Summit elevation – 8,250′
Vert drop – 2,150′
Terrain – 45 runs, 450+ skiable acres
Lifts – 2 high-speed triples, 2 quads, 1 surface lift
Miles to a major airport – 55
Fun Facts:
The rosewood bar in the Owl Bar at Sundance was originally located in Thermopolis, Wyoming, where the Owl Hoot Gang frequented it, rivals to Butch Cassidy's Hole in the Wall Gang; Redford purchased the bar and moved it to Sundance in 1994.
In 1979, Redford held a 3-day conference for filmmakers and professional artists at the Sundance Mountain Resort, a precursor to the Sundance Film Festival.
Voted #1 Ski Resort in North America in Condé Nast Traveler's 2019 Reader's Choice Awards, Sundance Mountain Resort is treasured for its intimate surroundings & rustic simplicity.