When I first saw the Sunski Tera sunglasses, I fell in love with the style. But when it comes to ski touring, I think most would agree that looks aren't everything. I was curious how well these stylish little glacier goggles would perform. Eye protection is so vital in the mountains, I couldn't wait to see what these had in store. So let's dive in!
Unboxing 
My first impression was definitely a positive one. The color themes, style, and branding put a smile on my face. Each frame was so unbelievably lightweight and the frame material was so interesting. The glasses themselves folded up cleanly and come with a great case – providing a slim and easy-to-pack addition to my backcountry setup. 
The interchangeable sun shields were equally lightweight and easy to swap in and out. I threw them on and loved how they hugged my face so perfectly. They are also vented which would likely keep them from fogging up.
The Stone Alpenglow frames have a translucent look to them with rosey mirrored lenses. The Black Gold frames have a nice matte finish with gold lenses. Both felt and looked great with the black lenses being fairly dark and the stone lenses being a shade or two lighter. When it comes to skiing, I am quite particular about lenses, so I was looking forward to seeing how they perform. 
On the Mountain
First Impressions
To be 100% honest, I wanted to put these things through the wringer. So I didn't hold back. I immediately started swapping out sun shields and wearing them on the bill of my hat whilst packing the car — a dangerous game for shades that tend to fall off your head. So far so good. 
I put on my hat and facemask, loaded up my pack, and started trekking. These glasses didn't fog and didn't slip off my nose, crucial details checked off the list. After a closer look at the frames, I noticed two little nose grips which were responsible for the noticeably snug fit. I was also really digging the lightweight sunglasses straps.
Some Unexpected Weather
While I was wishing for a bluebird day to try these for the first time, mother nature had something else in store for me. In typical 2023 fashion, winter didn't want to let go. Snow started falling, winds picked up like crazy and visibility dwindled. Despite a little unsettled spring weather, the Stone Tera frames had my back. 
They aren't low-light lenses by any means, but these had the perfect lens for this situation. When I was faced with variable conditions, they provided a great level of contrast when clouds passed over. The lens tint put a beautiful filter on the landscape and I found myself falling in love with these sunglasses. 
I switched to my helmet when the clouds rolled in harder and found that these shades fit great with it. In the past, I have experienced sunglasses that aren't compatible with my helmet. If the front of the helmet rests on the top of the frames, it causes pressure on my nose, resulting in a super uncomfortable fit. I was happy to have the perfect amount of space between the frames and my helmet. As an avid "bucket and sunnies" type of gal, this was one of my biggest criteria for these glasses. 
Conclusion
Overall, the Sunski Tera was great in every style and color. I would definitely recommend the Stone Alpenglow on variable or partly cloudy days, and the Black Gold for those bright bluebird days. While both are great, I can see myself gravitating towards the black frames on my next typical spring tour with brighter conditions. 
They were so lightweight I didn't even notice them on my face. They also fit perfectly with my POC backcountry helmet. There was no uncomfortable pressure behind my ears where they rest, and I loved the nose pieces that kept them in place on my sweaty face. 
The sun shields blocked out nearly all the light coming in, keeping my eyes at ease. They also kept the wind from drying out my contacts and making my eyes water. Plus, I loved being able to pop out the sides and drive home in them without blind spots. 
Highlights:
Super lightweight, flexible frames

Comfortable fit on the ears and nose

Quality polarized lenses with definition and clarity

Slim case making them easy to pack

Interchangeable sun shields with a comfortable fit

Fits well with helmet
Potential Lowlights:

 
As with many reflective lenses, they did smudge easily, but the provided lens cleaning cloth did a great job of making them like new.

Knobs on sun shields seem strong but repetitive swapping might lead to wear and inability to use them. This is something I could see happening after many uses but isn't something I would actively worry about, especially since they are replaceable. 
After trying these out I ended up wearing them non-stop over the weekend. I went biking and fishing and continued to love the polarized lenses and lightweight frames. I couldn't get enough of the definition and crisp colors. 
These are so much more than a pair of glacier goggles. I can see myself wearing these all summer and getting great use out of them. I can't wait to tackle my spring ski season with these in my arsenal. After the ski season has passed, I am sure I will be biking, off-roading, and basking in the sun by a lake with these. 
A Little About the Brand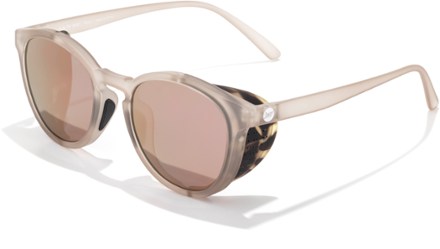 Sunski is a proudly independent sunglasses brand in San Francisco, CA. They are dedicated to sustainability and soaking up the sun. From every inch of packaging to the material used for their frames, they are clearly committed to mother nature. 
The Tera sunglasses are the newest edition to their Alpine Collection and feature removable sun shields.  A nice touch for those that like to mix and match styles. They are a modern take on the vintage glacier goggle. These ultra-light frames are a seemingly perfect match for tours where every ounce counts. 
Highlights: 
All of their frames are made with SuperLight– a revolutionary recycled polymer that diverts post-industrial plastic from the landfill and transforms it into a super strong, ultralight material. 

Their Forever Warranty covers broken frames. 

Replacement lenses are available to order, which means you don't have to throw out perfectly good frames.