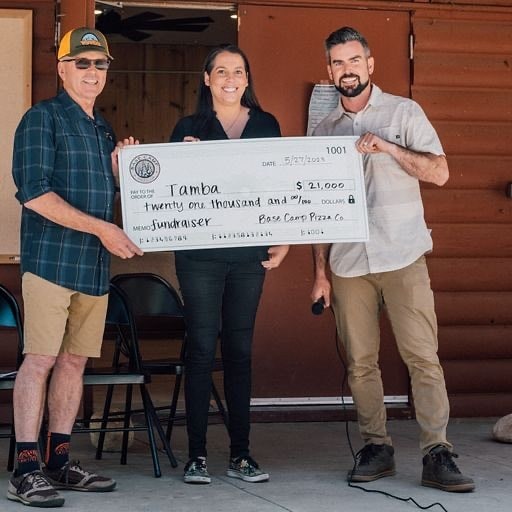 At a fundraiser event this past May, Base Camp Pizza located in the Heavenly Village of South Lake Tahoe, CA, donated $21,000 to TAMBA (Tahoe Area Mountain Biking Association) to help with the continued efforts of maintaining Bijou Bike Park.
Mountain biking and hiking trails around Tahoe, CA, are kept in immaculate conditions, a big reason being thanks to TAMBA. Started in 1988 and reintroduced in 2011, TAMBA is a majority volunteer-based non-profit organization. They have successfully developed, rebuilt, and maintained dozens of trails around the region such as the Kingsbury Stinger Trail, Corral Trail, and the Bijou Bike Park.
The event at Base Camp featured a buffet style dinner with pizza, pasta and salad, accompanied by live music by local musicians. To conclude the night, a raffle with prizes donated from local businesses like Sports LTD, South Lake Brewing Company and The Lemon Drop was held.
This year-long fundraising, which started in June of 2022, saw most of the money come from the event in May, but also from $1 being donated for every garlic chip appetizer purchased throughout the last year. On top of that, staff members donated their wages and tips from the event, and the restaurant paid forward their COVID-relief funds from the city as well.
Since being established in 2012, this was the most successful fundraiser for the Tahoe Restaurant Group, which includes Base Camp Pizza and Azul Latin Kitchen in the Heavenly Village, Fireside Pizza in the Village at Palisades Tahoe, and Rubicon Pizza in the Village at Northstar. When asked about future plans partnering with TAMBA, Danny Scott said, "No future fundraising plans with TAMBA. However, we pick a new nonprofit every year and this year they (Base Camp Pizza) chose the Humane Society."
To learn more, donate or volunteer, visit TAMBA's website. If you are in Tahoe and mountain bike, ride the Van Sickle Trail into the Heavenly Village before grabbing some pizza and a drink at Base Camp!