Brought to you by Taos Ski Valley
Epic winter experiences and delightful revitalization link gracefully at Taos Ski Valley. This in-the-know mountain in breathtaking New Mexico offers-up colorful history, high country charm, and thrill-tastic terrain to suit the whole family.
A 'must' on the snow bucket list, Taos Ski Valley arcs upward to 12,400 feet of elevation and throws down a 3,000 foot vertical drop across a stunning 1,300 skiable acres. 
It's a gem of a mountain. And it's got real 'shine' thanks to its environmentally conscious, true ski-culture roots.
Famed Swiss ski pioneer Ernie Blake recognized the awesomeness of Taos' terrain as early as the 1950s. That pioneering tradition steers the hometown feel of this resort's big mountain terrain to this very day.
Today, as the world's first and only Certified B-Corp and certified Carbon Neutral through its offsets, Taos Ski Valley is a resort that honors its heritage, cherishes the natural environment, and aspires to continually revitalize and improve upon the ski and snowboard experience.  
The resort continues to work toward reduction practices for Net Zero in 2023.
And let's not forget the 'yee-haw' torch of classic fun on snow that's carried forward at this historic mountain resort thanks to its diverse terrain, ready-fit for rippers of all abilities. Taos boasts pitched chutes neighboring snaking glades or smoothly rolling groomers. It's a mountain's worth of authentic experience with secret stashes to suit just about everybody.
TAOS SKI VALLEY, HIGHLIGHTS:
Average Snowfall – 300 inches, annually

Total Acreage – 1,294 acres

Base Elevation – 9,350 feet

Summit Elevation – 12,481 feet

Vertical Drop – 3,131 feet

Number of Lifts – 13; 1 gondola, 1 high-speed quad, 3 fixed grip quads, 4 triples, 3 surface lifts

Average Days Of Sunshine – 300+

Snowmaking – 100% of beginner and intermediate slopes
When it comes to downhill excitement, Taos aims to 'up' the ante.
The resort makes it a priority to be 'The Location:' a place where your skiing and riding rise to the next level. To help carve the line toward that wide-grinned goal, Taos features steeps that are downright magical, dive-bomber narrows, and solitude among tranquil hidden corners.
Eye-popping Kachina Peak is sure to get the pulse firing. It's the crown jewel of the Taos winter treasure trove. It's been go-to terrain for heavy-hitter events such as the 4-Star Freeride World Qualifier. And be assured that the air up here is rare, as Kachina Peak just happens to be the 4th-tallest lift in the U.S. of A.!
But fret not, dear family and friends. Taos Ski Valley also serves up a glorious cocktail of terrain perfectly paired with Beginner or Progression skill sets. And as it happens this terrain ranks high on the 'esteem rating' of skiers and snowboarders throughout the  Rocky Mountains.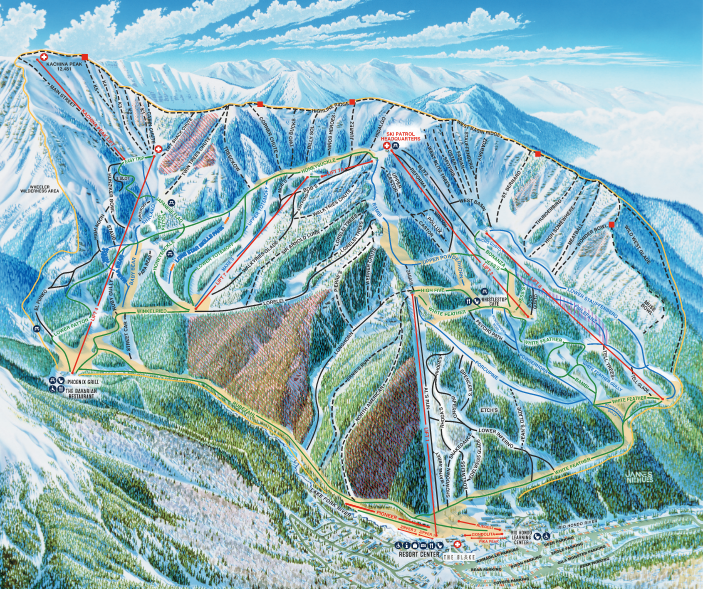 For the inner (or full-on) powder hound, Hunziker Bowl, High Noon, and others are the happy hunting grounds indeed. The savvy shredder watches close for when these stashes 'turn on'. And they get here quickly when they do.
Then there's The Ridge; it's got swagger in the form of fun chutes diving both East and West. It's an ideal litmus of the varied terrain on offer at Taos; moguls, steeps, trees, or valleys; it's a resort with a little something in-the-bag for Everyone.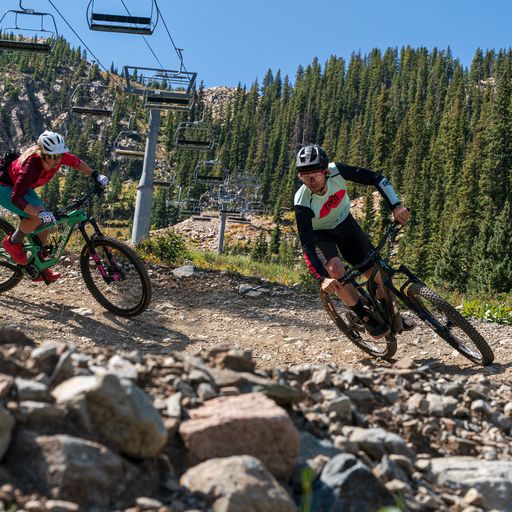 The outdoor party going down year-round at Taos Ski Valley is possible via a public-private partnership with the United States Forest Service. The Organization assists in management over portions of the federal land that is home to the resort's outstanding recreation options and it engages in mindful practices of forest thinning works for fire mitigation and protection of the watershed.
At Taos Ski Valley, all newly installed and existing buildings are retrofitted, benefiting from ground source pumps for heating or cooling. The Blake Hotel is Silver LEED certified, and the resort also harnesses the power of solar. Taos has even laid plans for high-efficiency snowmaking tech. Plus, EV snowmobiles and snowcats are on order and inbound to further reduce the energy imprint for seasons to come.
And in addition to its waste reduction tactics in partnership with the likes of Burton and Spyder, Taos Ski Valley makes a conscious effort to buy locally whenever possible, which further strengthens the resort's already healthy bond with its wonderful, dynamic community.
Be assured, the Taos locals feel as much as they know; their ski valley is a unique paradise of Old World heritage, can-do entrepreneurship, and tips-down flat-out phenomenal skiing.
At Taos Ski Valley of New Mexico, the Rockies begin and culture swirls. Here, the potential for exciting advancement is at your fingertips. And, thankfully, it's guided by the belief that to improve is more important than to expand.
Taos Ski Valley celebrates the amazing terrain and facilities that it has, while protecting Mother Nature which made it. What's out here is as welcoming-ly eclectic as the zesty panoply of influences behind this region's big-mountain culture.
'Best Day Ever' skiing and riding are at the heart of the Taos Ski Valley experience. And the resort is patiently saving you a chair to the Peak or a table this season.