Report from Monday, February 23, 2021
Brought to you by 10 Barrel Brewing
Yesterday morning the weather was insane.
Very windy, dumping snow, no visibility, and no new snow overnight.
We slept in and didn't leave the house until after noon.
Then, the sun came out but the wind kept howling.
We went for a walk and it snowed enough to make the skiing good.
We skied a long chute in fun, dense, wind-pressed snow that was fast & fun & uniform.
On our way out of the zone, we stumbled upon a moose with her baby.
Fox said "Whoa" kinda loud and scared the baby who ran at the mom and spooked the mom and the mom charged Fox with her head down and we both started poling and scooting on our skis for our lives.
Luckily, she halted her charge only about 2 or 3 feet away from Fox and backed off.
Was crazy!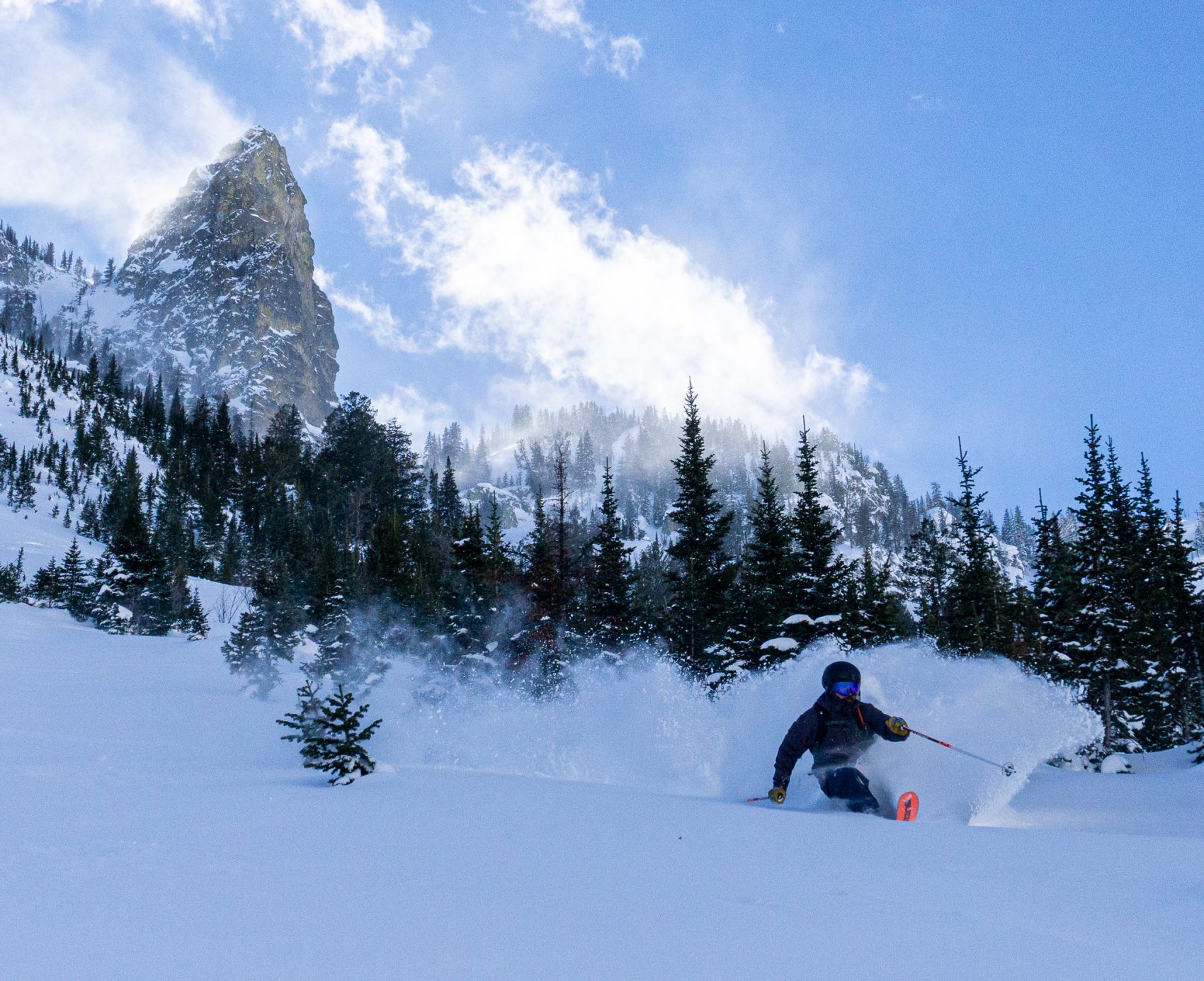 We did see some instability out there.
Ski cuts on steep rollovers produced 4″ deep fractures that broke small and didn't run far in the zone we skied.
There wasn't much new snow in the zone we visited but the wind had whipped it into a small dense windslab.
The Tetons are scary right now with windslab and a deep persistent weak layer.
A skier was killed in Broken Thumb Couloir in Grand Teton National Park on Monday and a snowmobiler was seriously injured in an avalanche yesterday.
Please be safe and please always check the avalanche forecast at Avalanche.org.
"Yesterday a snowmobiler was seriously injured when he was caught and partially buried in a slide on a southeast aspect of Mt. Leidy in the Togwotee Pass area. A snowboarder died in an avalanche in the Teton Range on Monday. Avalanche fatalities occurred on Togwotee Pass on February 18 and in the Greys River area on February 17. Several very large slab avalanches were observed to have naturally released in the Tetons yesterday. One of these was nearly 8 feet deep. Yesterday's strong winds created new wind slabs. Deep persistent slab avalanches are still a possibility. Most avalanche fatalities occur during periods of considerable or moderate hazard. It is critical that skiers and riders make terrain choices that are appropriate for today's dangerous conditions. Play it safe and come home to your friends and family."
– JHavalanche.org, 2/24/21
2020/21 Backcountry Reports:
Avalanche Forecast:

Weather Forecast: