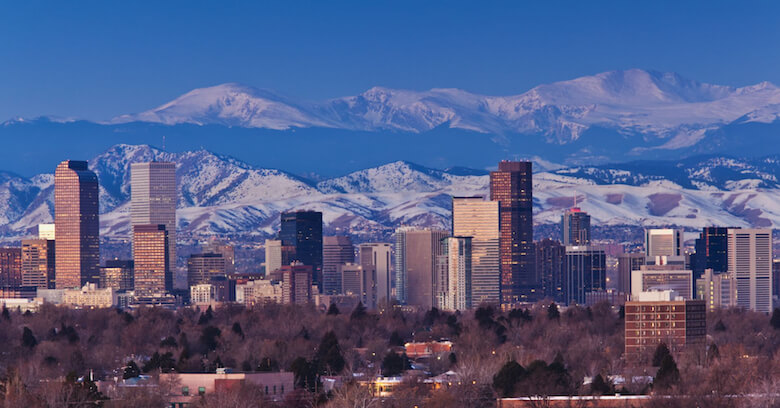 It's no secret that getting back and forth from many of Colorado's premier ski resorts can be a major hassle for those living in the Mile High City. With traffic on Colorado's highways at an all-time high, it is not always in the cards to make it all the way to Summit County for a day of skiing. Whether you're looking to get a few quick turns in before work or are just searching for an easier way to get a full day on the mountain, we have listed some intriguing options for a short day trip below:
5. Winter Park 
Located about 1 hour and 20 minutes and 66 miles from Downtown Denver, Winter Park is a world-class resort that many travel thousands of miles to receive access to. The resort first opened for the 1939-40 ski season, making it among the oldest in the country! Situated in Grand County off of Highway 40 near the adjacent town of the same name, Winter Park offers seven different territories to choose from: Winter Park, Mary Jane, Vazquez Ridge, Parsenn Bowl, The Cirque, and the Terrain Park.
Winter Park profiles as the largest and most extensive resort featured on this list. Topping out at 12,060 feet above sea level with 3,081 acres of skiable terrain, the resort is truly massive. With 23 chairlifts and 167 total runs to choose from, you can easily spend the entire day finding new spots to ski and ride. It is truly impressive that a resort of this magnitude is so easily accessible from a city the size of Denver, and out-of-staters are sure to become envious of this when they visit!
4. Arapahoe Basin
Located directly off Highway 6 and just 63 miles from Downtown Denver, Arapahoe Basin offers high country terrain that most skiers and riders can only dream of having access to. Routinely opening in mid-October and closing operations in early June, this resort is widely regarded as having the longest ski season in Colorado. The trek from the Mile High City is just about 1 hour and 15 minutes, and you almost double in elevation by the time you reach the parking lot!
With their runs being listed at 49% black diamond and 24% double black diamond, steep and difficult terrain is plentiful at A-Basin. The resort also features several challenging hike-to-runs that are sure to get your adrenaline pumping. Most of these come in the form of chutes off of the famous East Wall, pictured in the ridge that is located in the back left of the image attached above. This resort is one you definitely don't want to miss!
3. Eldora 
Eldora is located off the famous peak-to-peak highway in Northern Colorado, giving skiers and riders access to a resort that steers clear of the I-70 corridor. The resort is just outside of the quaint town of Nederland, providing authentic mountain town charm just a stone's throw from Denver and its suburbs. With a drive of about 1 hour and 10 minutes in peak road conditions, you can easily get some morning laps in here and go about the rest of your day accordingly.
This Ikon Pass resort provides a solid variety of terrain to get stoked on. The summit of the resort is situated at an elevation of 10,600 feet above sea level and features a 1,200-foot lift-served vertical drop. With a wide variety of blue and green runs complimented by a Woodward terrain park and several double black runs off of the famous west ridge, this resort provides an awesome option for those looking to easily access the slopes.
2. Loveland Ski Area
Loveland may just be the most unique resort on this entire list. Have you ever skied on top of an interstate highway? Well, you can at this local gem. The resort is situated on top of the famous Eisenhower Tunnel, which plows through the continental divide and provides access to Summit County. Loveland features the second-highest lift-served run in the country, with the top of the run sitting at 12,697 feet above sea level.
With a peak elevation of 13,010 feet above sea level, the resort is among Colorado's highest. The resort also holds the distinction of having the earliest opening day in state history, giving skiers and riders access to the slopes on October 7th, 2009. With a drive of 1 hour and 3 minutes without traffic or weather delays, the access to a resort this high up in the Rocky Mountains is truly a feat of engineering.
1. Echo Mountain
Small but mighty, Echo Mountain offers the most direct access for Denver skiers and riders to hit the slopes. Topping out at 10,650 feet above sea level and sporting 650 acres of skiable terrain, this quaint resort is located just west of Evergreen, CO in Clear Creek County. With the exception of a small length of I-70, the route to the resort allows you to skip traffic and stay off major thoroughfares. The drive here comes in at just under an hour.
Echo Mountain is also by far the closest resort to Denver that offers night skiing. You'll have to drive over 50 miles on I-70 to reach the next closest option, Keystone. Echo Mountain found a way to fill a hole in the market with the addition of night skiing, adding another dimension to the resort that is sure to draw additional skiers and riders. On top of this, their lift ticket prices are extremely cheap, coming in at $58 and $35 for an adult and children's weekend day pass, respectively.
Denver holds the claim of having some of the most access to world-class ski resorts of any city in the country, and those who live in the community should be truly thankful for this. For many who grew up here, this reality may easily be taken for granted. However, residents of most areas of the country would be extremely thankful to have opportunities such as these, and the resorts on this list all provide awesome experiences for those who are lucky enough to visit.