9. Aspen, CO
A list of top ski towns would never be complete without including Aspen. A ski-in, ski-out paradise that annually hosts the X games and has been associated with the ápres experience since as early as the 1930s, Aspen is truly a legendary place to spend a vacation. With four ski resorts located nearby and a luxury dining and shopping experience that spans across the entirety of the Roaring Fork Valley, this historical Ski Mecca offers the resort experience of a lifetime.
Aspen has played a crucial role in the history of American skiing. Post-WWII, many European immigrants from countries with strong skiing communities such as Austria and Switzerland flocked here and helped develop the town into the cultural center it is regarded as today. By 1967, Aspen Mountain, Buttermilk, Aspen Highlands, and Snowmass were all serving thousands of skiers every season. The town also possesses some of the highest-valued real estate of anywhere in the nation.
8. Taos, NM
Maybe the most unique town on this list, Taos offers a taste of southwestern culture that you cannot receive at almost any other location for a ski trip in the country. With a downtown lined with adobe-constructed pueblos and charming shops offering traditional Native American jewelry and artifacts, Taos is a truly amazing place for a weekend getaway. The high desert landscape and many natural hot springs in the area put the cherry on top of this New Mexico hidden gem.
Numerous geographical wonders surround the community of Taos. The Rio Grande River is one of the longest rivers in the country at 1,885 miles and is an absolute must-see while you're in town. The gorge that towers above the river is 800 feet deep, creating a stunning land feature that you have to see to believe. In addition to this, the Sangre De Cristo Mountain Range of the Southern Rockies towers over the town, creating a stunning backdrop everywhere you look.
7. Steamboat Springs, CO 
Another town with an infectious western feel that is complimented by the plethora of ranches scattered across the valley, history is everywhere you look in Steamboat Springs. The base village is lined with well-stocked ski shops and offers a plethora of ski-in and ski-out lodging options for the whole family to enjoy. Pro tip: order a pizza from Gnarly Charlie's over the phone on your last trip up the gondola, and it will be ready at the base to end your day on the mountain. Doesn't get much better than that!
Western culture is everywhere you look in Steamboat Springs. Originally developed as a cattle ranching stronghold, the town has done an excellent job of sticking to its roots. You are reminded of this right as you step onto the mountain, as a towering statue of 1964 Olympic Silver Medalist Billy Kidd wearing his signature cowboy hat is front and center of the village base. He is 1 of 100 Olympians that hail from the town, a truly impressive statistic!
6. Park City, UT
Park City is undeniably one of America's premier destinations for a winter wonderland experience. The craggy Wasatch Range of Utah looms over the heart of the city's downtown, creating a picturesque background for you and your family to create lifetime memories. The 2002 Winter Olympics were held here, and once you arrive in town you'll understand why they chose this winter wonderland almost immediately. Truly a destination worth traveling great lengths for, Park City remains a premier destination year in and year out.
There are also several other premier resorts other than Park City that you can gain access to by staying in here. One of the three mountains left in the country that doesn't allow snowboarders, Deer Valley, is minutes away and waiting to provide Ikon Pass holders with the famous Utah powder so many people have gushed about over the years. Big Cottonwood Canyon is just under an hour as well, home to Solitude and Brighton, both Ikon pass resorts. On top of all this, Little Cottonwood Canyon provides more Ikon Pass access via about an hour and a half of driving to both Snowbird and Alta, one of the other remaining skier-only resorts.
5. Telluride, CO
A town nestled into the heart of the San Juan Mountains in Southern Colorado, Telluride has long served as a getaway for some of the world's greatest alpinists and backcountry enthusiasts. The charming brick buildings lining Colorado Avenue are reminiscent of the town's past as a silver mining town and create an old-time feel that compliment some of Colorful Colorado's greatest terrain. If you are of drinking age, a stop at Telluride Brewing Co after a powder day is considered a necessity.
Telluride's location deep within a box canyon in one of the most surreal mountain ranges of North America truly sets this town apart from others. People often claim that they feel like they're in the European Alps when they visit the town, and for good reason. Victorian homes, art galleries, and gourmet restaurants help preserve the unique vibe of this town. On top of all this, being a six-hour drive from Denver, this town is quite difficult to get to. This helps preserve the authentic feel of the town by keeping out the Front Range crowds, much to the joy of those who are fortunate enough to visit.
4. Ketchum, ID
One of the most underrated ski towns in the nation, Ketchum truly does not get the love it deserves. Serving the Sun Valley Ski Area, the charm of this gorgeous valley town is undeniable. With almost a century's worth of history that you can feel immediately upon arrival, Ketchum offers an authentic ski town experience that is hard to beat. The world's first chair lift was even invented here in 1936!
If you're into a small-town feel where the community lives and breathes ski culture, Ketchum is the place for you. One of the smallest towns on this list with a population of just 2,689 people according to the 2010 census, you'll feel right at home in this cozy resort town. You can skip the crowds and traffic and focus on the good times in Ketchum, something not every ski town can claim to provide for its guests. Sun Valley was also just added to the Ikon Pass for the 22-23 season, another compelling reason to book your dream vacation here!
3. South Lake Tahoe, CA
One of the most unique towns on this list, South Lake Tahoe has an infectious vibe that will keep you coming back time and time again. Located directly on the border of California and Nevada, high-rise casinos such as Harrahs line the business district of this ski town paradise. There is no better place to have a drink with your friends after a long day on the slopes, and Lake Tahoe's loose vibes and gorgeous views are sure to make you consider quitting your job and moving out west.
Despite the new-age addition of casinos and waterfront attractions, South Lake Tahoe maintains an old-time feel that is reminiscent of the glory days of American skiing. With Nordic-style architecture and wood cabins almost everywhere you look, the town still possesses a refreshing historical feel. The resort closest to town, Heavenly, also holds the distinction of being one of a small handful of mountains that is split between two different states!
2. Breckenridge, CO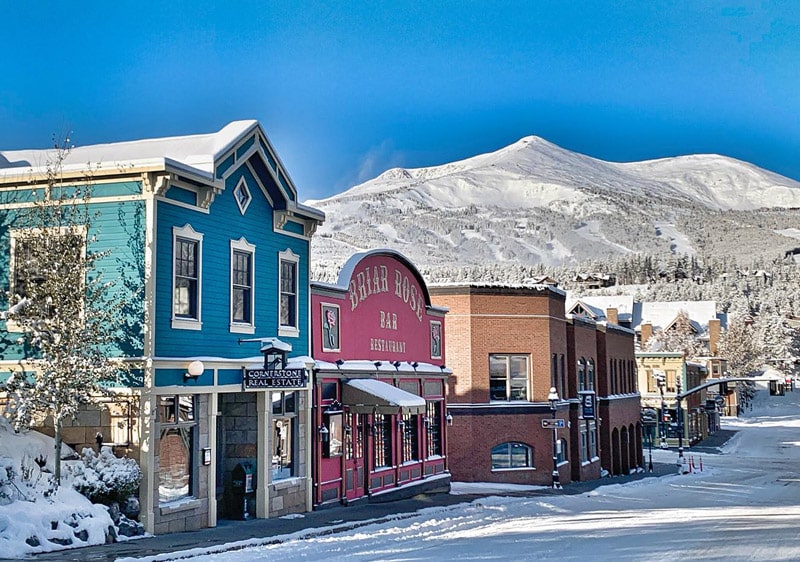 One of the many premier resort towns located in the Colorado high country, Breckenridge is a must-see destination for every skier and snowboarder. Located at an elevation of 9,600 ft above sea level, it is among the highest-elevation towns in North America. The charming Main Street has something for everyone in the family to explore, and with numerous ski in ski out lodging options, it has long been considered one of the top ski towns in the country for good reason!
Breckenridge has the added bonus of being located in Summit County, home to several of the country's top destination resorts. On top of being able to access the Breckenridge Resort within minutes, Copper Mountain, Keystone, Arapahoe Basin, and Loveland Ski Area are all within a 30-minute drive of the resort. This gives both Ikon and Epic pass holders a variety of options to have the ski trip of a lifetime while staying in this beautiful town!
1. Jackson, WY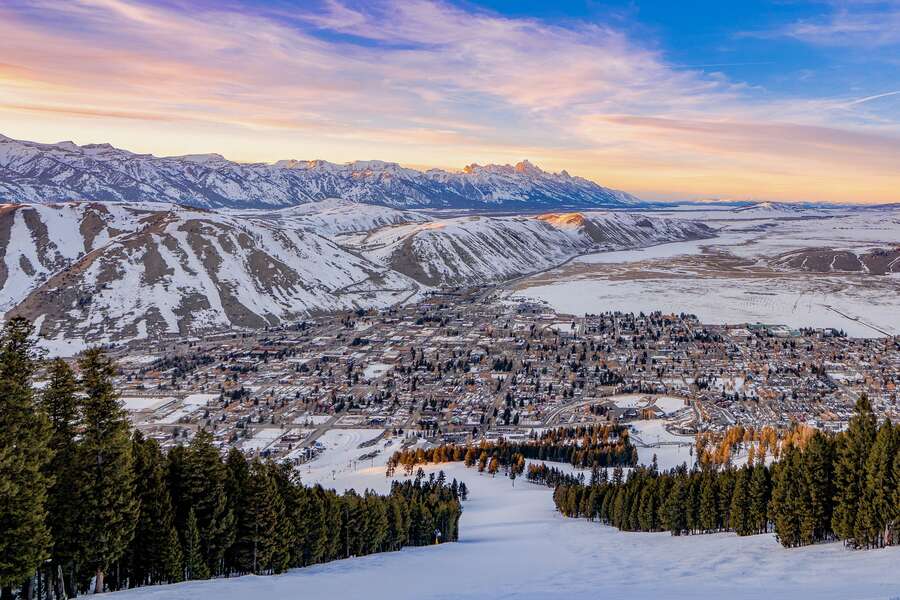 Not only is Jackson Hole Resort one of the premier ski destinations in the world, but the adjacent town of Jackson is truly a magical place. With an old-time western culture that spans back well into the 1800s, the downtown area is stooped in history with amazing restaurants and shops to explore. If you are of drinking age, be sure to check the amazing Million Dollar Cowboy Bar for some refreshing cold ones after a long day on the slopes.
Jackson is regarded as the gate to several other significant backcountry gems. Just north of the town are Yellowstone National Park and Grand Teton National Park, both with stunning scenery that warrants a visit by every American. Also nearby is the National Elk Refuge, where thousands of elk congregate every year. You'll find thriving populations of bison, wolves, trumpeter swans, bald eagles, and bighorn sheep surrounding the area as well, adding to the natural beauty of the town.