If someone asked you where the richest cities in Colorado were, you would probably shout out names like Vail, Aspen, or Steamboat Springs. The skiing community associates high-end resort names like these with luxury skiing shopping outlets, five-star restaurants, and high-quality, trademarked, Champagne powder. In places where the streets seem tinged with gold, how could you not think they are also the most well off?
Ski towns' infrastructure is largely driven and backed by resort tourism, whether it be skiing in the winter or golf, mountain biking, or sightseeing in the summer. The people visiting these brand-name ski towns are generally well off. And they should be. Anyone familiar with ski resort pricing will know that lift tickets aside, even the food on the mountain is expensive. According to Vail Daily, a Gatorade costs $7 at the top of Vail Mountain with a burger starting at $22. Daily lift tickets at Vail are over $200 per person for adults. And we haven't even gotten to the retail shopping or après entertainment yet.
The average income of the city of Vail was $39,868 according to the United States Census Bureau in 2019. Why? Someone has to make your $22 burger, operate the lift and teach your child to ski. So while tourists may be handing over cash in Vail and other resorts for overpriced items, it doesn't necessarily equate to ski towns being high-income cities.
There is a huge wage disparity when it comes to people who make a resort happen to the people who use the resort. In 2019, the minimum wage at Breckenridge and Keystone, both Vail resorts, was just $12.25 per hour. Vail Resorts tend to use the same minimum wage at all their resorts, regardless of the location's cost of living. Vail employees were making the same low wage as other Vail resort employees, while the cost of living was 6% higher in Vail when compared to other Summit County resorts.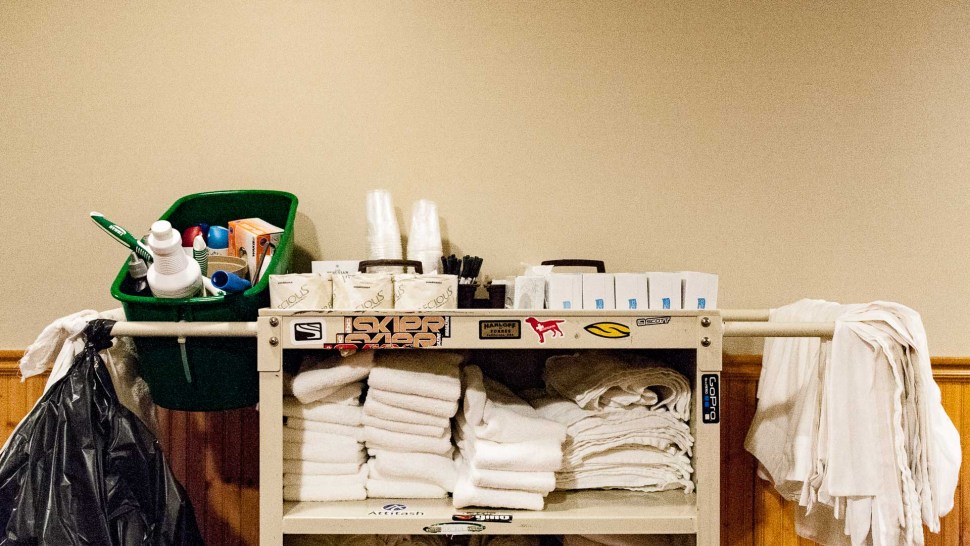 So where are the richest places in Colorado if they aren't the ski towns? They're where people live and work, largely in engineering and health care jobs. Centered around the Denver area, the 9 richest Colorado towns offer the chance to live in American suburbia while also being close to work and play. According to HomeSnacks.com, the cities were ranked with a score calculated with regard to Poverty Level, Median Household Income, and Unemployment Rate. 
I am a numbers girl – so I thought it would be interesting to take a look at the facts. I compared the cost of living, distance to Vail, and the rankings for these cities. I also compared the rankings for these cities in the "Most Expensive places to live in Colorado" ranking list. This ranking was calculated by HomeSnacks.com with regard to Median Home Price / Median Income ratios, Median Income / Median Rent ratios, and Median Home Price. The cost of living index is set to a base of 100 for an average city in the USA. A score above 100 means it is more expensive than an average American city, while a score below 100 means the cost of living is cheaper.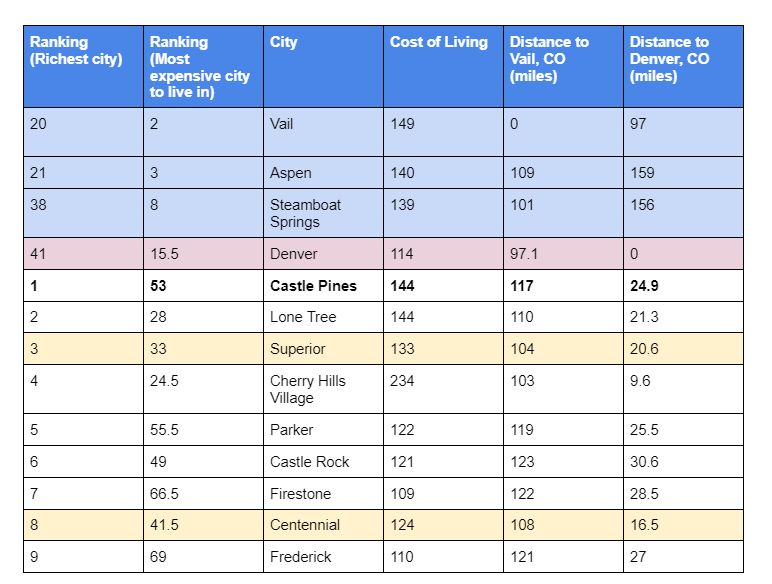 What I found fascinating about these numbers is that the richest cities in Colorado are high on the list of most expensive cities to live in. In an economic inverse, it turns out that the people who reside in towns that are cheaper to live in are also more well off. Additionally, the nine richest cities in Colorado are an average of 22.72 miles from Denver, CO. A short distance like this ensures that people can maintain a high quality of life for cheaper prices while still being within commuting distance to jobs. Denver is almost a middle ground, where the cost of living and expensive city ranking is not good, but not terrible. It unsurprisingly is about halfway down the list of richest cities. 
So you want to make it rich, but you also want to be close to skiing and snowboarding? I'd recommend you look into moving to Superior or Centennial, Colorado. These towns are both under or close to 20 miles from Denver and just over 100 miles to Vail. Both rank well on the cost of living scale when compared with the other nine richest cities. 
Check out Dollar Short for a good laugh at the price of luxury skiing.
Author's Note:
I looked into the fidelity of the data on HomeSnacks.com. According to their website, they utilize "Census, FBI, OpenStreetMaps, and dozens of other sources into bite-sized studies to help you understand what it's like to live in different communities across the country." If you dig deeper into their reports, you can download the raw data they use in their studies to do your analysis and comparisons. 
References: