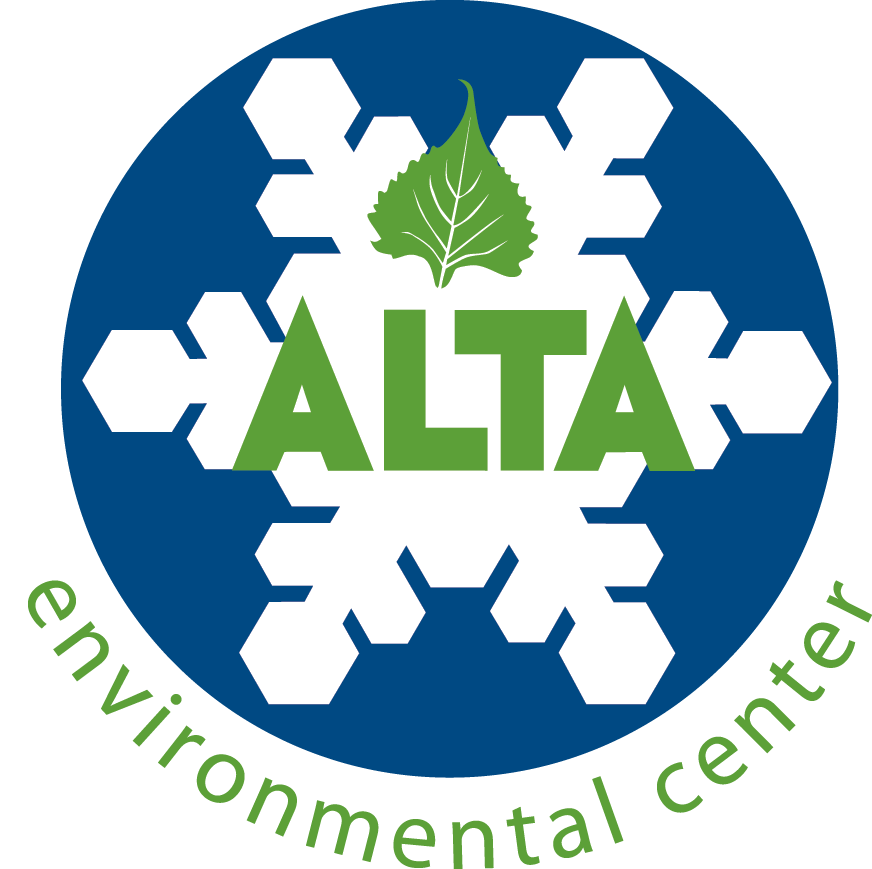 Brought to you by Alta Ski Area
Alta Ski Area recognizes the importance of sustainability in the ski industry. The mountain created the Alta Environmental Center (AEC) in 2008 to guide sustainability efforts and look after the natural environment in which the ski area operates. As the volume of skiers increases, the Alta Environmental Center strives to continue minimizing the ski area's impact on the natural environment.
The Salt Lake Valley and surrounding areas as seen only a century ago are very different from what we now see today. In the early 1800s, the Mormon settlement in what is now Salt Lake began to grow. Eventually, settlers made their way into upper Little Cottonwood Canyon based on the prospect for silver mining. The first silver mining claim in what is now Alta was staked in 1865. By 1872, this first settlement in Alta was booming. The need for housing and mining infrastructure attracted residents to the natural supply of wood within the canyon. This first settlement was eventually wiped out by natural disasters including large avalanches, fueled by deforested slopes, and wildfires. While the original settlement was lost, a second settlement was established in Alta in the early 1900s, prompting a second mining boom which also utilized the natural supply of wood in the area. The second mining period in Little Cottonwood Canyon eventually dwindled mostly due to economic reasons. Between the two mining booms, large swaths of trees were cut down for infrastructure needs resulting in almost complete deforestation within Alta.
While these mines were crucial in establishing the first buildings and settlements within Little Cottonwood Canyon, the impacts from ongoing deforestation took their toll and Little Cottonwood Creek became contaminated with heavy metals from mining activities. This left what is now Alta in a state that many would not recognize today with few trees on the slopes and contaminated water in the creek. The AEC strives to continue conserving the land, protecting water and air resources, and continue ongoing conservation efforts year after year, including reforestation, revegetation, and restoration efforts.
The center works on 3 general principles:
Pursue sustainability internally for Alta Ski Area through the conservation of energy, water, land, and business

Act as a resource to the greater Alta community in an effort to promote more sustainability initiatives through partnerships and stewardship

Encourage and foster environmental education and research through internal and third-party collaboration
So far the AEC has done some fantastic work, much of which would not be possible without the help of its wonderful partners. Since 1991, the AEC has planted over 40,000 tree seedlings and 73,000 plant seedlings to contribute to ongoing conservation, restoration, revegetation, and reforestation efforts. Additionally, Alta has restored approximately 3,400 ft² of wetlands within the Albion Basin. The overall goal of the AEC's land conservation efforts is to restore impacted land to its pre-existing condition—or better—when any new infrastructure or projects disturb land within the ski area. Removal of invasive plant species where land has been previously disturbed and in highly trafficked areas has also been an ongoing part of the AEC's land conservation efforts with 101 acres of land treated annually for these species in coordination with volunteers and partner organizations as of 2020.
Conservation is not a new thing in the Little Cottonwood Canyon. Reforestation efforts are documented as early as 1933 when the Civilian Conservation Corps planted trees through a work program established by the New Deal. The AEC continues annual reforestation efforts, planting between 1,000 and 1,500 tree seedlings annually, which over time has made a noticeable difference at Alta as seen below.
The AEC is looking at strategies to reduce the ski area's carbon footprint. So far 98 solar panels have been installed, offsetting 105 tons of carbon dioxide emissions since their installation in 2015. The center has also built a LEED-certified Silver Building. The LEED (Leadership in Energy and Environmental Design) certification system certifies a building based on a variety of factors including, but not limited to, energy efficiency and materials used in construction. On top of this, Alta has also installed 2 electric vehicle charging stations to help promote the use of electric vehicles for their employees and guests.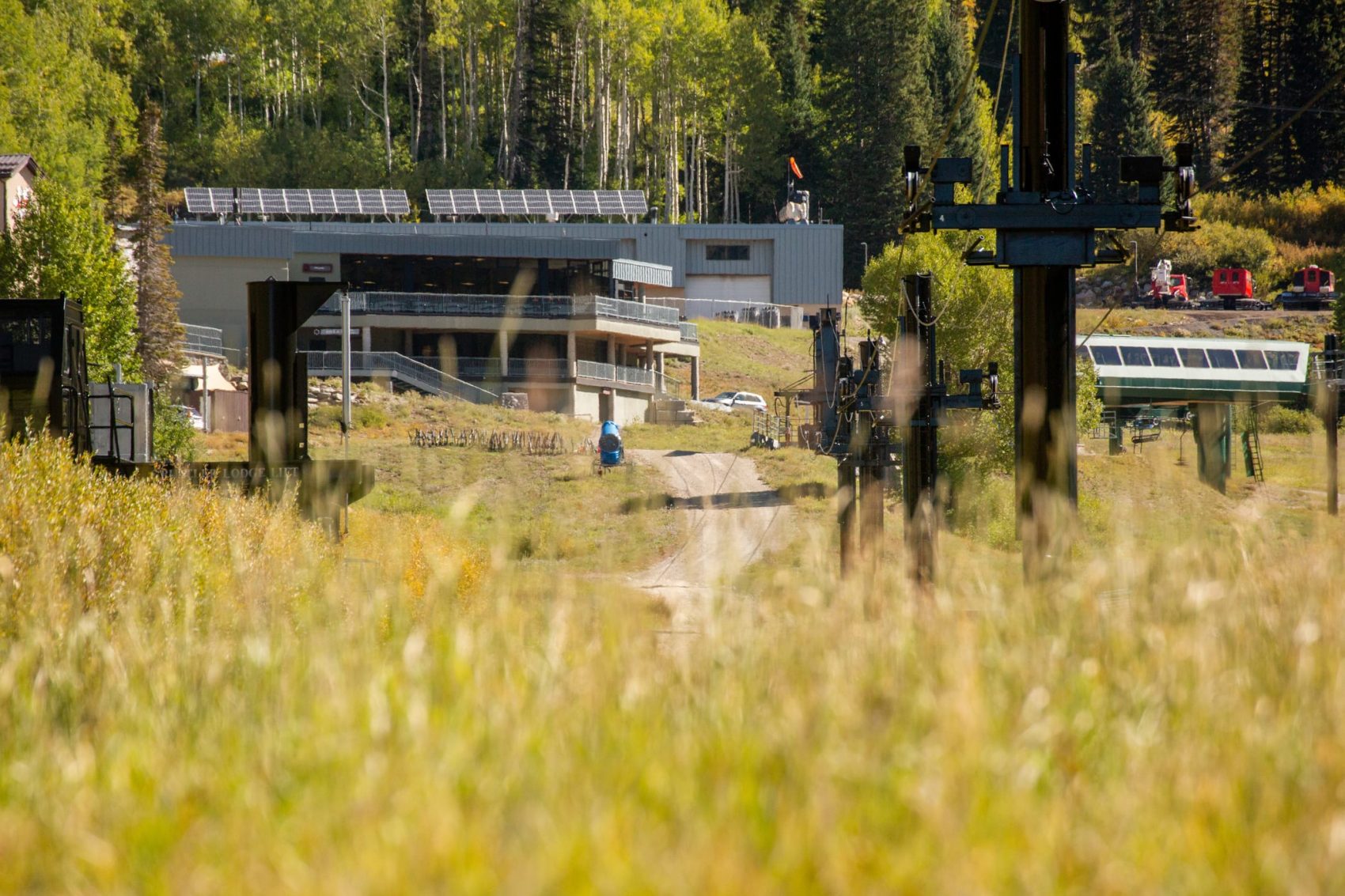 As mentioned, The AEC has many partners who help with all its efforts. Below is a list of all partners associated with the AEC:
In coordination with its partner organizations, the AEC strives to offer ways for the community to get involved, mainly through summer stewardship events. Like most events, COVID-19 impacted these in summer 2020. However, the AEC is hopeful to hold these events in the summer of 2021. If you want to get involved, you should regularly check the AEC website for information on summer stewardship events.
Research and Education is another major part of AEC's work. With the help of its partners, the AEC has implemented and will continue to expand on programs to help foster education for all those who visit Alta. These initiatives include internships (coming soon), the bird survey project, SKE-COLOGY, winter educational events hosted by their partners including Birding on Skis and Snowshoe with a Naturalist, and the University of Utah Environmental & Sustainability Studies Program.
Alta's conservation and sustainability approach has evolved over the years and continues to guide the ski area in land conservation and sustainability initiatives. The AEC's efforts have made noticeable improvements for the mountain and the local Alta community. By involving the locals through volunteer stewardship events, building strong partnerships, and offering a variety of education initiatives, Alta intends to continue paving the way towards a brighter, more sustainable future in Little Cottonwood Canyon. As the ski industry continues to ramp up its sustainability initiatives around the world, the Alta Environmental Center strives to be a model to inspire others in the global community to be more sustainable.