Brighton ski area near Salt Lake City, UT is a gem.
The place averages 500″ of snowfall per year.
Brighton is famous for its cliffs, chutes, bowls, natural features, the best night skiing in Utah and access to excellent backcountry terrain.
When you go to Brighton, you'll want to hit all its best features.
We've compiled a list of Brighton's best lift, run, bar, and restaurant to keep you on track.
THE BEST OF BRIGHTON, UTAH:
***
Best Lift:
Millicent Express
The Millicent Express chairlift allows access to some of the best looking terrain in Big Cottonwood Canyon.  Granite cliffs, pillows, knobs, wide-open slopes, and the intimidating Mount Millicent.  A 20 minute hike places you atop Mount Millicent for spicy chutes, airs, and steep skiing.
The Millicent lift also allows access to some of the best backcountry skiing and riding in the Cottonwood Canyons.  Alta is just over the hill and the granite cliffs just south of the resort are beyond photogenic.  Please don't forget to never ever go out of bounds without the proper avalanche education, avalanche gear, a great partner, and a plan.  If you don't know, don't go.
***
Best Run: 
Anything of Millicent
We'll keep it simple for ya:  go to Millicent.
The runs off Millicent are pure smile inducing endorphin fun.
In one run you can drop cliffs, pop pillows, slash fins, open it up in wide open bowls, ski tight aspen trees, and fly off wind lips. 
The playfulness of the Millicent terrain keeps you grinning and lapping for more.
***
Best Bar:
Molly Green's 
Clank up the stairs in ski boots, clatter through the door, let your eyes adjust to the dim lighting, and wham! you're instantly feeling the deep funk of the legendary Molly Green's.
Oh yeah, this place is fully funky, A-Frame-y, and fun.  If you make it to Brighton, do not miss Molly Green's.
Molly's brings the funk hard with a low-light dive bar glow, a wide selection of cold beers, killer Bloody Marys, live bands, mounted moose heads, a cozy fireplace, and tasty bar food (go for the nachos & pizza).  
The aprés scene is Molly's is perfectly mellow and 100% satiated.  Sit back, relax, tell stories about your face-shots off Milli, and take it all in.  You're sure to be a  happy camper in Molly Green's aprés ski funk paradise.
***
Best Restaurant:
Silver Fork Lodge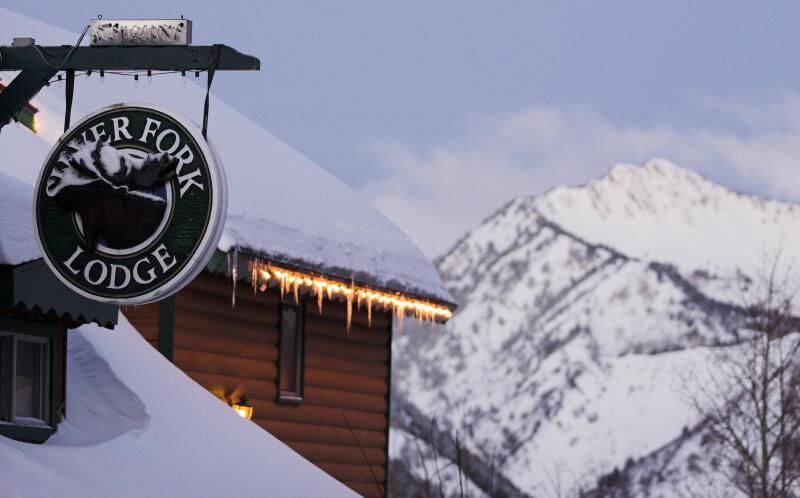 The Silver Fork Lodge is the go to for avant and aprés ski in Big Cottonwood Canyon.  It's located 3-miles downhill from Brighton and you don't want to miss it.
The Silver Fork has a gold and silver mining history that dates back to the 1850s.  The Silver Fork was the general store supplying a tent city of miners and sawmill workers.  The current lodge stands in the exact same location as that general store did so long ago.
"The community of Silver Fork has a rich history that dates back to the 1850's when it was a large tent city for the miners and the sawmill workers. The tent city consisted of around 2,500 people, 8 saloons, stores and an LDS ward. The northwest corner of the Silver Fork Lodge and Restaurant was once a general store for the area." – Silver Fork Lodge
This lodge retains a rustic, cozy, relaxing atmosphere sure to heighten any pre or post ski experience.
What to eat:  70-year-old starter Sourdough Pancakes, Corned Beef Hash – these are the house specialties.
No matter where you end up at Brighton, you're gonna have a ball.
Brighton is home to copious amounts of powder (500″ per year on average), incredible history (founded in 1936), the best night skiing in Utah ($96 on Monday night with a Large Pizza) , legendary lifts (Millicent), and obnoxiously good times.