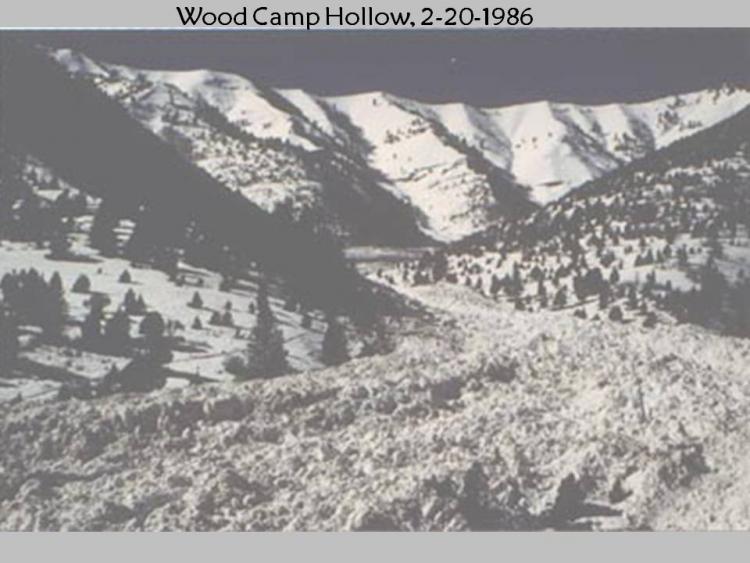 My landlord's name is Pete. He's in his sixties and has been skiing here in the Wasatch since he was my age or younger (I am 23). He's seen his fair share of skiing and avalanches.
I was riding up with Pete to Alta Ski Area this afternoon when I learned about the Wood Camp Hollow avalanche that happened in February of 1986. 
The thing gives me chills. 
Pete said that at that time he was going backcountry skiing in the area with some buddies when he saw the biggest avalanche debris field any of them had ever seen in their lives. It was miles long, and several stories deep.
The crown traversed ridgeline after ridgeline for thousands of feet.
This is one of the largest avalanches I've ever heard of, let alone in Utah, my home—so I dug a little deeper. 
In the archives of the Utah Avalanche Center, I found a detailed report of the avalanche that struck that day and it only intensified the chill I felt from Pete's story. How is an avalanche of this proportion even possible—so close to where I live and ski in the backcountry virtually every day of the winter? I needed to know…
Here's what the Utah Avalanche Center has recorded in their archives about the Wood Camp Hollow avalanche in February of 1986
Avalanche: Huge Natural Avalanche, Wood Camp Hollow, 2-20-1986
Observer Name:
Toby
Observation Date:
Avalanche Date:
Thursday, February 20, 1986
Region:
Logan » Logan River » Huge Natural Avalanche, Wood Camp Hollow, 2-20-1986
Location Name or Route:
Wood Camp Hollow, 2-20-1986
Elevation:
9,000′
Aspect:
Northeast
Trigger:
Natural
Avalanche Type:
Wet Slab
Weak Layer:
Depth Hoar
Depth:
unknown
Width:
5,000′
Vertical:
3,000′
Comments:
We recently found some historic photos of a huge avalanche in Wood Camp Hollow. The avalanche occurred on February 20, 1986…
Thanks to Kevin Kobe for letting us copy a few of his great slides…… And Mike Van Horn for the rough black and whites and documentation of the event…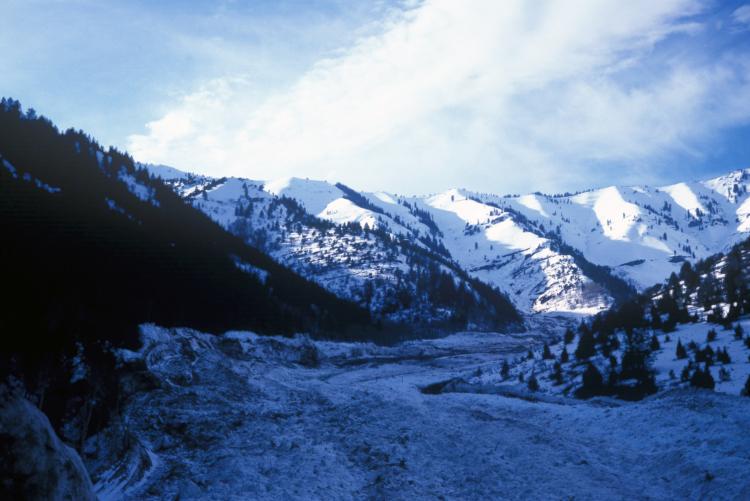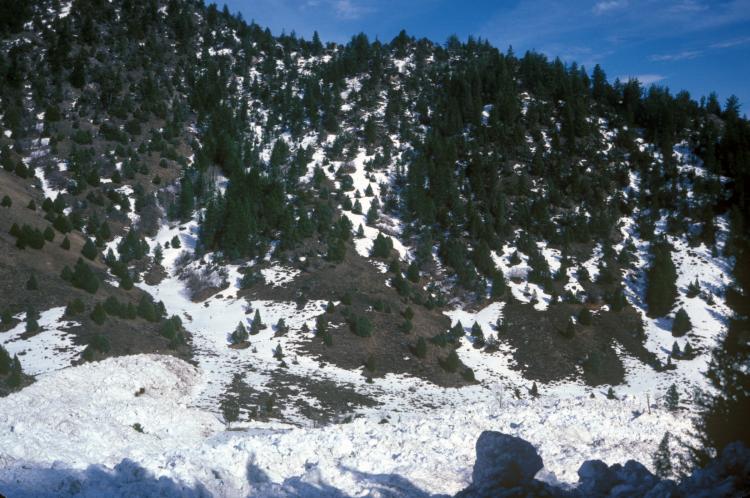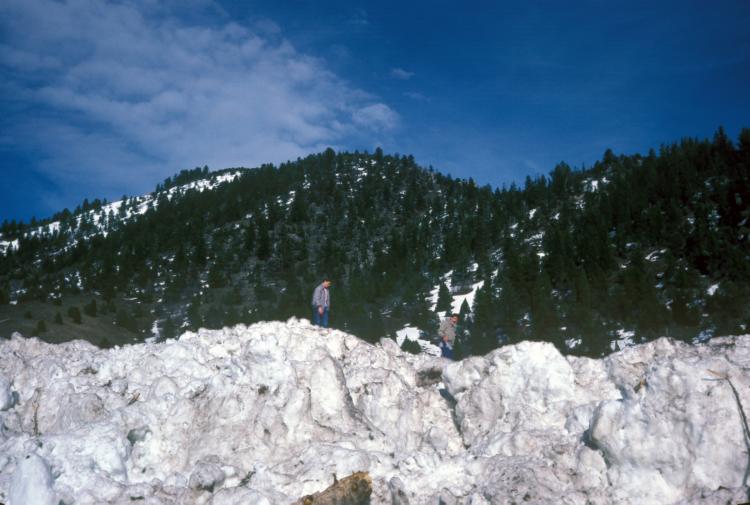 Comments
The event was written up in "The Snowy Torrents," a classic chronicle of US Avalanche Accidents between 1980 and 1986, by Logan and Atkins. (86-13)
Logan Canyon Utah, 1 Very Large Avalanche
Weather Conditions: Strong winds and wet, heavy snows and frequent rains continued to blast the Wasatch Mountains of northern Utah. Since February 11, Wasatch ski areas reported over 40 inches of snow and more than 5.0 inches of water equivalent. A thick blanket of heavy snow covered a weak snowpack along the steep mountains of Logan Canyon.
Avalanche Data: Sometime on February 20, a massive avalanche released from the steep eastern face of the ridge between Beirdneau Peak and Mt. Elmer. Over one million cubic yards of snow raced down the narrow drainage of Wood Camp Hollow—about 13 miles east of Logan—tearing out trees and boulders. The avalanche was classified as an SS-N-5: it released from about 8,600 feet and fell 3,100 vertical feet as it raced 2.5 miles down the drainage. At its widest spot in the starting zone, the slide was over 1 mile across. In the valley, runout zone debris was piled over 60 feet deep.
Comments: Though this was not an avalanche accident it is certainly a noteworthy avalanche event. The avalanche debris in the summer of 1986 looked much like a glacier. The last of the debris did not melt away until the summer of 1987.
Large and long-running avalanches are not unfamiliar to the Beirdneau Peak area of Logan Canyon. In January 1971, several drainages to the southwest of Wood Camp Hollow, two large avalanches ran more than one mile, both damaged and destroyed several houses and structures. Though no structures were damaged in the February 20 event, these long-running avalanches should serve as a reminder to developers and builders. Permanent structures built in avalanche paths eventually get struck…
Photos