With consequences of human-driven climate change looming just on the horizon, humankind is faced with a choice: continue down our path of ignorance and hope this environmental mess will all work itself out on its own, or take accountability for our actions and actively work to fix it.
Climate change is the long-term change in global or regional conditions, as defined by Jim Steenburgh, professor of atmospheric sciences at the University of Utah. It is a popular topic, especially to everyone in the ski industry whose careers revolve around snowfall in the winter. It's a straightforward issue: rising global temperatures caused by human-driven climate change is making Wasatch winters shorter and warmer generating less snowfall for ski areas.
In a place like Salt Lake City, Utah, where much of the economy is dependent on the ski industry and winter snowfall, climate change is on the tip of every skier's tongue. Climate change is causing global temperatures to rise and is putting the magic of skiing in jeopardy. The question is: what are we doing about it?
"It is important to recognize that climate change is already affecting Wasatch winters," Steenburgh said.
Steenburgh went on to say that Salt Lake City has already seen a definitive shift toward warmer temperatures which has led to an increase in the percentage of wintertime precipitation that falls as rain at lower elevations. He said that these trends will continue in the coming decades and that we will see more warm winters and fewer cold winters. This will lead to an increasing fraction of wintertime precipitation falling as rain instead of snow, especially at a lower elevation. For the local ski industry, this means shorter, warmer winters with reduced snowfall. This issue is the potential nail in the coffin for local ski areas if left unchecked.
For the ski industry, snow is currency. From 2001-2016 55.6 million skiers visited American ski resorts during the winter season cumulating over $20.3 Billion in gross revenue for the U.S. economy. However, as global temperatures continue to rise, North American ski resorts are expected to see thinner winters with less snowfall. Thankfully, many ski resorts acknowledge these very real implications and are passionate about ensuring their futures as winter playgrounds.
Seven ski areas that are located within an hour of Salt Lake City have implemented sustainability programs that aim to reduce the damage brought about by rising global temperatures. This is because ski areas are holy dojos, so to speak, to millions of people that center their entire existence around them. Hillary Arens, Director of Sustainability and Water Resources at Snowbird Ski Resort, is one of these people.
 "Sustainability is important to me and to Snowbird because we are reliant on snowfall for our industry. It is important that we do our part to reduce our carbon footprint and to help influence our guests and employees, and hopefully the greater ski industry as a whole, to understand how our choices impact the environment and the climate," Arens said.
By getting the individual skier involved in the fight against climate change, Snowbird has started a revolutionary initiative by implementing their R.I.D.E (Reducing Individual Driving for the Environment) Share program. Designed to help reduce carbon dioxide emissions and traffic congestion in Little Cottonwood Canyon, the R.I.D.E. Share program rewards you when you take the UTA Ski Bus or carpool with 3+ people to Snowbird. New for 2019, Snowbird has launched the R.I.D.E. app making it easier to find carpools, track your points and score rewards.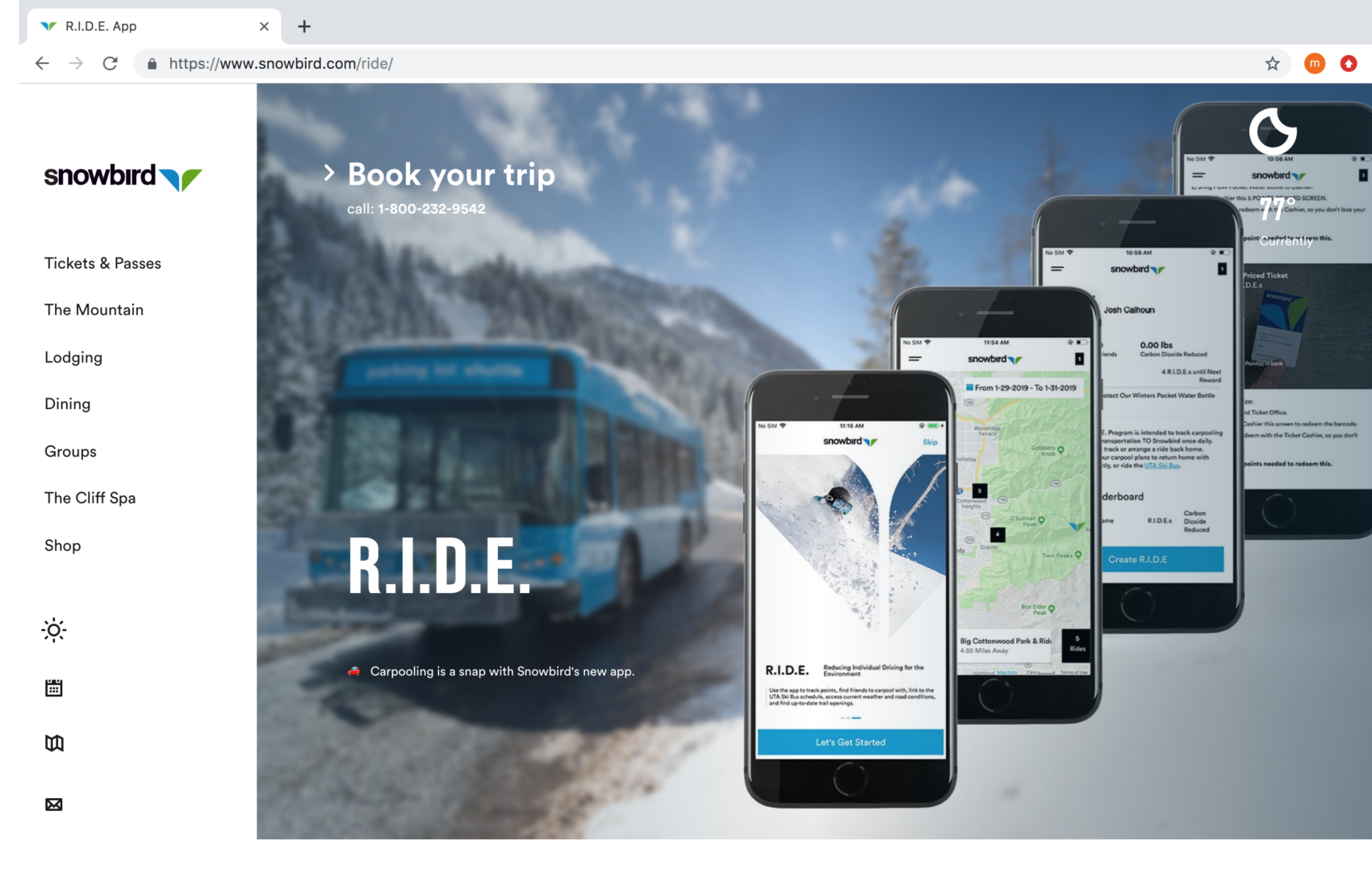 "I think the R.I.D.E. carpool program is an important project to help influence people to carpool and take the bus and reduce traffic congestion in Little Cottonwood Canyon and improve air quality in the Salt Lake valley," Arens said.
Along with the R.I.D.E. Share program, Snowbird has already begun planning for lower snow years and is looking to expand into more summertime activities anticipating shorter winters. Like Snowbird, Snowbasin Resort is another ski area that is making extensive preparations for climate change and is paving the way for many other ski areas aiming to get involved with their own sustainability projects.
"Snowbasin keeps sustainability front of mind and is always looking for other projects we can take on to continue to run our ski resort with sustainability in mind," Megan Collins, communications and events specialist at Snowbasin Resort, said.
Collins is a Salt Lake City local who has been skiing since before she knew how to walk properly at one and a half years old. She is passionate about her home in the mountains and her ski area, Snowbasin, because, like many others, skiing is both her life and career.
"I think the phrase, Eat. Sleep. Ski. Sums me up pretty well," said Collins.
According to Collins, some of the sustainable initiatives that Snowbasin has done in the last handful of years include:
Choosing to have reusable cups at all water stations within the resort and minimizing the paper cups at the soda fountains.
Recycling 56% of waste through the beginning of 2019, totaling 61,000 pounds. This summer they plan to increase that rate to 75% by utilizing a new local food waste digester.
Offering priority parking in the winter in Lot A to cars with 3+ guests in them. Furthermore, Snowbasin hosts 2 annual carpool weeks a year for employees that encourage them to carpool for chances to win great prizes.
Offering free bus passes for all employees and offering season pass holders the opportunity to purchase a season bus pass for only $10.
Snowbasin is constantly replacing and updating its snow guns on the mountain with more efficient snow guns (Rubis Evos), which use 90% less compressed air.
Snowbasin has constructed a snowmaking water reservoir that allows its snowmaking system to be 25% more efficient.
Discontinuing the use of straws.
The resort dining sector is currently using all reusable wares – even on BBQ's. They've eliminated paper plates by investing in Melamine plates for outdoor service and all china and silver for indoor service
Snowbasin has begun working with Rocky Mountain Power, the leading electricity provider in Utah, to actively retro-fit all lighting to low energy LED (over 10,000 bulbs and fixtures).
Collins has taken sustainability a step further and brought matters into her own hands, stating that she makes it a goal in the winter to ride the ski bus to work at least 2-3 days a week. She has also personally stopped using straws and makes an effort to minimize the waste of packaging. As a skier and one who deeply cares for the environment, she is working to set an example as to the impact a single individual can make. So how can we practice what we preach, as Collins does at Snowbasin?
Collins said she believes that being conscientious of how to travel to a resort – if it is public transportation, ride-sharing apps, or carpooling – is a great way to begin engaging in more sustainable habits when considering the health of our mountains. We all have to get to the mountain somehow, and being smart about how we do that can make a tremendous impact.
Ski areas are not the only ones in the corner up against climate change. There are several local non-profit organizations in Salt Lake City focused on ensuring the sustainable future of the Wasatch mountains such as The Cottonwood Foundation.
The Cottonwood Foundation is a local non-profit foundation that's mission statement is to protect and continuously improve the environments of Big and Little Cottonwood Canyons through education and stewardship programs.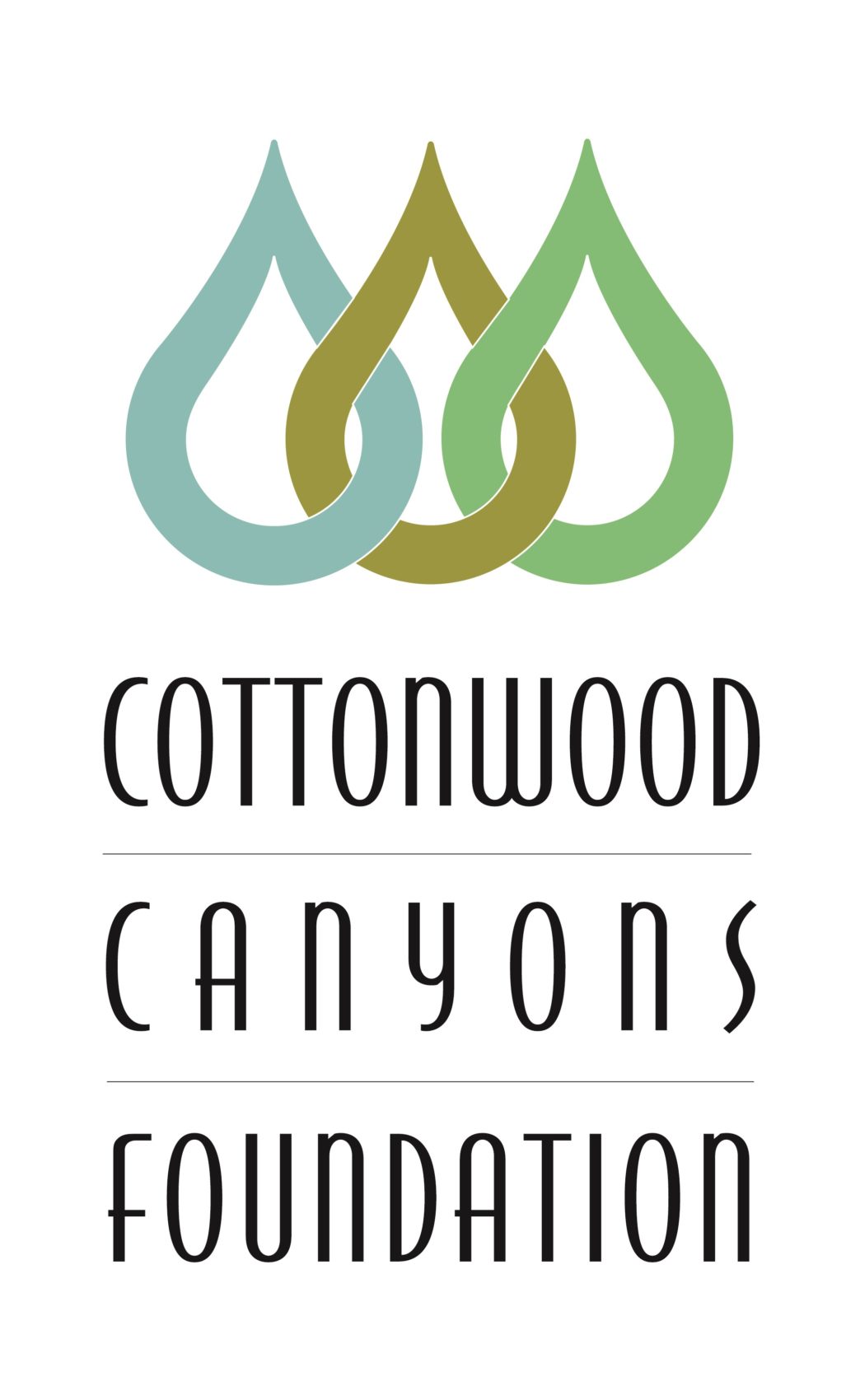 Big and Little Cottonwood canyons are two prominent canyons that have mouths located in the heart of Salt Lake City. They are the location of 4 ski areas including Snowbird Ski Resort, Alta Ski Area, Brighton Ski Resort, and Solitude Mountain Resort.
The Cottonwood Canyons compose a critical and magnificent ecosystem. They provide approximately 60% of the drinking water for Salt Lake City and are a major economic engine for Utah's ski industry.
These canyons compose, in essence, the vast majority of Salt Lake City's ski industry and are a driving economic force in the state of Utah. The impact these canyons have on the local economy is authoritative, to say the least. In the winter, people travel from all over the world to come to these canyons and ski.
But with lower snow years, the level of tourism is expected to decline which would cause issues not only for the ski areas but the entire local economic ecosystem as a whole. However, the fight against climate change is not a fatalistic enterprise by any means – there is still much we can do to slow it down, if not defeat it. But time is running out and the time to act is now.
So, what can we do, to ensure powder-filled winters, you may ask as a fellow skier or just a concerned inhabitant of this beautiful planet we call home? The fight against climate change begins on the individual level, and the more people engaging in sustainable habits and possessing sustainable mindsets, the greater the likelihood for actual change – in both the ski industry and the world. So, the choice is yours; adopt an altered perspective, one that is more sustainable with the environment in mind; or further our collective ignorance by doing nothing and allowing the world to burn. For skiers and mountain and enthusiasts alike, the latter is not an option.