How high is too high to set up a town deep in the mountains? Several communities thrive above 10,000 feet above sea level, over 1/3 of the height of the highest peak on Earth, Mount Everest. Residents of these towns battle fierce winters, lower amounts of oxygen, tough driving conditions, and many other factors that can create significant issues on a daily basis. Despite this, many of these towns have histories that go back dozens of decades, and life at the top of the Rocky Mountains isn't going away anytime soon.
5. Cripple Creek, CO
Coming in at 9,494 feet above sea level, Cripple Creek is an old-time western town that will make you feel like you're back in the 1800s. Located in Teller County, this mountain town has a history that is stooped in mining, particularly gold. Originally inhabited in 1890, this town was birthed by the onset of the last Colorado gold rush. They have produced 731 metric tons of gold as of 2005, leading miners to flock to the area at the end of the 19th century. After suffering two horrific fires near the beginning of the 20th century, the town has shown a lot of resilience to still be populated to this day.
In more recent times, the town has turned to gambling to attract visitors and maintain the local economy. Cripple Creek opted to legalize gambling in 1991, leading to the development of several casinos that have brought it out of borderline ghost town status. The population even dropped to just a few hundred during the 1970s and 80s but has increased exponentially since due to the new development that gambling has produced. Colorado produced $104 million in state-wide gambling revenue in 2012 alone, giving towns in the high country such as Cripple Creek a new economic alternative that has led to their revival.
4. Mountain Village, CO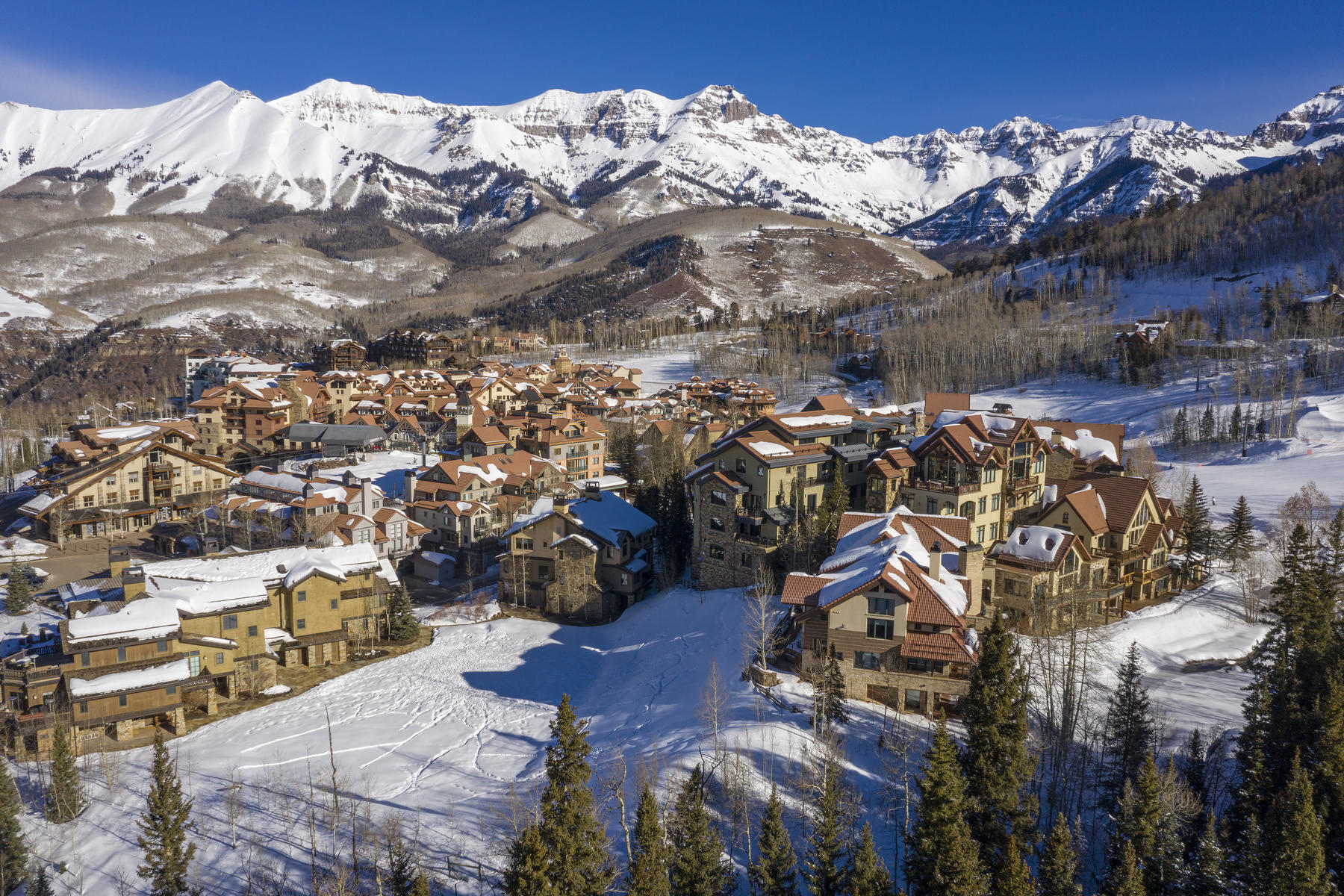 Located just outside the glorious ski resort of Telluride, Mountain Village sits at a lofty elevation of 9,540 feet. This San Miguel County town has a population of 1,320 people as of the 2010 census. It was officially incorporated in 1995, making it a relatively new population center compared to others on the list. The community exists primarily to provide additional housing for the Telluride community, allowing more families to occupy the narrow valley situated deep within a box canyon in the San Juan Mountains.
Mountain village golds the claim of being surrounded by the highest concentration of 13,000 and 14,000-foot peaks of any area in the country. The town serves as a base camp for countless high-elevation adventures in the area, making it a true paradise for skiers, mountain bikers, climbers, backpackers, and other outdoor enthusiasts. With new developments and a plethora of high scale real estate scattered throughout the area, Mountain Village is quite an expensive place to call home.
3. Breckenridge, CO
Another amazing high-elevation resort town, Breckenridge sports an elevation of 9,600 feet above sea level. This Summit County town is home to the legendary resort of the same name, providing visitors and residents alike with an unparalleled opportunity to enjoy the Rocky Mountains. With a gorgeous downtown lined with countless restaurants, boutiques, and hotels, Breckenridge has earned the reputation of one of the best mountain towns in North America for good reason.
Originally inhabited during the Pikes Peak gold rush in 1859, history is everywhere you look in Breckenridge. From the Victorian-style buildings to the numerous museums around town, it is clear this mountain town has had a storied history long before becoming the skiing mecca it is known as today. Once the Eisenhower Tunnel was fully completed in 1979, access greatly improved and provided visitors from Denver and beyond a much easier way to access the town. It has since become one of the most highly regarded towns to spend a ski vacation in.
2. Fairplay, CO
Fairplay, located in Park County, CO, profiles as another old-time western town and sits at an elevation of 9,953 feet above sea level. This town holds the honorable distinction of being the town that the popular animated television series "South Park" is based in, written by University of Colorado, Boulder graduates Trey Parker and Matt Stone. Beyond this notable claim to fame, Fairplay has a history that spans back centuries to the initial inhabitance of the state of Colorado and is a popular stop for travelers headed west on Highway 285.
Having been officially incorporated in 1872, Fairplay is the largest community in the vast grassland basin within the Rocky Mountains known as South Park. The area is largely dominated by ranching operations, with large farms and cattle fields scattered across its vast landscape. Due to its relatively flat topography amongst an extremely mountainous area, "South Park City" experiences high winds and bone-chilling cold during the winter months.
1. Leadville, CO
Holding the honorable distinction of being the highest-elevation town in the United States, Leadville sits at a lofty elevation of 10,151 feet above sea level. Founded in 1878, the town got its start from a silver mining boom and sits under 2 of the highest peaks in the lower 48, Mount Elbert and Mount Massive. In the late 1800s, Leadville gained the reputation of being one of the most lawless towns in Colorado. This was due to the rampant amount of gambling present in saloons as well as numerous shoot-out-style duels from known criminals attempting to dodge the law, adding to the mystique of the town.
Today, Leadville supports a healthy population of 2,633 at the 2010 census and provides access to many popular mountain attractions. Camp Hale, the site of the training grounds for the 10th Mountain Division of the U.S. Army, is located just 15 miles outside of town. Turquoise Lake is another popular tourist attraction, a beautiful body of water home to a thriving population of mackinaw, rainbow, and brook trout.
Unsurprisingly, all of the towns on this list are in Colorado. The staggering amount of high-elevation acreage and rich mining history of the state contributes to this, providing settlers with a compelling reason to set up shop here. It should also be mentioned that several very small communities such as Alma, CO, and Montezuma exist at elevations above 10,000 feet as well, but with their populations coming in well below 500 people, they profile more as unincorporated communities than full-blown towns. Which high-elevation town could you most see yourself in?