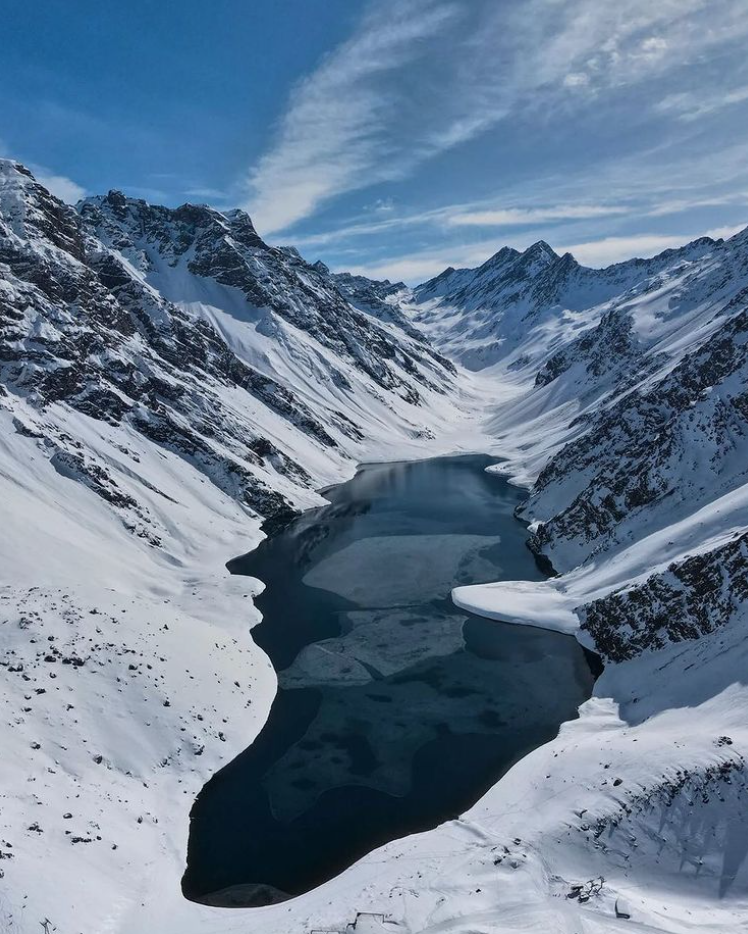 Have you heard the legend of the Inca Lagoon at Ski Portillo in Chile?
According to a social post by Ski Portillo, legend has it that the Inca Illi Yupanqui was in love with princess Kora-llé, the most beautiful woman in the empire. To celebrate their love, they got married high in the Andes at the peaks above a gorgeous lake. While performing the ceremony, the princess fell from a cliff to her death. The prince was full of sadness and anguish. He decided the only burial worthy of her beloved was to lay Kora-llé's body to rest in the depths of the lake. They wrapped her body in white linens. As it descended, the water magically turned an emerald-blue color, the same color as her eyes. It is said that from that day on, the Lake of the Inca has been enchanted.
Some even say that night, you can hear the soul of Illi Yupanqui crying for his dearly beloved.
Spooky! 
About Ski Portillo
Founded in 1949, Portillo was the first ski resort in South America and has played an important role in world ski history. It was the only South American resort to ever host the World Ski Championships in 1966. The mountain is steep, big, and has a similar snowpack to that of Alta, Utah. It's gorgeous and has a famous historic hotel that's filled with skiers and snowboarders from around the world every winter. It is truly a world-class, destination ski area—a 'must-ski' for those looking to check out South America's ski areas.
This year, Ski Portillo—along with virtually all other ski areas in Patagonia—is having its best season in terms of snowfall in over a decade. 
Ski Portillo Resort Stats
Location
Andes mountains,
Valparaíso Region, Chile
Nearest major city
Los Andes
Coordinates

32.836°S 70.129°W 

Coordinates: 

32.836°S 70.129°W

Vertical
   762 m (2,500 ft)
Top elevation
3,310 m (10,860 ft)   (lift)
4,222 m (13,852 ft)   (summit)
Base elevation
2,548 m (8,360 ft)   (lift)
2,880 m (9,450 ft)   (hotel)
Skiable area
5.0 km2 (1,240 acres)
Runs
35
Longest run
2.5 km (1.6 mi)
Lift system
5 chairlifts, 9 surface lifts
Average Snowfall
8.3 m (27 ft 3 in)
Snowmaking
yes
Night skiing
none
Website
skiportillo.com