A huge resort and three formidable valleys, it will represent the long-awaited project "Cerro Punta Negra" in Argentina. The province of Mendoza will be home to the largest ski center in South America, matching the great potential of North American and European ski areas.
6,100-acres of skiable area, 1.4 vertical-miles, and a US$150-million investment. The project will include 3,000 new accommodation places, will create more than 3,000 jobs, and will be powered by green energy.
In one of the emblematic nests of Argentine skiing, the mega project formerly known as "Manantiales", and today "Cerro Punta Negra Project" in Valle del Uco, will be born. The company plans to create, in different stages, a resort and three ski centers with their own facilities and lots: Cerro Punta Negra, Portillo Argentino, Manantiales, and Guanaquitas.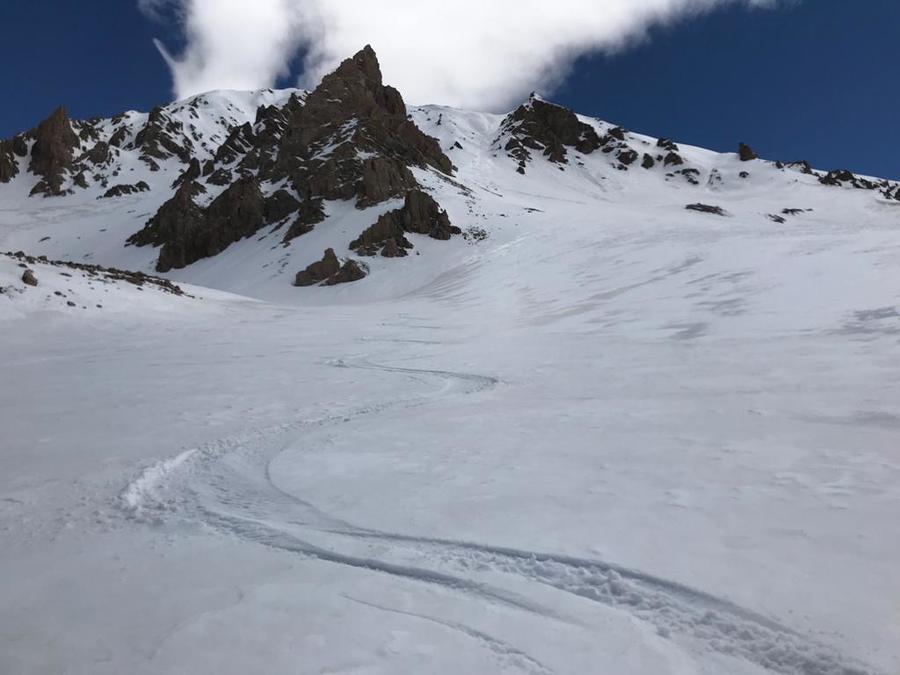 Cerro Punta Negra will be the base town of the entire project with 36 lots for hotels, resorts, and inns, as well as restaurants and bars. The project contemplates an innovative building system in order to minimize the visual impact. Most of the constructions that are carried out will be located in excavations in the mountains.
Electricity will be generated through a hydro-electric plant providing electricity to Guanaquitas and Punta Negra. In addition, they will have a gray and black water reuse treatment similar to those used in various projects in Aspen.
This is expected to be the perfect area for beginners when it comes to skiing and snowboarding, with green slopes designed on soft and extensive terrain. Given its relatively low altitude in relation to the rest of the skiable areas, the slopes will have an artificial snow system that ensures the possibility of carrying out these activities for four months.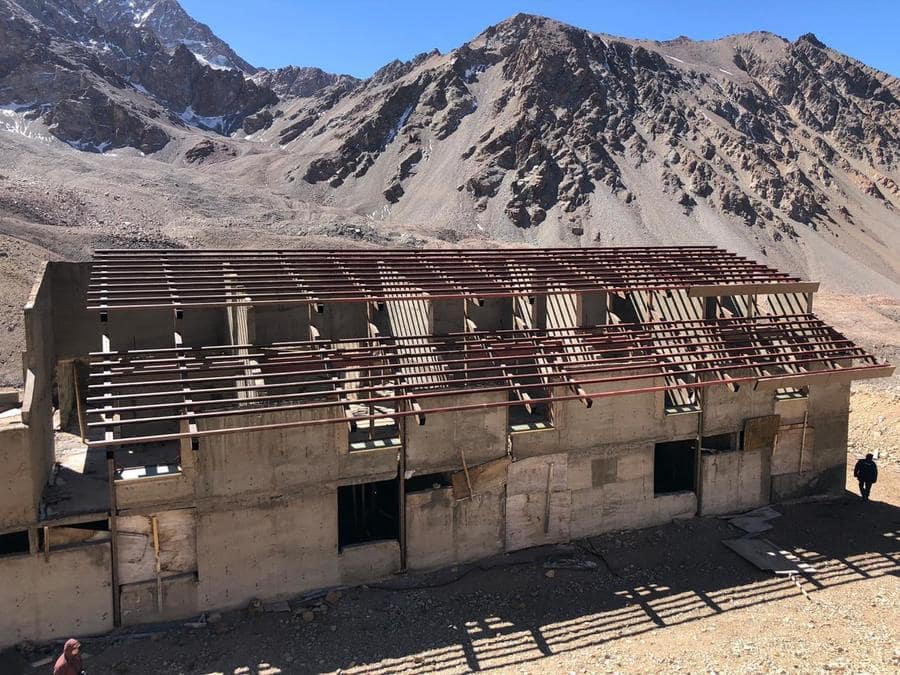 On the construction started in 1990, the long-awaited hotel Manantiales already contemplated by Jorge Iñarra, architect and great Argentine mountaineer, will be completed. The skiable area will cover approximately 4,794-acres and the lower level is expected to be at 10,990-fet and the upper at 14,700-feet.
Ski shops, ski school and even heliport for heliskiing, are some of the tourist offers that are contemplated for visitors. This hotel will be fully equipped with energy generated by solar panels.
Portillo Argentino has over 920-acres and hopes to become a paradise in the Mendoza backcountry. The Center will have a heliski and cat ski services and all its terrain will not be groomed or have any lift devices. This domain has its base at 11,000 -feet and the summit at 15,080-feet.
It will be the only one of the three valleys that will have a subdivision and development at altitude. It will be called "La Aldea" and it will have a 6-acre reservoir that is expected to freeze naturally, configuring a surface suitable for ice skating.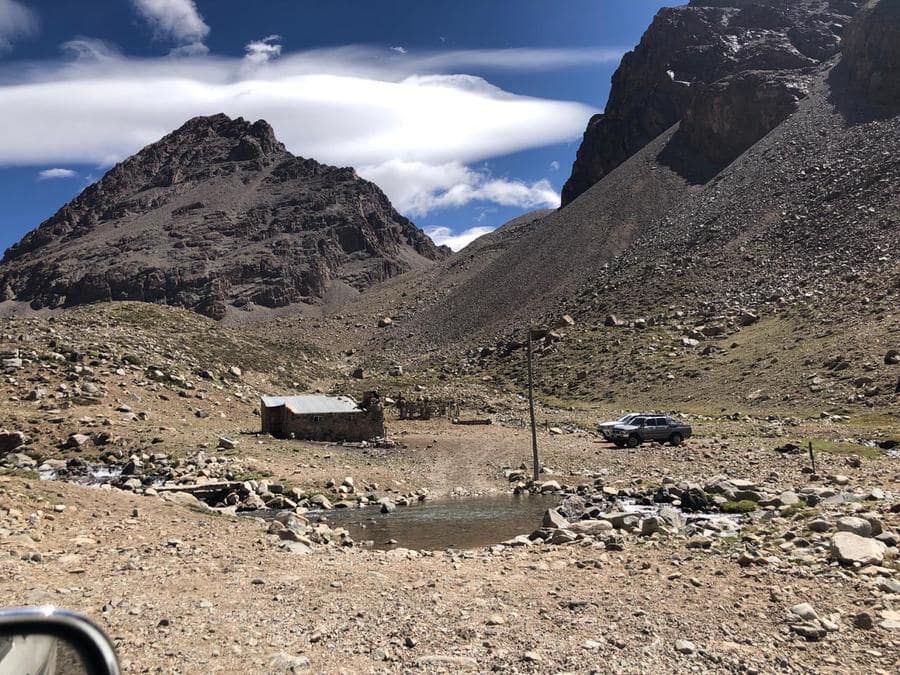 Guanaquitas will have a skiable area of 2,360-acres and its base will be located at 10,433-feet. Its peak at 15,750-feet will make the Guanaquitas sector the highest point accessible by lift device in the entire Southern Hemisphere.
The project includes a three-story apartment complex with restaurants and a swimming pool. The common services that the visitor can count on will be ski school, rental, and mountain inns. This valley will also be equipped with a hydroelectric generation plant.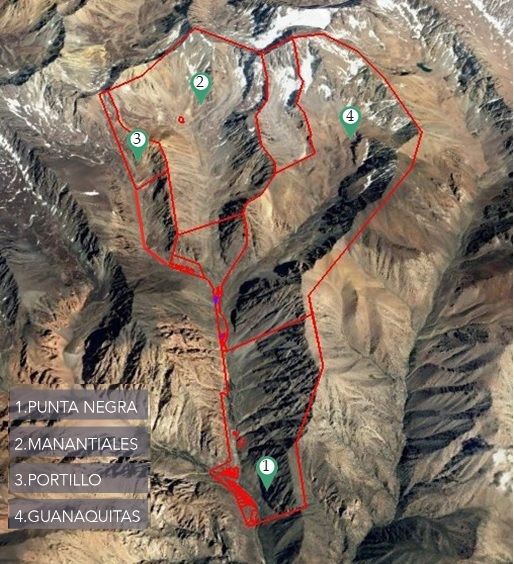 For the Uco Valley, a project of these characteristics would mark a before and after in the tourism industry. But it would also mark it economically and socially, due to this project could benefit more than three thousand citizens of the province of Mendoza through the creation of new jobs.
Time will tell us how the project progresses and if in some years the highest lift in the Southern Hemisphere will have its return station at 15,080-feet in the Guanaquitas Valley.
You can find the complete masterplan and project at Cerro Punta Negra.