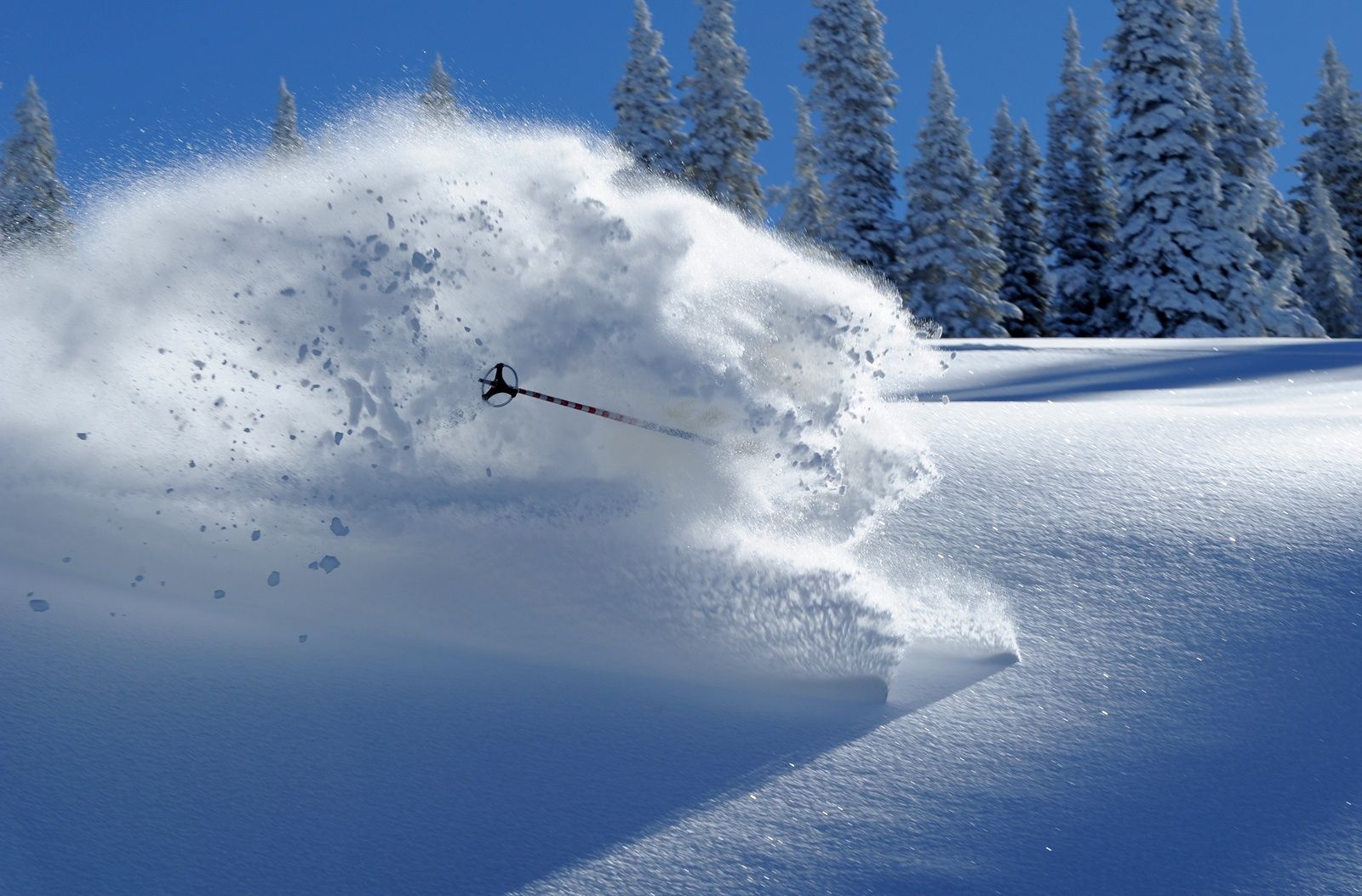 NOAA just announced a 75% chance of a La Niña winter which means a snowier than average winter for Montana. With a ton of resorts and ski areas to choose from, it can be hard to decide where to visit. Here is a comprehensive breakdown of the best resorts in Montana by category, including most acreage, gnarliest terrain, best après, best mom-and-pop resort, and best terrain parks.
Most Acreage: Big Sky Resort
Big Sky Resort claims to offer "the biggest skiing in America" and it's easy to see why. Big Sky Resort provides 5,850 acres of skiable terrain. Only Whistler Blackcomb in Canada with 8,171 acres and Park City, Utah with 7,300 acres are bigger than Big Sky. Additionally, Big Sky has 4,350 feet of vertical, which is the greatest vertical drop in Montana and the second largest vertical drop in the United States. Big Sky has an average of 2 acres per skier and often has nonexistent lift lines. Instead of having lift access to one or two different peaks or high points, Big Sky Resort offers lift access to four different mountains including Lone Peak mountain and Andesite Mountain. Andesite Mountain is accessed via the Ramcharger 8 chairlift, which is the largest chairlift in North America as it carries up to eight riders per chair.
Gnarliest Terrain: Bridger Bowl Ski Area
Affectionately referred to as "Bridger Bowl University," the Ridge at Bridger Bowl is a study in tight, technical, and consequential skiing. The infamous Ridge is only accessible via bootpack, either from the top of the Bridger chair or the Schlashman's lift. Skiers and boarders are required to wear an avalanche beacon while skiing off of the Ridge simply because the terrain is so variable and consequential. 
Additionally, there is no signage at the top of the Ridge delineating one line from another, and the sheer difficulty of route-finding off the Ridge has schooled many a would-be shredder. General manager Randy Elliot captures the unique ethos of Bridger's Ridge terrain, saying, "We sign it at the bottom that you're entering natural terrain with no hazard or trail markings, and it's your choice if you choose to go there." Luckily, Ridge Guides are available for hire if bootpacking back up after getting cliffed out isn't your thing. A guided Ridge tour costs $250 for a half-day lesson ($50 for each additional person) and includes a transceiver and shovel rental.
Best Après: Whitefish Resort
Who doesn't love finishing an epic day of skiing with the crew by throwing back a few beers and reminiscing about the day's exploits? At Whitefish Mountain Resort, the Bierstube is the après place to be. At the 'Stube, enjoy a stiff drink or a beer, eat a burger or a pizza, and enjoy the funky ambiance of one of "Canada's favorite bars." The Bierstube was voted "Canada's favorite ski bar" during a radio contest in the '80s: a tribute to the excellence of both the skiing at Whitefish and the quality of the bar. 
Additionally, every Wednesday during ski season, the Bierstube hosts the weekly Frabert award. The Frabert award goes to the "biggest clod of the week," and the winner must drink a schooner of beer while holding the award. The award itself, naturally, is a stuffed monkey with a cast on one leg. The Bierstube was the resort's first bar, and the Frabert awards are the 'Stube's longest-running tradition. 
Best Mom and Pop Resort: Lost Trail Powder Mountain
Lost Trail Powder Mountain is open Thursdays-Sundays and deliberately eschews the trappings of ritzy ski culture. Founded 162 years after Lewis and Clark lost the trail through the nearby pass, late owner Bill Grasser "helped maintain Lost Trail as a family-friendly, affordable ski hill that defied all the images of corporate, destination ski areas with glittery lodges and executive board members making decisions about profits." 
True to form, Lost Trail has a single lodge at the base area. In the publicly available locker rooms, locals can be found catching up about road and snow conditions, while teenage park rats sport long ribbons of accumulated day tickets. An adult full-day lift ticket at Lost Trail costs a mere $49, while kids under 5 ski for free. A full-day lift ticket for those lucky enough to be skiing at age 70 or older? A paltry $20. Those looking to experience the essence of home-grown Montana skiing need look no further than Lost Trail.
Best Terrain Parks: Great Divide
In addition to providing the sunniest skiing in Montana, Great Divide ski area also boasts six terrain parks and the slogan, "Great Divide is 'Montana's terrain park place!'" With features that get changed every week, and five parks open for night skiing, Great Divide is a park rat's paradise. Each terrain park has a theme and average level of difficulty. Beginners can head to the Rowdy park, which only offers features made of snow–no metal or wood. For those looking for a gentle introduction to rails and boxes, there's the Ruckus park. Then there's the Rascal park, chock full of intermediate features and located underneath the Good Luck chairlift for the showoffs. Finally, Great Divide has the Rodeo championship park which features huge jumps and a monster wallride. If sliding rails and going huge on jumps doesn't do it for you, there's also the Wildwood park, "All features made of wood, in the woods!" and the Revenge park, which is a banked cross country course.