With the popularity of resort skiing on the rise, many ski resorts have become overcrowded. Causing for dreams of ripping freshly groomed runs all to yourself. Or being able to find untracked powder days after a storm. For some who can afford it, this can be a reality by skiing at some of the most exclusive ski areas in the US.
Yellowstone Club, MT
The Yellowstone Club, one of the most well-known prestigious ski resorts is located just next to Big Sky. 
This exclusive resort is only accessible by members. Only those willing to pay $400,000 for the initial fee can enjoy access to 2,900 acres of prestigious slopes. The membership continues with a $41,500 fee annually. Most properties on the resort are ski-in-ski-out. Many of these custom vacation homes are located on the runs themselves. If custom homes aren't your thing the resort also has condos at the base.  Even ranches are options for members to buy as well. 
Aspen Mountain, CO
Aspen Mountain holds the reputation for being one of America's most boujee ski areas. Fur coats and an expensive après scene can be the connotation many will picture when thinking of Aspen.
Here, a season pass costs a mere $2,899. It includes access to four separate mountains, including Aspen Mountain, the Highlands, Buttermilk, as well as the popular Snowmass. For visitors looking to get out on the slopes for a day, tickets can be found for $204. 
The town of Aspen is known for high-end designer brand shopping where many celebrities, like John Denver,  have owned homes and spent their vacation. Luxury hotels can be found all over the town, including the famous Little Nell. With views of the mountain, easy access to high-end dining and shopping it's a prime location. Not to mention close proximity to the Maroon Bells for added hiking or snowshoeing adventures.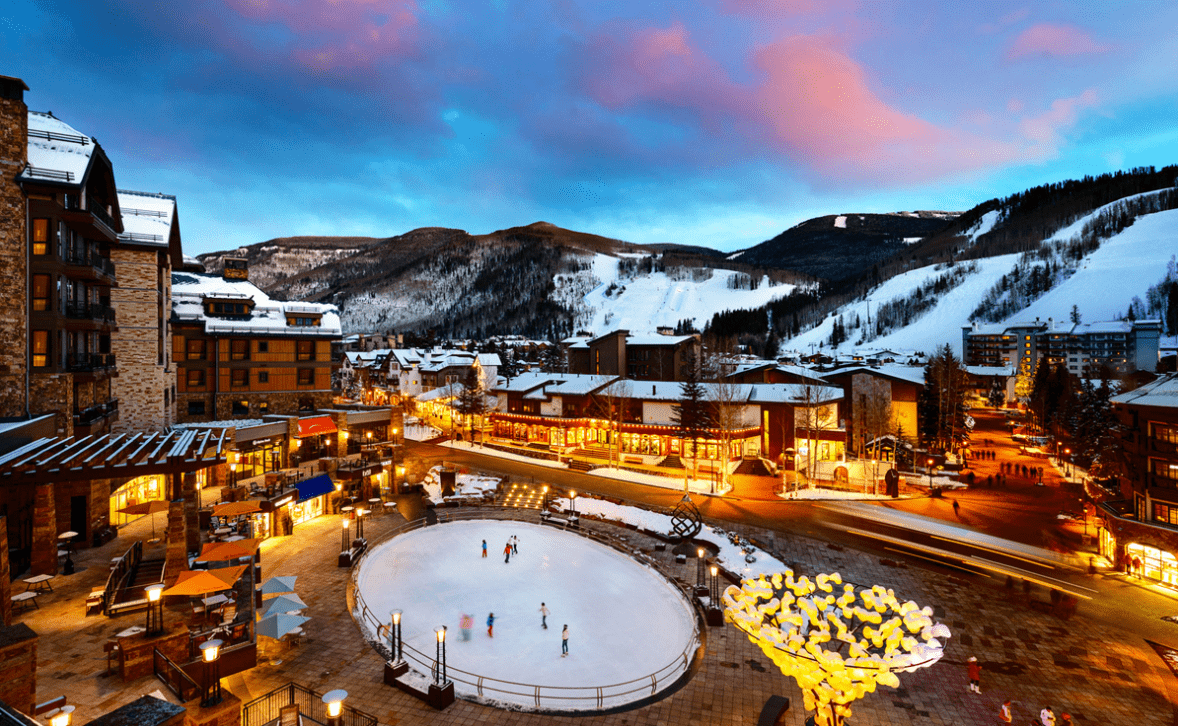 Vail, CO
Vail, one of the largest ski resorts in America, remains one of the most popular destinations for luxurious ski trips. With its expansive terrain, Vail has something for all levels of skiers and riders. It's also one of the most well-known resorts in the US.
Vail's season pass is included in their full Epic pass. Last year it went on sale for $783 and included unlimited access to Vail for the season. For those looking to enjoy Vail's infamous slopes, a same-day lift ticket can be purchased for just $239. 
Since the resort itself is so large, the town is just as large. There are many accommodations for anyone, but especially those looking for a luxurious retreat. Many other hotels around the base of this massive area are known to be expensive getaways for celebrities. There are also many private residences where professional athletes like Mikaela Shiffrin as well as Lindsey Vonn reside. 
Deer Valley, UT
Deer Valley remains an exclusive getaway for skiers as it is one of the few resorts left that do not allow snowboarders. As of this year, Deer Valley's season pass could be purchased in combination with the Ikon Pass for a total of $2,675 if purchased before October. At over $2,000 for a season, it's an expensive investment for skiers who are just that sick of snowboarders.
Beaver Creek, CO
Beaver Creek, the equivalent of Vail Resort's little sibling. Beaver Creek has the same vibe as Vail, featuring a luxurious base with high-end dining and hotel accommodations. Like Vail, its season pass is balled up into one as the Epic Pass running at just under $800 for the season. In between enjoying high-end dining at the base, you can ride Beaver Creek for a single day for just $228. 
Cimarron Mountain Club, CO
Located between Telluride and Crested Butte, The Cimarron Mountain Club is an exclusive ski resort for members only. The initial fee is just $2 million and includes the deed to a 35-acre lot of land for a custom vacation cabin. From there is an annual fee of $62,000 to maintain your membership. 
The mountain has access to over 1,000 acres and is bigger than Aspen. Guests are entitled to 155 days of "complimentary" cat-skiing a year. With only 36 current members there's never a lift line and always fresh tracks to be found. The area also offers many other outdoor amenities as well. A plethora of acreage allows for snowshoeing and even snowmobiling. 
Holimont, NY
Holimont, a combination of "Holiday Mountain" was one of the first private ski areas. This exclusive resort is located just south of Buffalo the resort has just 4,000 members. With an initial fee of $10,000 members have to pay a monthly fee of $177 to maintain their membership. 
Scarp Ridge Lodge, CO
Scarp Ridge Lodge offers a cat-skiing experience with access to a thousand pristine acres. Operating only for full buyouts, at $15,700 a night, Scarp Ridge Lodge's snow-cat can pick you up at your front door and deliver you to untouched pow. It isn't as built up as other ski resorts because they focus on cat-skiing. However, this allows for a larger variety of terrain to be reached during trips. 
Bush Creek Ranch, WY
In a time of ridiculous lift lines and endless traffic, Bush Creek has taken advantage of the price people will pay for privacy. Bush Creek Ranch limits its slopes to just 12 people a day. For $950 a person per night, Bush Creek Ranch offers the ultimate private ski experience. The all-inclusive includes access to the Ranch's 620 skiable acres to just 12 guests at a time.