Brought to you by Gunnison Crested Butte Tourism 
Crested Butte, CO opens for the 2022-2023 ski season on Wednesday, November 23rd. With some early-season snowfall in the Elk Mountains and snowguns blasting, it is lining up to be another epic ski season. Crested Butte has a wide variety of terrain for any ability level and is especially known for its expansive advanced and extreme terrain. Check out these nine runs when you visit Crested Butte this season.
9. Bushwhacker – Blue, Teocalli Lift
Early season powder day? Side hits? Bushwhacker has it all. This is an adventurous run to mix into your day. For the intermediate skier, it often offers groomed terrain with moguls on the side to practice your off-piste skiing. You can get to Bushwhacker from the Red Lady Lift and the Teocalli Lift. Bushwhacker and other runs off the Teocalli lift are a go-to while it is snowing and windy to score some sleeper powder turns. It is also a fun connection to access East River and Paradise.
8. Double Top Glades – Black, East River Lift
Double Top is an East River classic with low-density trees, moguls, and side hits. Expect a low-density forest that rolls into an open mogul face. Double Top is a must for a party lap when it is snowing and the extremes are closed. This trail can only be accessed from the top of the East River lift and is easily paired with Resurrection if you are lapping East River.
7.  Splain's Gulch – Green, Painter Boy Lift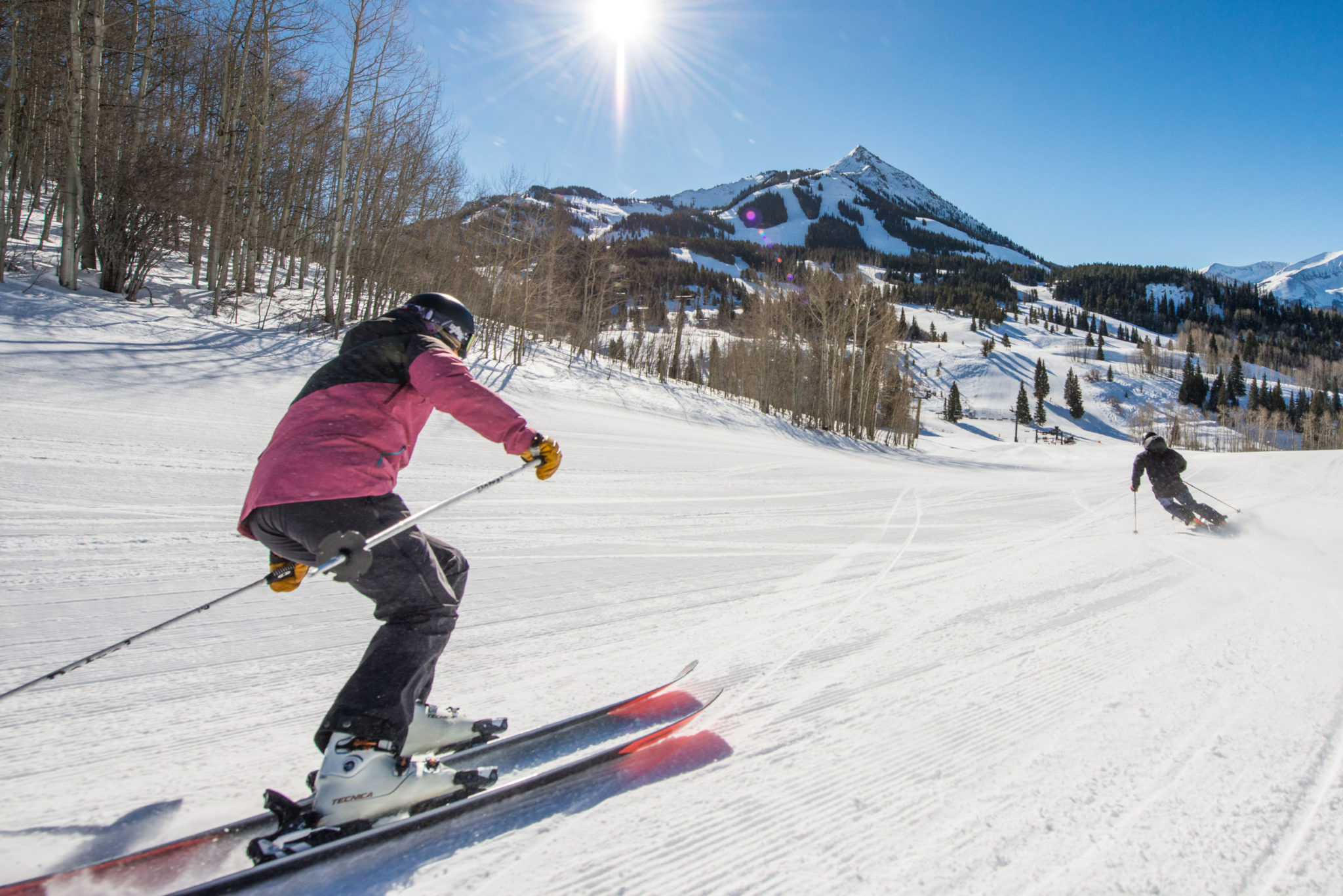 Want to hang out at the Umbrella Bar? Taking some mellow laps? Splain's Gulch is a Crested Butte essential. The easy groomer offers sweeping views of Mount Crested Butte and is often soft due to its southern aspect. The Painter Boy Lift accesses the Umbrella Bar, where you can grab a drink, take in the sunshine, and enjoy sweeping views of the Elk Mountains after you lap Splain's Gulch.
6. Crystal – Black, Silver Queen Lift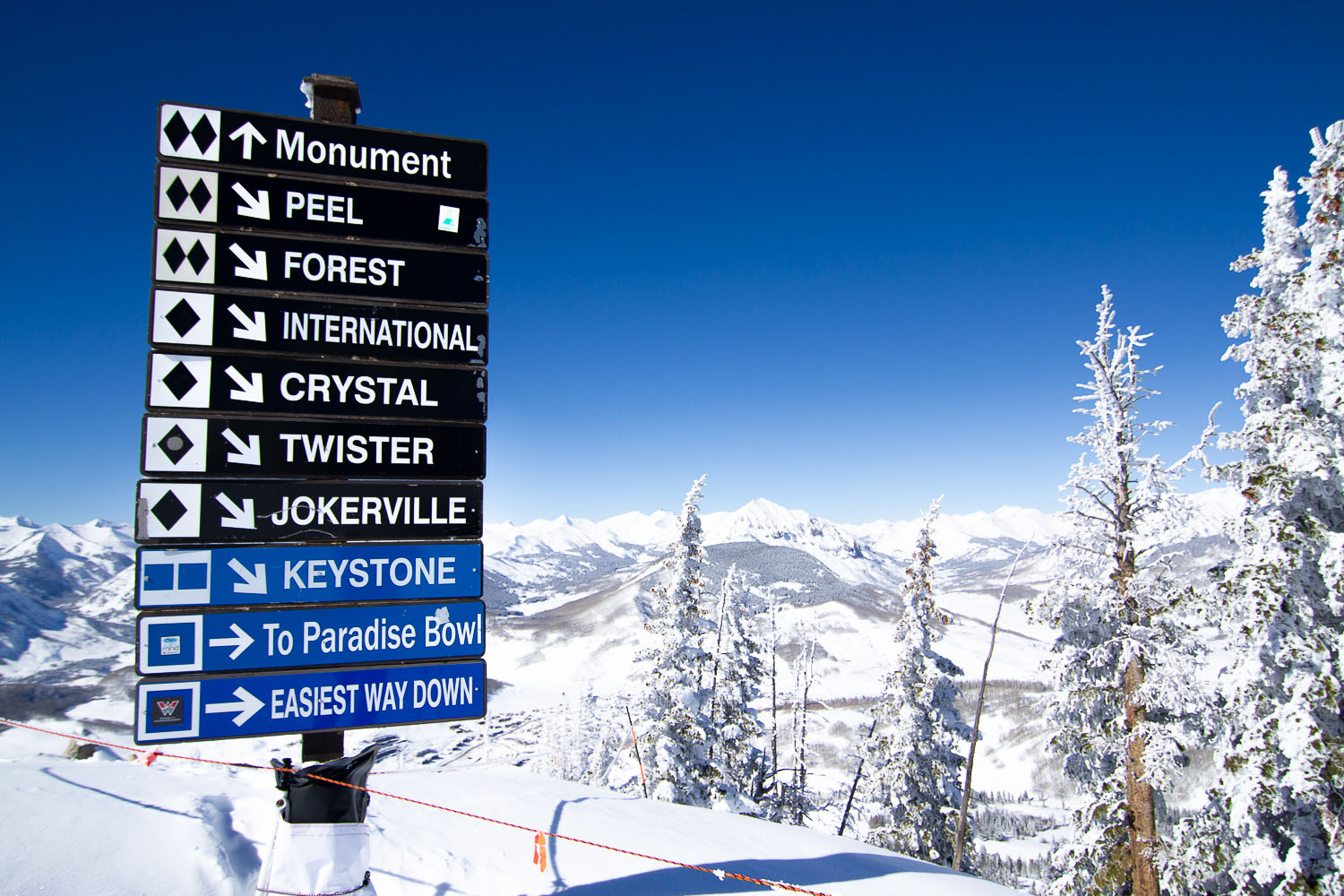 Crystal is International's neighbor, and one of Crested Butte's infamous mogul runs. This is a frontside mogul run you can find from the Silver Queen or Paradise Lift and is a quad burner. The Yellow Brick Road cat track cuts through Crystal multiple times for some cat track hits or to take a break from the moguls. Try to ski Monument on the way to Crystal to get bonus bumps if you are coming from Silver Queen. Watch out for tiny trees peppered around the moguls in the early season.
5. Teocalli Bowl – Extreme, High Lift
Teocalli Bowl is an expansive bowl with multiple zones accessible from the High Lift. Throughout Teocalli Bowl, you can expect low-density trees and small drops. Refer to the bottom left corner of the trail map to see a detailed version of all the runs within Teocalli Bowl. Try taking Morning Glory down to the Teo Tongue to the Paradise Bowl hike out. After 10-15 minutes of hiking, you will reach the exit to Paradise Bowl where you can ski back down to Paradise. If you want a super lap, rather than skiing from Paradise Bowl exit, keep hiking a few more minutes along the Schofield Road cat track to the Spellbound access path. Follow signs for Spellbound and Phoenix until you reach the top of Spellbound (there is a bit more hiking throughout this traverse) and ski Spellbound to Phoenix Bowl. From there, you will have another 10-15 minute hike out from the North Face until you reach the exit towards Black Eagle, which will take you to the bottom of East River.
4. Phoenix Bowl – Extreme, North Face Lift
Phoenix Bowl is a gem off of the North Face Lift. It is a wide-open bowl with a rollover to a steeper face. Phoenix often has soft snow for several days after a storm and is in good condition most of the time. If you want to ski Phoenix Bowl, try to go with someone who knows the North Face well, as it can be easy to get turned around anywhere on the North Face and get cliffed out. Phoenix can be accessed via Spellbound if you are willing to hike or traverse the Million Dollar Highway from Hawk's Nest. Be sure to check out Phoenix Chute to the skier's right of Phoenix Bowl.
3. International – Black, Silver Queen Lift
International is a wide open, rolling, steep groomed run accessed from the Silver Queen or Paradise lift. The groomer caters to most skiers – it can be a challenge for a new skier or a perfect quad break from bump laps on the adjacent mogul runs Crystal and Twister. International is best in the afternoon after it has softened up for the day it can often be icy first thing in the morning. To break up the run, try skiing Upper International and cutting off to skier's left to Upper Championship to get some soft moguls.
2. Banana – Extreme, Silver Queen Lift 
Banana is about as close to a proper inbounds couloir as you can get. The sustained steep couloir is part of the frontside extremes and can be accessed from the Silver Queen lift. Expect a quad-burning lap with moguls, natural obstacles, and a mellow choke. Banana is best on a warm spring day or in chalk. When coverage is deep, take the Banana High entrance from the mid-station on the High Lift and ski Banana in its entirety. Be sure to check out Funnel, a similar run to the skier's left. You must take the Banana Exit cat track down to the base area.
1. Headwall – Extreme, High Lift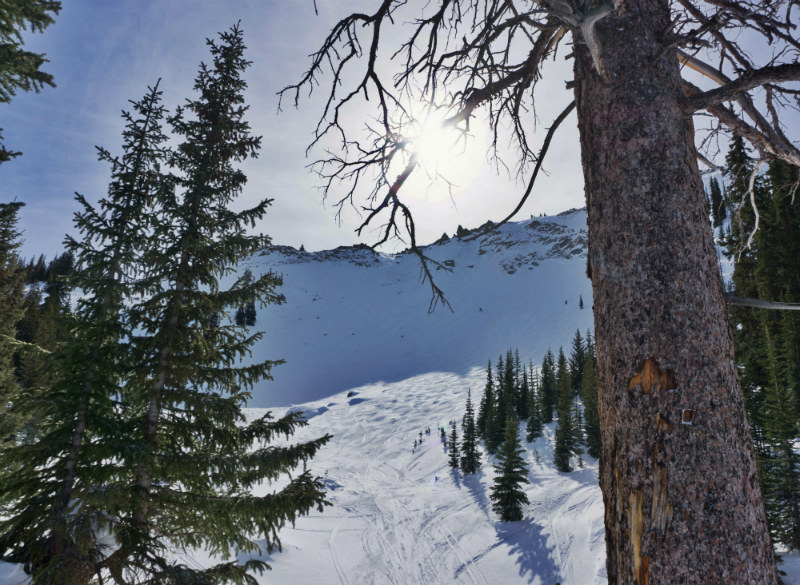 Headwall is hands down a Crested Butte classic. Its face is seen from much of the resort and is easily found from the top of the High Lift without hiking involved. Headwall is often the venue for various freeride competitions. Whether you are getting first tracks down Headwall on a powder day or taking a bump lap on this classic, it is an impressive face. Headwall has a variety of locally known hits, drops, and technical zones. Find your way down the gut, or make your way to Angle Gully, Box Rock, Rental Shop, or Hollywood. Be sure to check out Powder 8 Gully just to the skier's left of Headwall.