Report from Friday, February 7
SnowBrains and friends started trickling into Seven Springs Mountain Resort early in the day Friday, February 7, 2020, where we soon learned that ULLR was delivering a nice little weekend package of what ended up being 8-10 inches of the buttery white stuff!  Falling victim to the dreaded office job, I realized I was running a little late to the party, but after early reports from the rest of my party, I knew the morning would be inevitably good snow.
It snowed steadily the whole way in from Edinboro, PA, about 2 1/2 hours North, but with little issue on the roadways.  Seven Springs soon proved that although it doesn't boast 3 or 4,000 vertical, it still enjoys its own little micro-climate. Within a few miles of my destination, snow totals appeared to triple as I neared the mountain. "Tomorrow is going to be a great day!" I said aloud.
By midnight, 8 inches of fresh snow had fallen on her shoulders with more on the way on Saturday.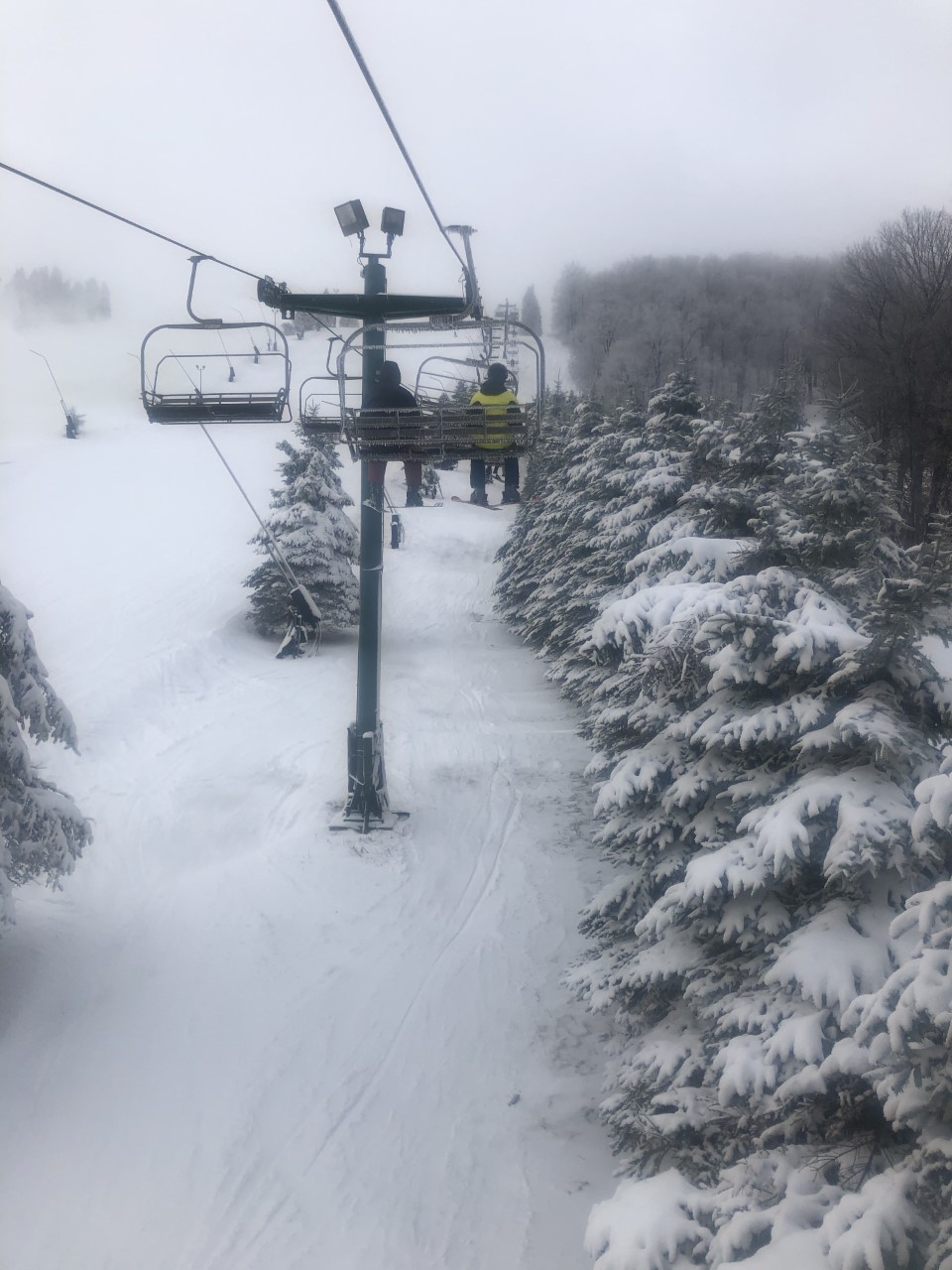 Temperatures were cold, in the low twenties (°F), and the snow skied really well all morning. The crowds were out in full force, however, I quickly took notice of how well this mountain made guests almost disappear into the abyss. No lift line was longer than 10 minutes and the hoards of powder hounds spread across the mountain almost going unnoticed.
I skied with a group of 19. 
Everyone skied with different abilities and we all had fun skiing together all day. 
Seven Springs is the type of mountain where small groups can break off for several runs at a time or just choose different routes to the same lift each time. Nobody left there thinking that the mountain was too challenging or way too easy.  Everyone finishes each run satisfied regardless of ability or experience. Our group had first-timers and others with 30+ years of experience.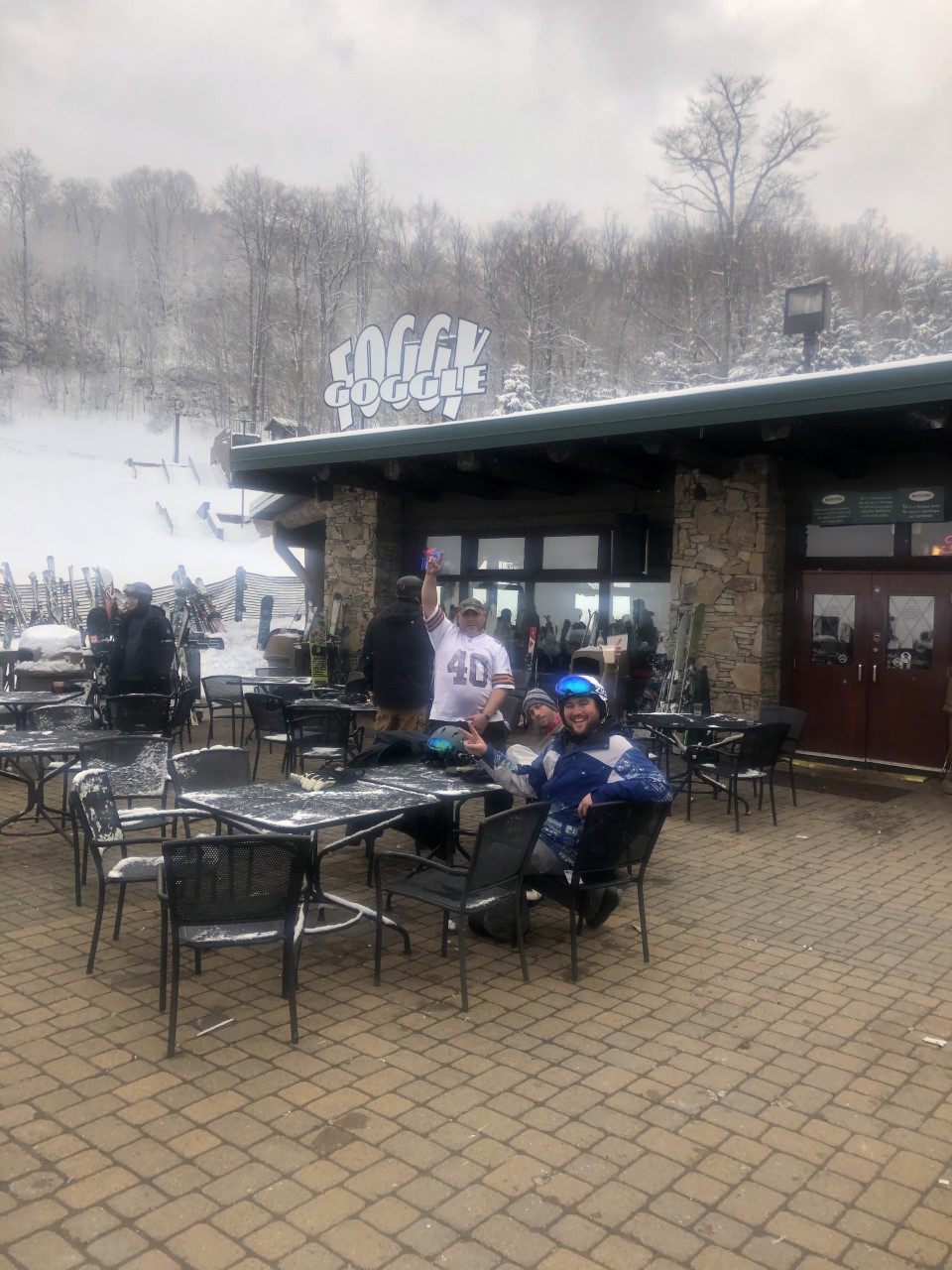 After a quick stop back at the cabin for a late lunch, we headed back to the mountain.
It started snowing hard.
It snowed hard the rest of the evening, dusting the slopes with another 3 or so inches of 'reboot' snow!  Temps remained cold, with low winds. The goods continued to ski well later into the evening.
Snow Report: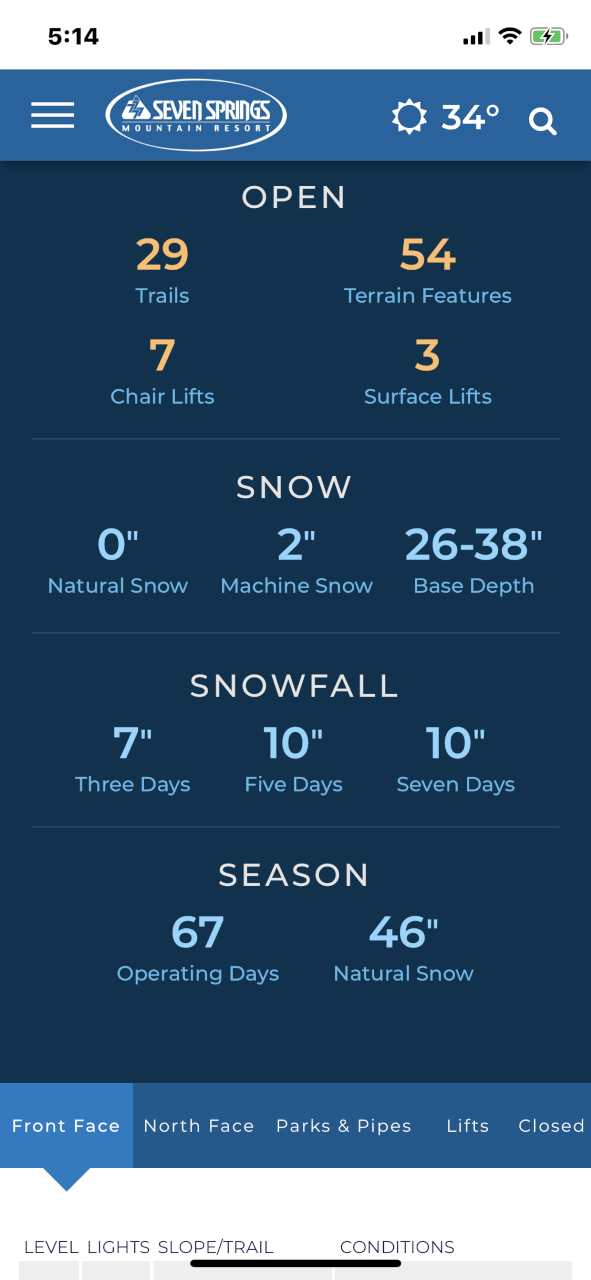 After skiing for the day or night, The Foggy Goggle is a 'must stop for one' type of venue. They offer drinks and food to cure all your ailments obtained on the slopes.
Skiing with a large group of adults, this apres spot was a key meeting point where we could regroup and get ready for more fun on the slopes with friends.  
Thinking of heading over to Seven Springs Resort?  Here are some directions from within their radar of nearby major cities.  
DIRECTIONS:
From Pittsburgh:  
From Cleveland, OH
From Erie, PA
From Morgantown, WV
Do you enjoy skiing or boarding, but your family does 'NOT'?
Would you like to rest before another day on the slopes?
Seven Springs Mountain Resort offers lots of activities for the whole family or group of friends.  Try Snowtubing, Skeet Shooting, or The Spa right on-site at this great 4 seasons resort.  You can also golf in summer, take a horse-drawn sleigh ride, or go on a Snowmobile tour as weather permits.  Zip lining and chairlift rides are also an option year-round!  The Downhill Mountain Bike Course also looks rad!
I will definitely be back! 
Special thanks to Katie Buchan and staff for hosting a special weekend for SnowBrains and friends!  This mountain would not be so great without dedicated employees throughout!  This is truly a year-round mountain experience destination that everyone should check off their bucket list!