The Timberline Master Development Plan (MDP) is intended to be the guiding document for future development at Timberline. This MDP exclusively evaluates facilities at the resort that are directly related to the ski area operation. The vision for Summit Pass is to continue to operate the facility as a community ski hill, which is family-orientated, affordable, and friendly, while upgrading facilities to support the vision of connecting Government Camp with Timberline. Strategies for success will be built around improved infrastructure, transportation, access and delivering a quality customer experience that reduces the hassle factor and the current reliance on cars for circulation within the area.
"Our 2022 Timberline Master Development Plan was recently reviewed and accepted by the U.S. Forest Service. While it does not approve any of the concepts held within, it recognizes that they are consistent with the Forest Plan," says Jeff Kohnstamm, President and Area Operator. "I would like to thank all of the wonderful people that helped with this work but especially Jon Tullis and John Burton from Timberline as well as the professionals from our partners at SE Group. Please take some time to look it over and as always we are interested in your input. We will have thorough analysis and public outreach when the time comes to make specific proposals. In the meantime we are excited for the future of our community which we envision as inspiring, balanced, inclusive, sustainable, livable and memorable."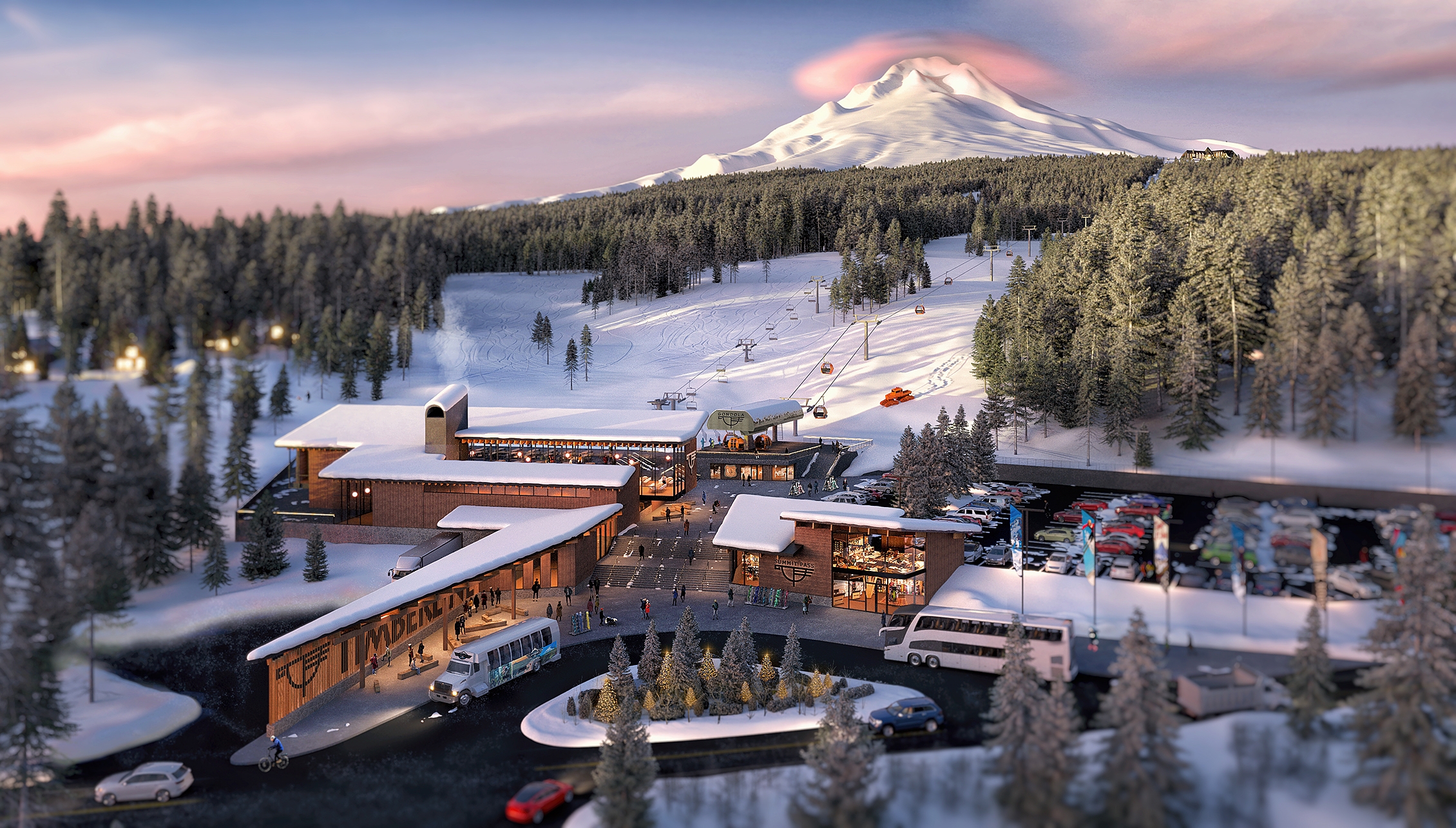 The Timberline Express Gondola is the cornerstone of Timberline's Upgrade Plan. The gondola would not only provide direct, aerial access to Timberline from the Summit Pass Base Area for both guests and employees, it would also alleviate the congestion on OR Highway 173 (the Timberline Road). It would serve as an introductory experience to variety of guests to Timberline and the MHNF, including beginner skiers, more advanced skiers traveling to Timberline, tourists exploring the area, people sledding or tubing, and more. The proposed gondola would originate adjacent to the existing Summit Pass Chairlift bottom terminal and is planned to move guests to a top terminal adjacent to the top terminal of Jeff Flood Express.
UPGRADED GUEST SERVICES FACILITIES AT SUMMIT PASS
The Summit Pass base area—including the Summit Pass Lodge, parking facilities, and access and circulation roads—would be reconfigured to improve the guest arrival and overall visitation experience for both skiers who exclusively use the Summit Pass terrain as well as guests who park at Summit Pass to access the rest of the terrain at Timberline. The Lodge and reconfigured base area strive to create connectivity to Government Camp, Mt. Hood and create a strong sense of place through honoring past architectural design of the region.
The lodge itself would be approximately 20,000 square feet. It would include space for restaurant service and seating, ticketing, ski school, retail, restrooms, and more. The deck would offer additional seating opportunities during nice weather. This deck would provide direct access to the planned gondola and Summit Pass Chairlift. A small building for rentals and ski patrol would be constructed proximate to the lodge to provide additional space for these services. The lodge would also help Timberline provide year-round recreation programming by providing space for guests and/or summer ski and snowboard camps to use during the non-winter seasons. The Summit Pass Lodge design also includes a daycare center for guests and employees.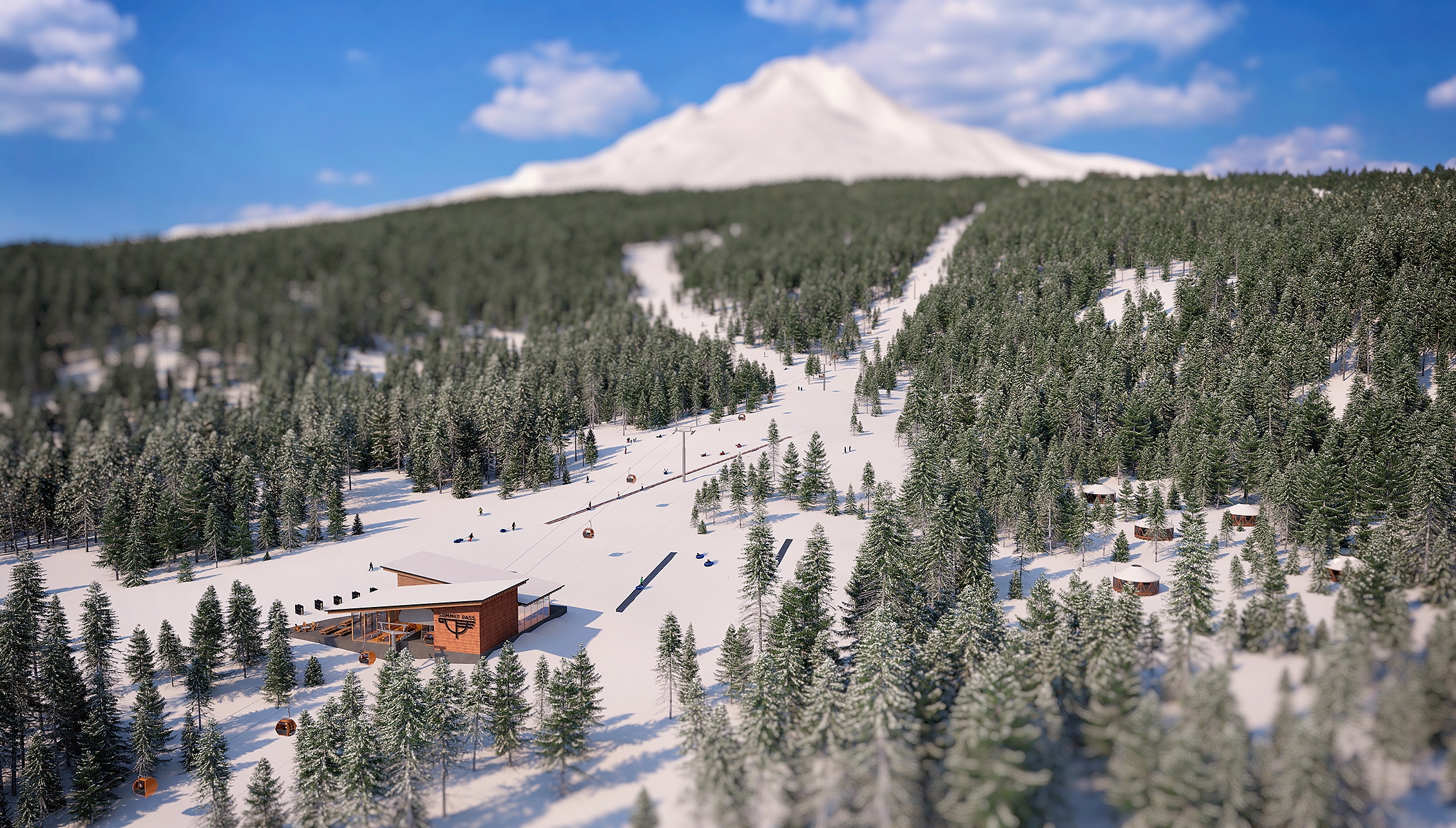 The planned Summit Pass Lodge would be built to improve the role Summit Pass will have as an entry point for the larger Timberline area. Guests could use Government Camp pedestrian gondola access, the drop-off zone, Timberline Shuttle, Mt. Hood Express mass transit, or parking lots. The merger of Timberline and Summit ski areas is intended to shift parking patterns to improve access and the guest experience for visitors. Following the completion of this plan, it is expected that most skiers and riders will choose to park at the expanded Summit Pass Base Area, increasing the availability of the Timberline Lodge parking area for hotel guests and sightseers. Upgrades to Timberline's parking capacity and improvements in resort access would primarily be through the planned Summit Pass Lodge upgrades, Molly's Portal improvements, and development of a larger entry plaza at Timberline Lodge.
SNOWPLAY AT THE MID-STATION
The gondola mid-station would provide access to a beginner ski area with two carpet lifts, a planned tubing site, an area for camping sites and/or overnight yurts, and a small guest service facility. The guest service facility is planned to include food service, restrooms, and a small dining space. Future planning would define the design of this facility. A small tubing facility would be constructed to serve the tubing area.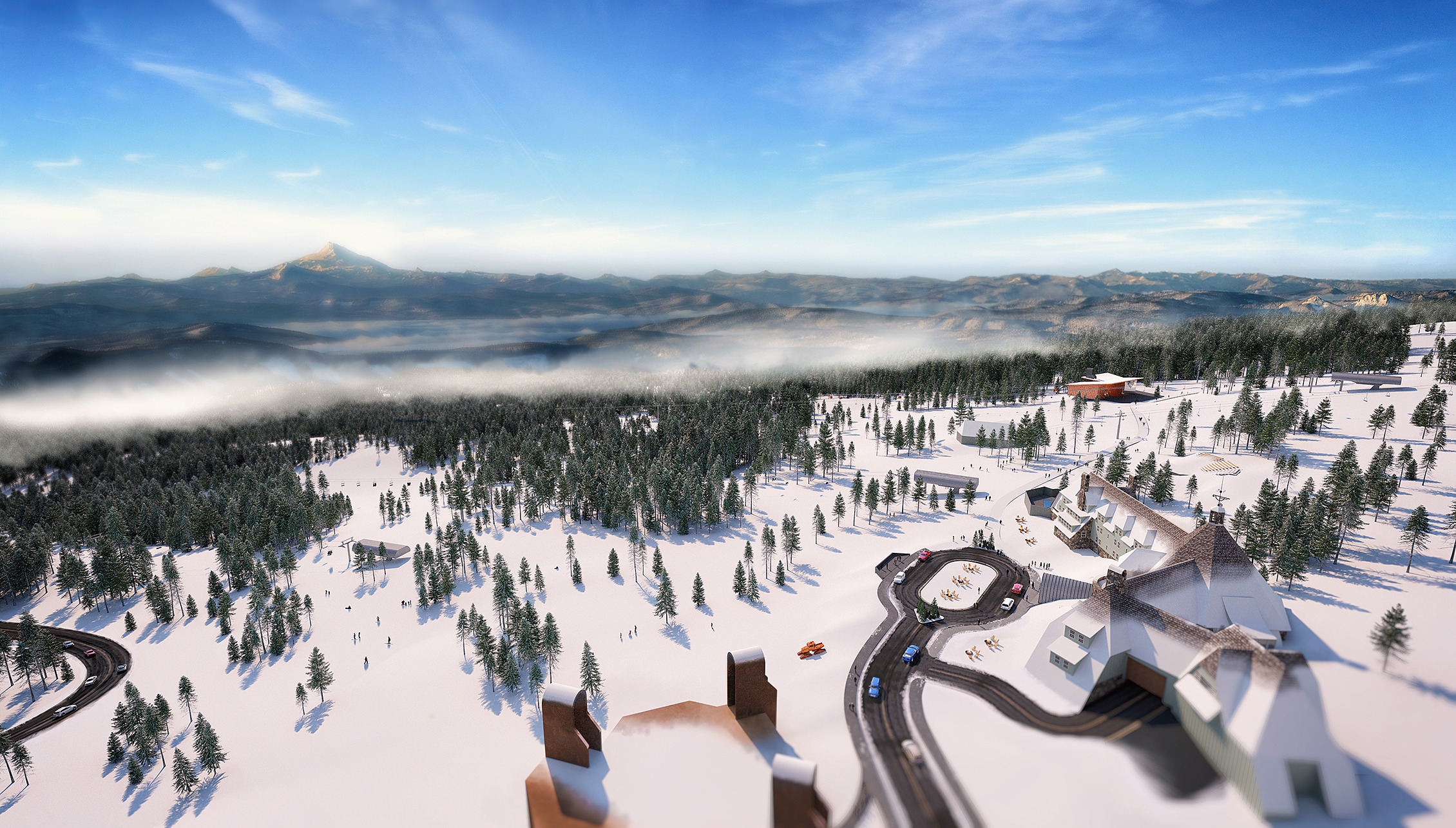 With the threat of climate change, it is a real concern for us to ensure snow coverage on lower mountain terrain, particularly in the early season. An expanded snowmaking system is an important part of our plan. The planned snowmaking coverage would extend from the top of Pucci Chairlift to the base of Jeff Flood-Still Creek Chairlift, following Main Run Pucci down to lower Uncle Jon's Band. An added benefit to this system would be the ability to combat the increased threat of summer wild fires.
MOUNTAIN DEPARTMENT PERSONNEL BUILDING
Immediately south of the existing maintenance shop, Timberline has a need to construct a building of approximately 5000 square feet. The intent of the building is to house Mountain Department staff thus separating them from the existing vehicle maintenance operations, and consequently improving workplace conditions. This new building would also provide storage for Mountain Department supplies and equipment currently stored outdoors in sight of visitors. This building would be a simple one story, shed-roofed design with board and batten cedar siding and Cascadian design features borrowing from and complimenting the design features of the Timberline complex.