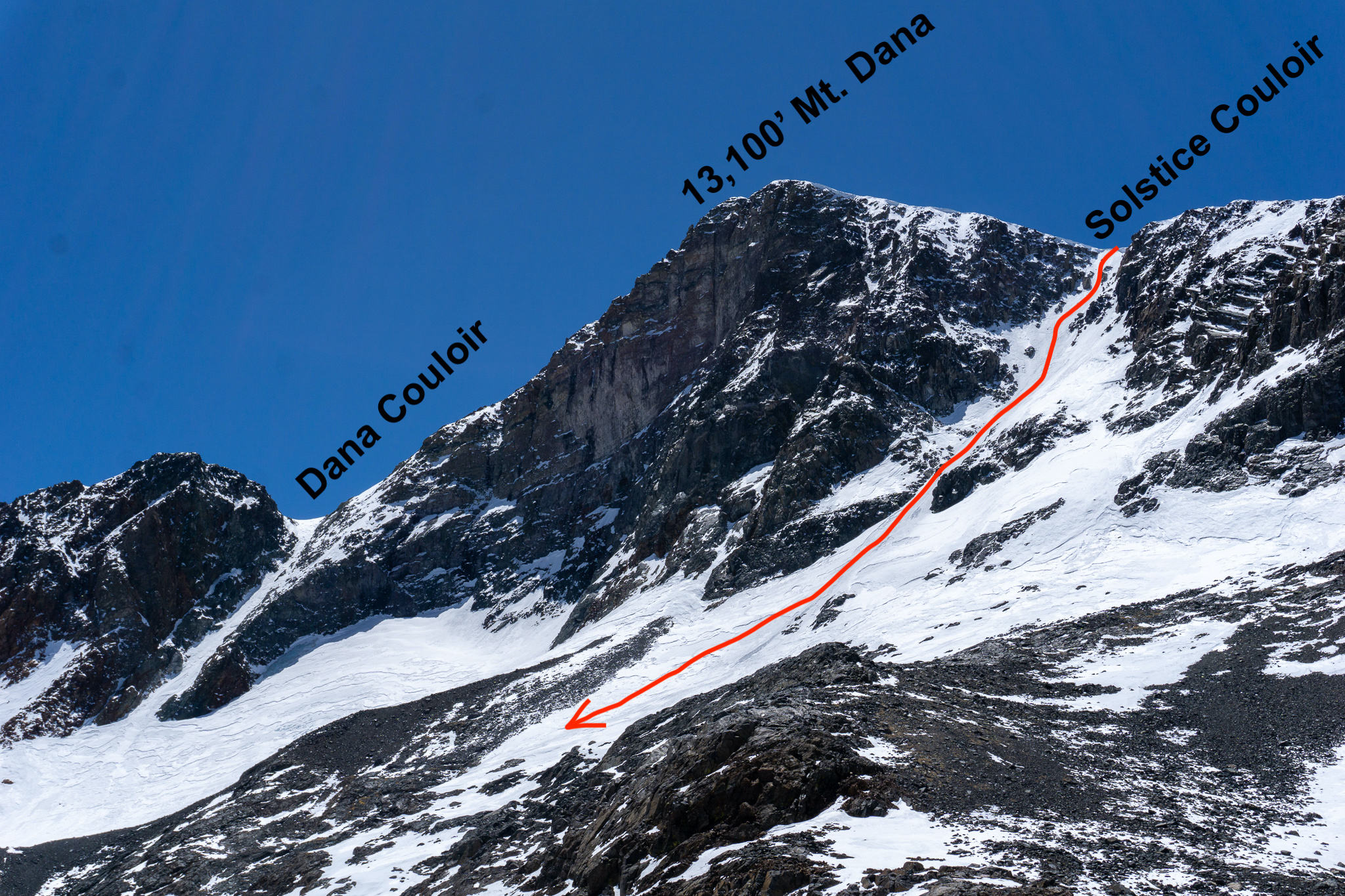 Report from May 3, 2022
Today was wild…
I skied the worst snow I've ever skied on Tioga Pass.
One of our crew aired onto rocks in the parking lot, got a concussion, and dislocated his shoulder. We had to take him to the hospital.
I pulled a 1cm long sea urchin spine from the Maldives out of my foot (it had been in there for seven months).
Such a bizarre day…
We started hiking at around 8 am and made good time (1 hour 45 mins) on firm snow up to the first bench on Mt. Dana.
It was cold and damn windy, and snow was blowing up and out of Solstice Couloir.
We stayed put on that bench for an hour, hoping the wind would calm down and the temps would boost a bit.
They both did what we wanted, and we finished the hike in 40 more minutes.
Solstice Chute was firm, unskied, and textured.
We sat around another 30 minutes, hoping it would soften a bit more.
I might have…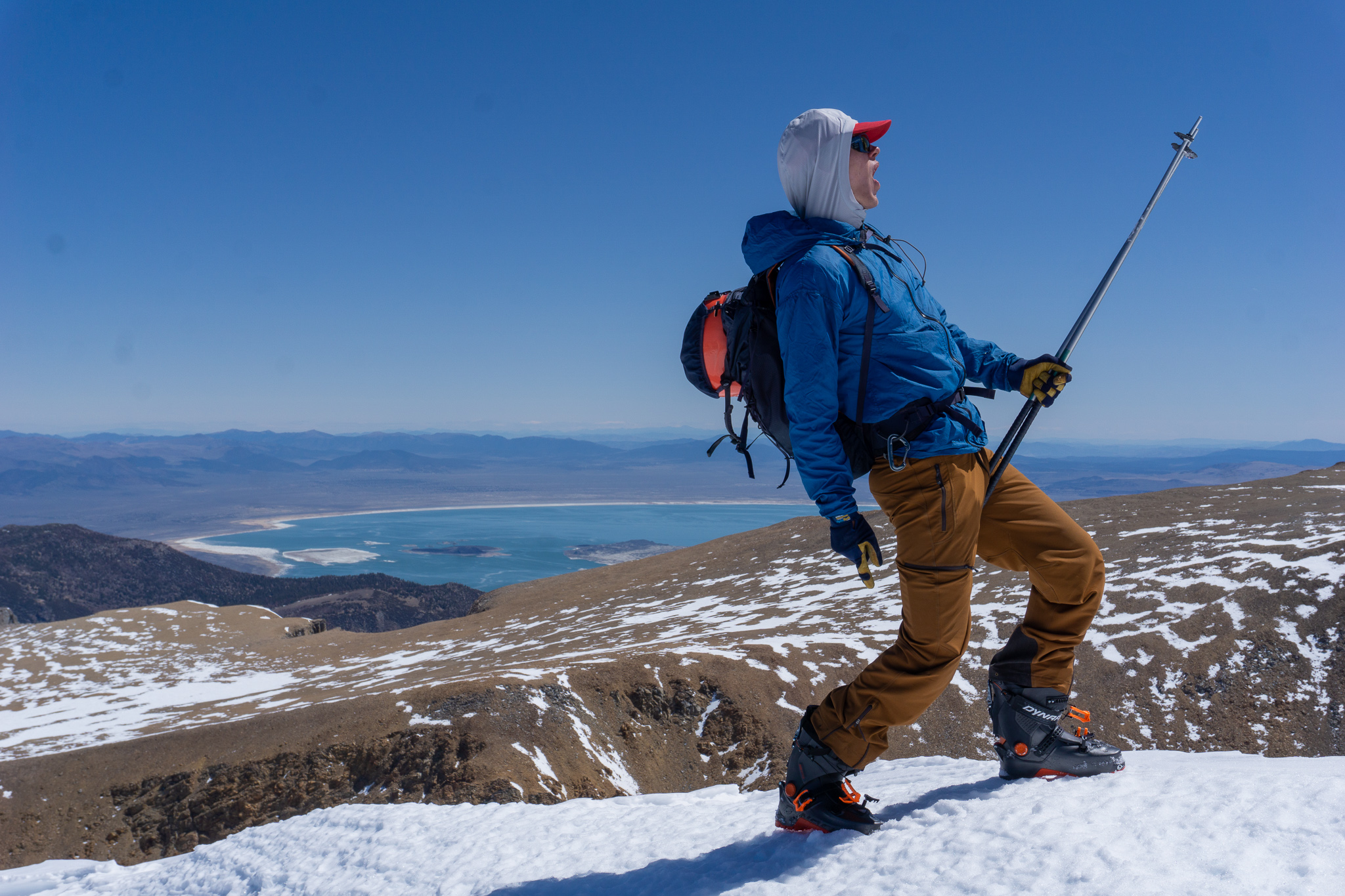 The views were stunning with the baby blue sky, the brilliant red rock, and the deep blues of Mono Lake.
Eventually, it was time to go – firm snow or not.
I dropped second and skied it like a donkey.
The snow was firm, bad, unpredictable, and hooky in spots.
I hacked my way down and had to pull over before the end of the run.
As I pulled over, Tall Carl ripped past me and smoked me with his spray.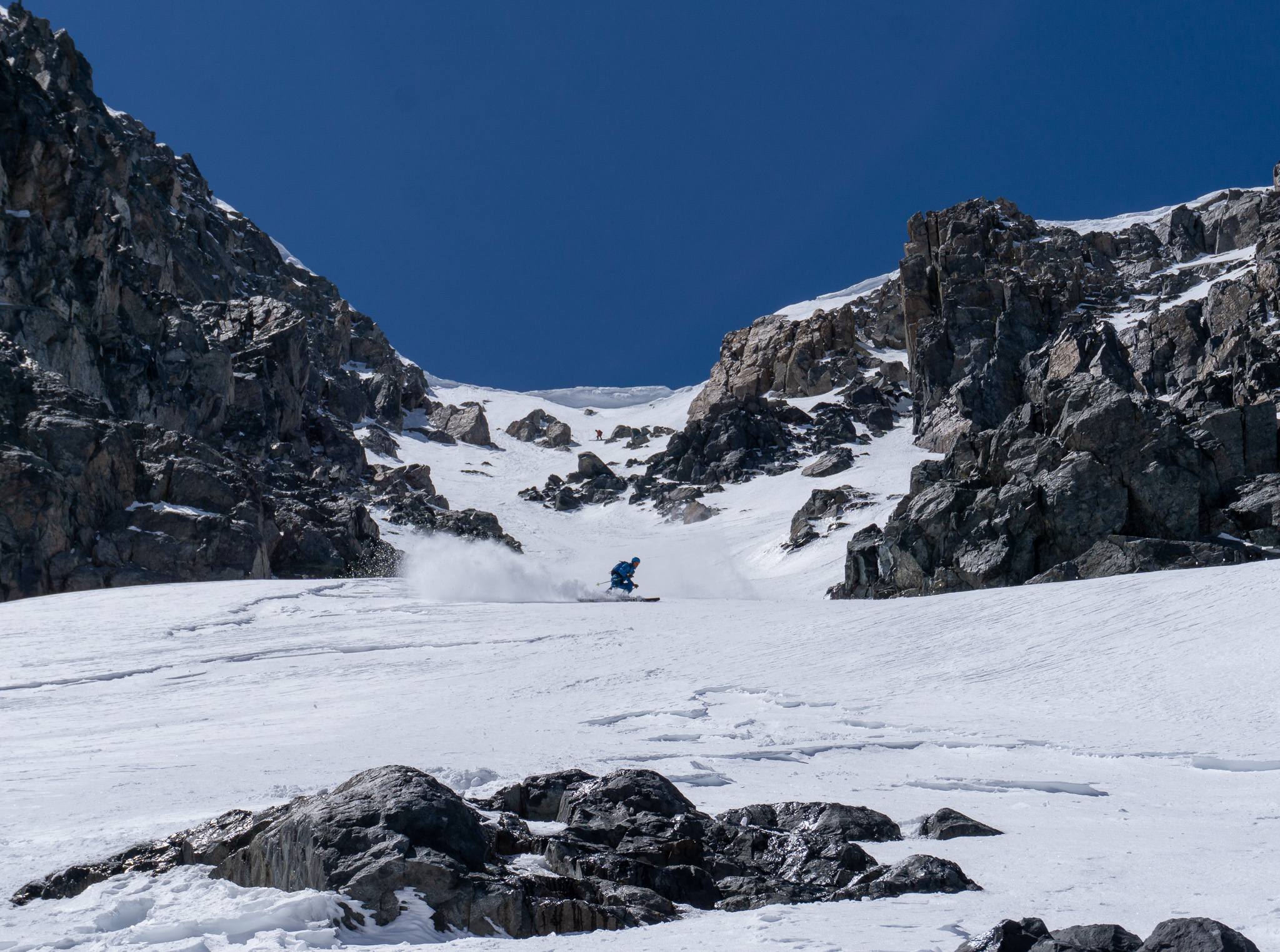 He wasn't having any trouble…
Glacier Canyon was gorgeous as per usual, but the azure glacier lakes were still frozen.
Up and over the Dana Plateau and over to Banana Chute with mislead hopes of softer snow.
Wrong.
Banana was so bad I don't even wanna write about it.
It was firm, punchy, with nasty troughs from a group that skied it in hot pow.
I was sidestepping down it at times.
Thank goodness the lower chute apron skied pretty well in something resembling corn.
My new boots were killing me, so I skied to the base first and ripped them off.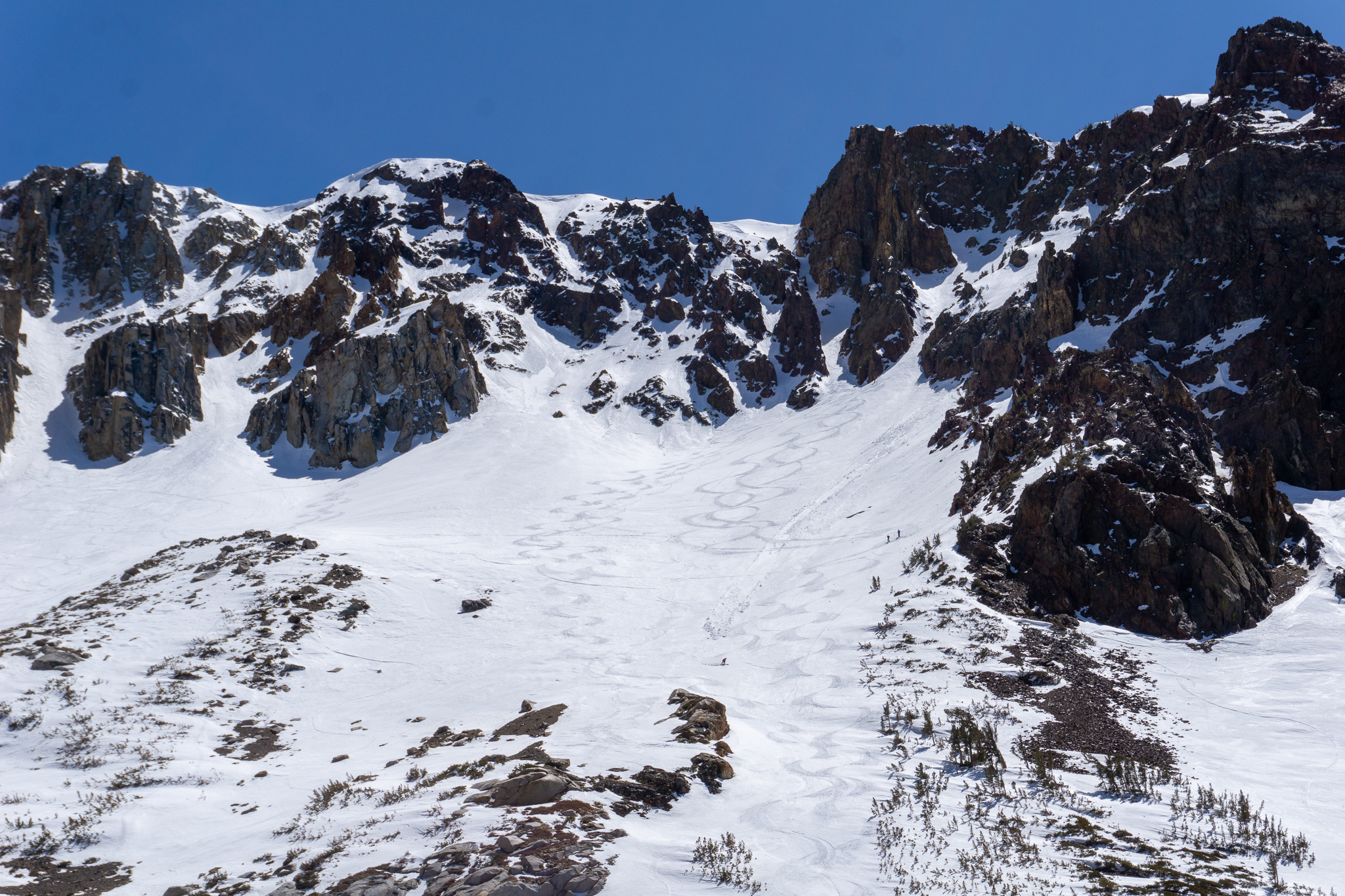 As I did, the best thing that happened to me all day occurred.
I've had a sea urchin spine from surfing in the Maldives in my right foot since September 2021.
It was killing me today.
As I pulled off my sock, I saw the wound I have there looking black.
I squeezed and realized the black was the urchin spine – finally!
I assumed it was small and used my fingernails to grab the little guy.
It wasn't little!
A 1cm long, 2mm diameter wide striped sea urchin spine came out of my freakin' foot!
I instantly felt better and lighter…
Just as those feelings hit me, I heard a bag of bricks fall on concrete.
I looked up.
It was one of our crew.
I had no idea what had happened, but one of us was lying on the rocks.
We whistled at the next skier coming down to stop and help, and then we hiked up.
He had launched off a mini wind lip near the parking lot and didn't realize it was all rocks on the other side.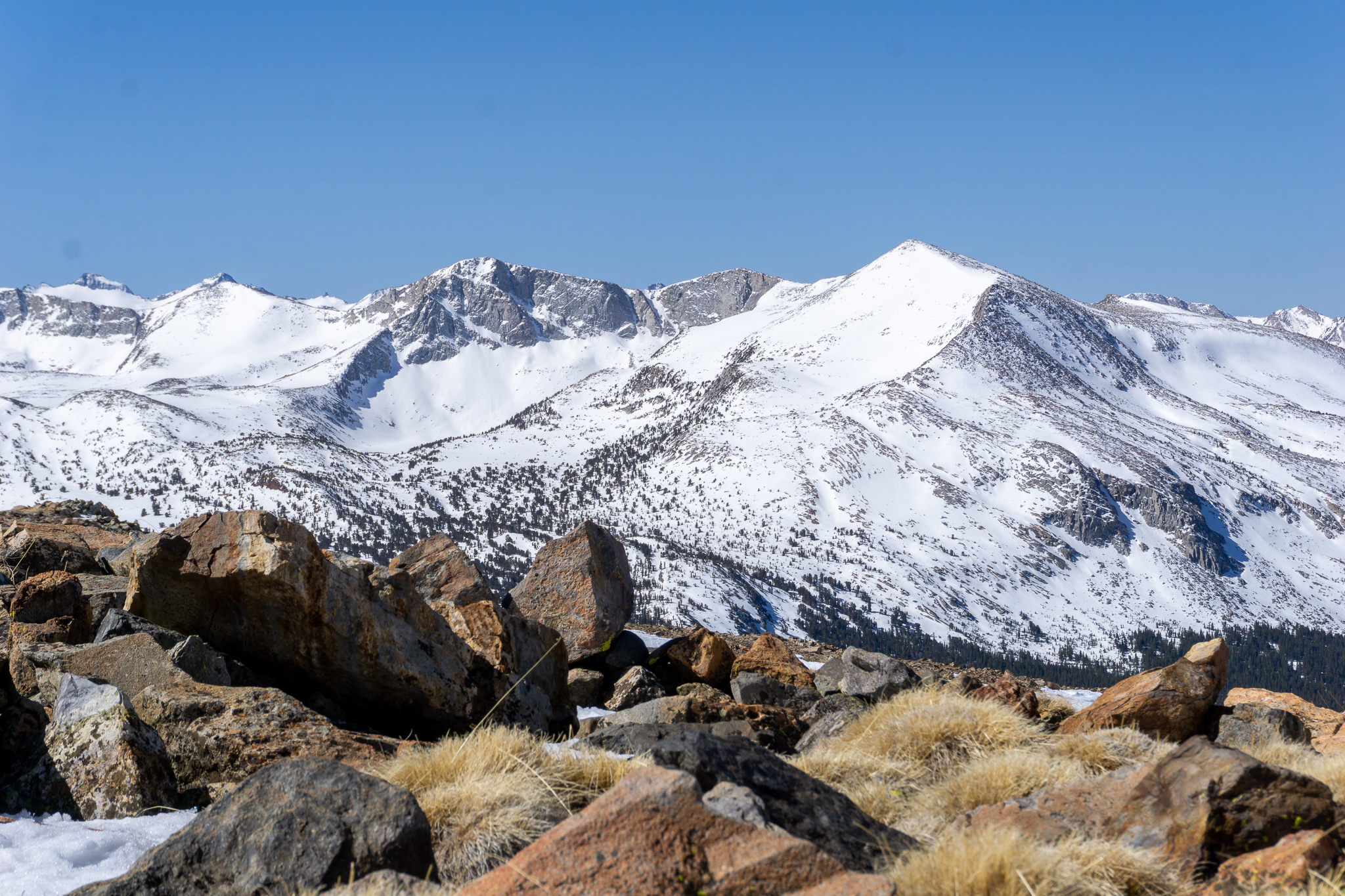 A 6′ air to a pile of rocks…
Concussion, dislocated shoulder, and some severe bruising are what we found in our head-to-toe exam.
We were able to reduce the dislocated shoulder.
We slung and swathed him and walked him to the car, then drove straight to the hospital for treatment and examination.
Once he was on his way, we went to Mobile Mart and inhaled fish tacos.
A truly crazy day today.
NOTES:
No Name Chute is not in
All the chutes west of Solstice Couloir are not in
In Ellery Bowl Chute out doesn't go, one of the alternate Chute Outs go, Banana Chute goes
Power House Chutes don't go to the road
PHOTOS