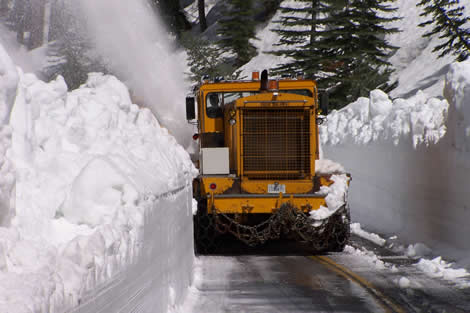 9,943-foot Tioga Pass and 9,624-foot Sonora Pass closed last week on May 14th due to a snowstorm that came through the area and dropped up to a foot of snow on the roadways.  This was the 2nd time these passes have closed due to snowstorms since their record early opening on April 17th, 2015.
The weather has cleared up since May 14th allowing for Tioga Pass to open yesterday.
Sonora pass has remained closed however, possibly due to deeper snow on the highway and continued isolated snow showers that have persisted in the area this week including today.  
NOAA is calling for snow showers and potential snow accumulations above 9,000-feet in the central Sierra Nevada.  Hopefully ths won't close Tioga a third time.
From what we've seen and heard, Sonora has much better snow coverage for skiing and riding than Tioga.  Tioga Report here:
CalTrans on Sonora Pass (108) Today:
SR 108
    [IN THE CENTRAL CALIFORNIA AREA & SIERRA NEVADA]
    IS CLOSED FROM 26.4 MI EAST OF STRAWBERRY TO 5.3 MI WEST OF THE 
JCT OF US 395 /SONORA PASS/ (TUOLUMNE,MONO CO) - DUE TO SNOW - MOTORISTS ARE 
ADVISED TO USE AN ALTERNATE ROUTE
NOAA Forecast Discussion Today:
ANY STORMS WHICH FORM OVER THE HIGHER TERRAIN
COULD PRODUCE SNOW ABOVE 9000 FEET, IMPACTING SIERRA PASSES
INCLUDING MT ROSE, TIOGA, AND SONORA.