Is it possible to have too much of a good thing? Can it really snow too much? What is too much snow?
These are questions that skiers and boarders often ponder on lift chairs or over a beer. If you live in a big city then a couple of inches is too much. It makes traffic come to a crawl, sidewalks become impassible and in 24 hours the once pristine, fluffy white magic is now a shade between dog piss and grey. Ugh!! I personally think there can never be enough snow as long as I'm not driving in it.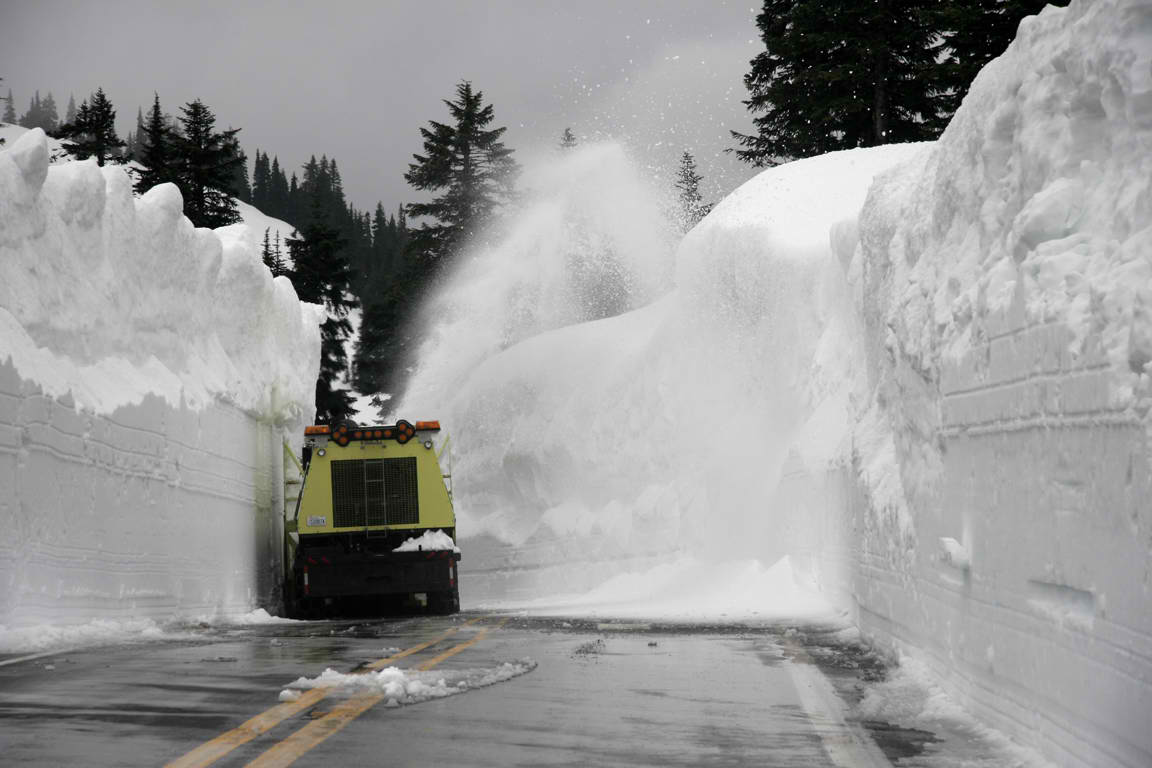 Well, let's take a look at some really big snow events over the years in North America and the rest of the world:
1,224.5″ in a year  – Mount Rainier National Park, WA: 
The Pacific Northwest region of North America, which includes Alaska, British Columbia, Washington, and Oregon, is the snowiest region of the continent. In many areas of Alaska and British Columbia, there are no meteorological stations, so we can only imagine how much falls during a given season. In Mount Rainier National Park, at the Paradise Ranger Station, 1,224.5 inches (102 feet) of snow fell between February 19, 1971, and February 18, 1972. That is equal to the height of a 10-story building.
1,140″ in a season – Mt. Baker Ski Area, WA:
Most skiers know about the phenomenal snow year of 1998-1999 in Washington state's Mt Baker ski area. 1,140 inches (95 feet) of snow fell to the ground over the course of the ski season. That amount of snow would cover the White House by 25 feet. As we shall see, that was far from an isolated event.
974.1″ in a winter – Thompson Pass, AK:
Thompson Pass enjoyed or suffered through, depending on your opinion, a great or horrific year in the winter of 1952-1953. That's when 974.1 inches (81 feet) fell from heaven. What does 81 feet of snow look like? Well, take a 73-foot tractor-trailer combo, which blasts down interstate 90 at 75 miles an hour, stand it on its end, and it would be under 8 feet of snow.
728″ in a season – Squaw Valley, CA:
The 2016/2017 ski season gave us record-breaking snowfall totals. They called it SNOWMAGEDDON, Janu-BURIED, Febru-BURIED, Miracle March, Awesome April, May Madness, and even June & July blew everybody's minds. Many resorts extended their seasons. Squaw Valley stayed open past the 4th of July for the first time in their history.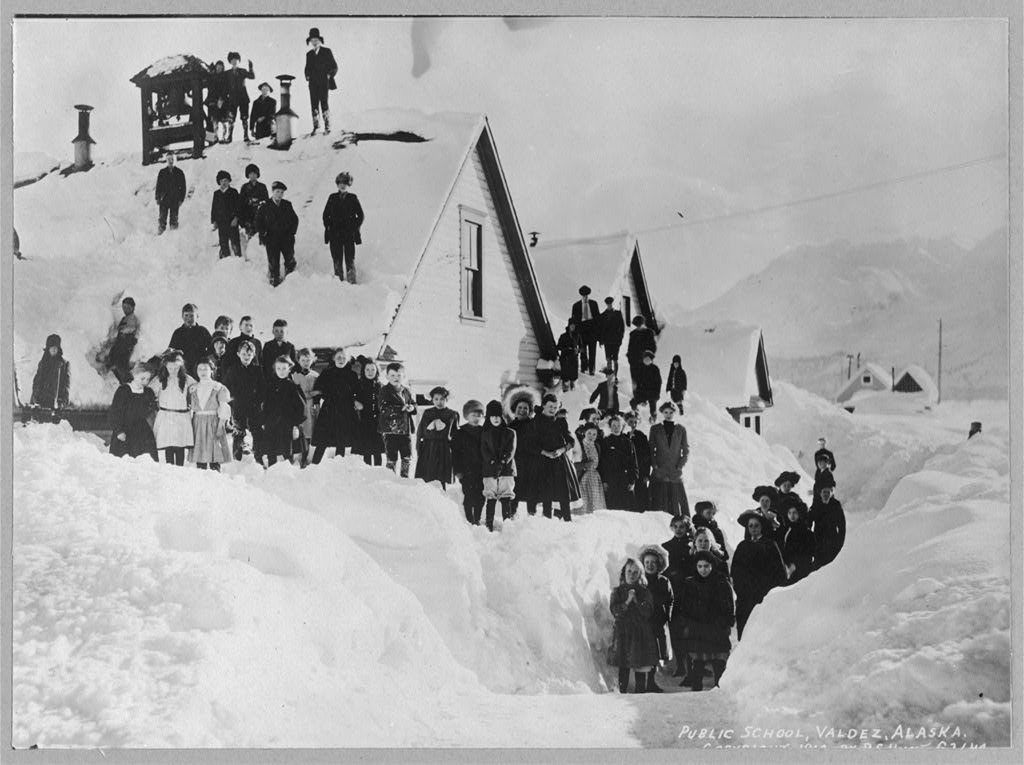 78″ in 24-hours – Thompson Pass, AK
In 1963, that same area saw 78 inches fall in one 24 hour period. At this point, Alaska, Colorado and possibly Buffalo, New York are all claiming to have set the 24-hour record. Some Buffalonians are still digging out from the recent freak lake effect storm which occurred on November 19, 2014. What do you do with almost 7 feet of snow in Buffalo?
Fun Fact: Massive snowfalls are not only found in the mountains of the Pacific Northwest. The coastal town of Valdez, AK sees an average of 320″, and that is at sea level. In terms of sea level snow records, Valdez appears to beat everyone out, even the Japanese seaport of Tsukayama which recorded 68.2″ of snow in a 24-hour period. Imagine the effort it takes to keep roads open at times like this, not to mention the overtime pay the snowplow drivers are pulling in.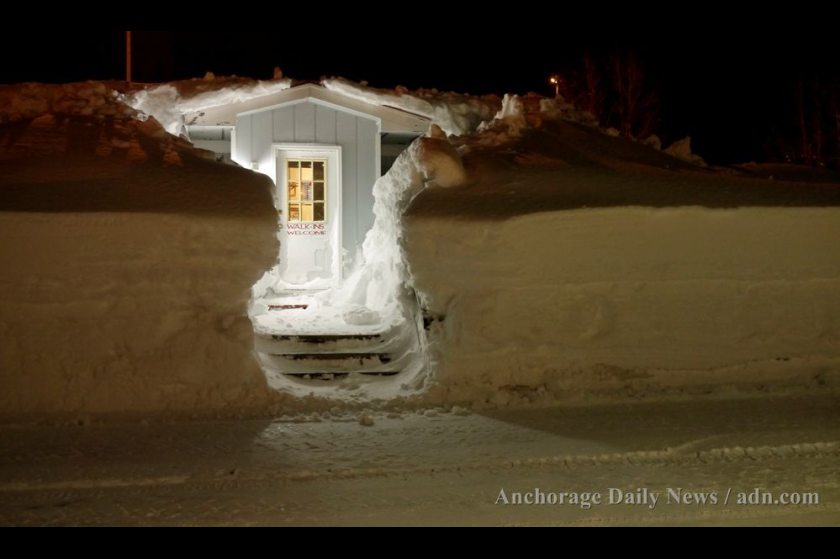 76″ in 24-hours / 95″ in 32-hours – Silver Lake, Colorado
The Sierra Nevada and the Rockies have had their share of "Big Dumps" to be sure. Silver Lake, Colorado saw 76″ of snow in a 24 hour period. But the storm did not stop after 24 hours. When it all ended 32.5 hours later, 95 inches lay on the ground. That is an average of 2.9 inches an hour.
67″ in 24-hours – Donner Summit, CA
In the Sierra Nevada of California, known for big storms that roll in off of the Pacific, 67 inches of snow fell on January 4, 1982. A single storm snowfall, also in 1982, dropped 186.6 inches on Donner Summit. In fact, Donner Pass has topped 775 inches of snow on four separate occasions. Making it one of the snowiest places in North America.
Top 10 Snowiest Locations in the U.S.A. by Annual Average Snowfall (various periods of record):
680" Paradise Rainier Ranger Station, Washington
552" Thompson Pass, Alaska
530" Mt. Baker Lodge, Washington
530" Crater Lake, Oregon
516" Alta, Utah
471" Soda Springs, California
445" Tamarack, California
442" Stampede Pass, Washington
436" Wolf Creek Pass, Colorado
429" Silver Lake, Brighton, Utah
Japan
If you saw the Sweetgrass film, Signatures, or Japan: A Skiers Journey, then you know about the endless powder runs that this island nation has to offer. It only makes sense that a group of islands in the northern Pacific would have the highest yearly snowfalls. The largest annual snow depths in the world have been recorded on the island of Honshu.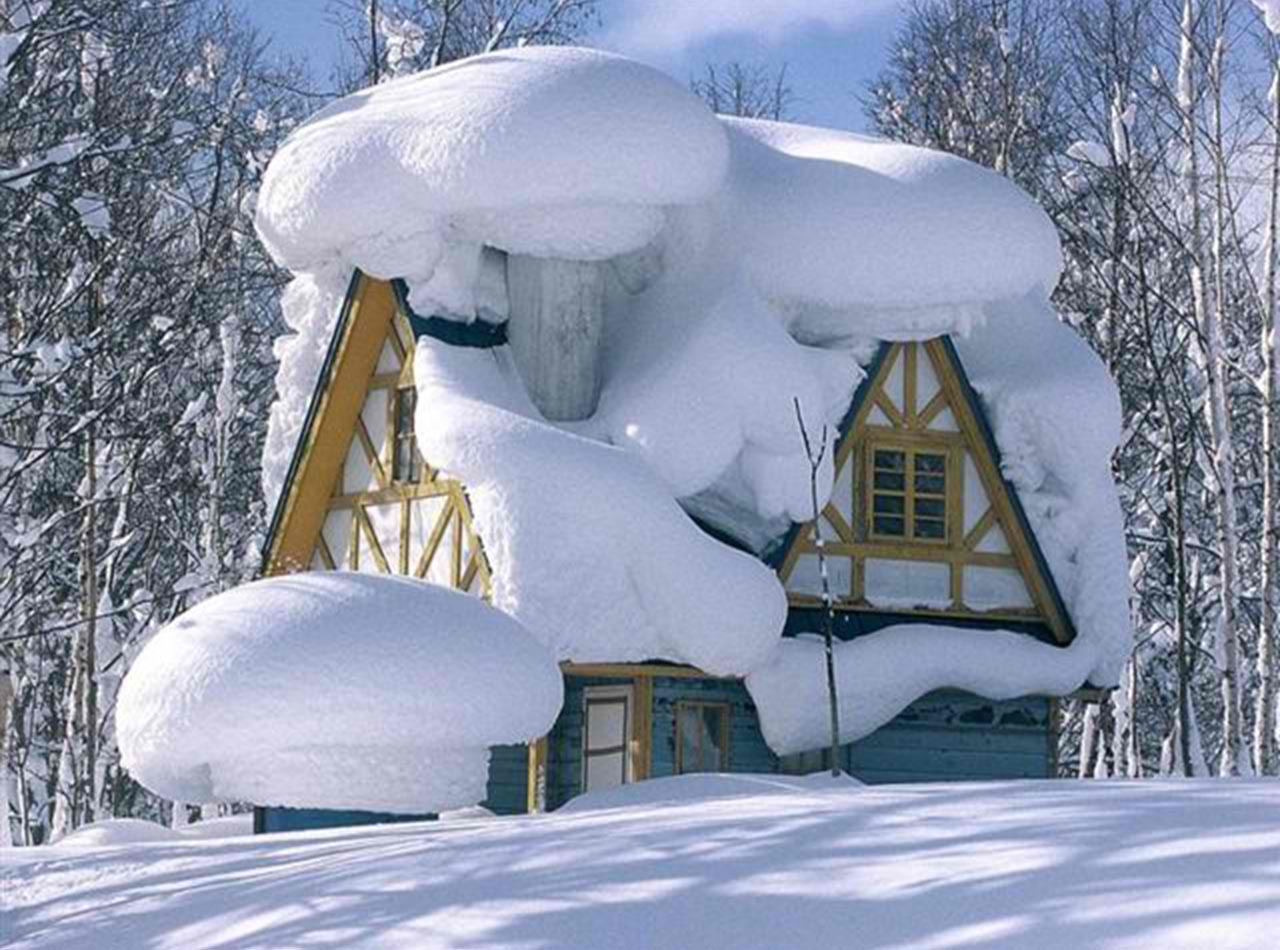 1,200 to 1,500″ average annual snowfall – 

Japanese Alps of Honshu Island
Impressive as the depths recorded in North America might seem, the deepest snow on earth accumulates in the Japanese Alps of Honshu Island around the 2,000-6,000 foot level. The average annual snowfall is estimated to be in the 1,200 to 1,500 inches range. This would leave only the last 55 feet of the Leaning Tower of Pisa in the clear. On February 14, 1927, a snow depth of 465.4 inches was measured on Mt. Ibuki at 5,000 feet elevation. In fact, these amazing snow depths are a singular tourist attraction. A highway that transects the mountains is kept open all winter. It is known as the Yuki-no-Otani Snow Canyon.
Europe
67.8″ in 19-hours – Bessans, French Alps
In checking major snowfalls in Europe, there was no lack of nationalism. It seems everyone wanted to point out that their country had more snow than any other. Norway and Sweden seem to lead the pack. The European Alps are no stranger to immense snow events either. A record snowfall of 67.8 inches occurred in Bessans in the French Alps during a 19 hour period between April 5-6, 1959. This amounts to an average of a little more than 3.5 inches an hour. Wow!
The Western Great Caucus Mountains of Russia near Turkey and the Black Sea also see amazingly high amounts of snow. Achishko (elevation 6,200') has measured snow depths as high as 315 inches.
As skiers and riders, we live for these big snow days. We do snow dances, we burn skis, we put our trail maps in the freezer, all in the hope of one of these once-in-a-lifetime events. So let's hope this year proves to be record-breaking.