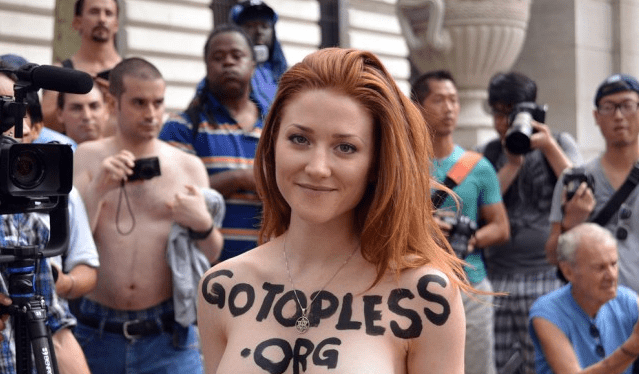 Did you know that Denver is one of the growing number of cities across America where topless equality is legal? To celebrate this, the Denver GoTopless foundation is holding a parade on Sunday, August 25th at Civic Center Park, alongside many other parades across the US hoping to advocate and normalize the benefits of co-ed toplessness.
"Denver GoTopless celebrates how women are able to be topless in Denver city limits within the same contexts where it's socially acceptable for men.  We seek to normalize topless equality, as a means of combating objectification and rape culture. "
August 25 falls on Women's Equality Day, which commemorates the 1920 Constitutional Amendment granting women the right to vote. While the country has made progress in the 100 years since its passage, archaic laws still exist to reinforce traditions that deny women true equality.
Credit: DenverGoTopless
Topless equality is a crucial pivot point for social change, combating body image issues, objectification, toxic masculinity, and rape culture. It prompts self-reflection and dialog about the ramifications of #SexSells in media, promoting empowerment and freedom, respect for boundaries, appreciation, and joy.
According to the GoTopless foundation, concepts are:
Nudity and sexuality aren't the same things
Dignity and respect should be based on behavior and context, not on skin
Instead of blaming & shaming, take responsibility for your own thoughts and actions
Denver GoTopless is merely advocating, for women, privileges that men already have
Credit: DenverGoTopless
Of course, toplessness is an option. Bikini tops, black tape, stickers, bodypaint, etc are all welcome. Participants comfort is paramount, just so long as you are there having a good time and supporting a good cause.
The website lists these guidelines:
No sexual acts (follow the law)
No marijuana smoke (follow the law)
No glass containers
Don't walk in the path of the Mall Shuttle
Obey crosswalk signs
Keep calm in the face of criticism
Point out potential conflicts to DGT Security personnel and/or Denver PD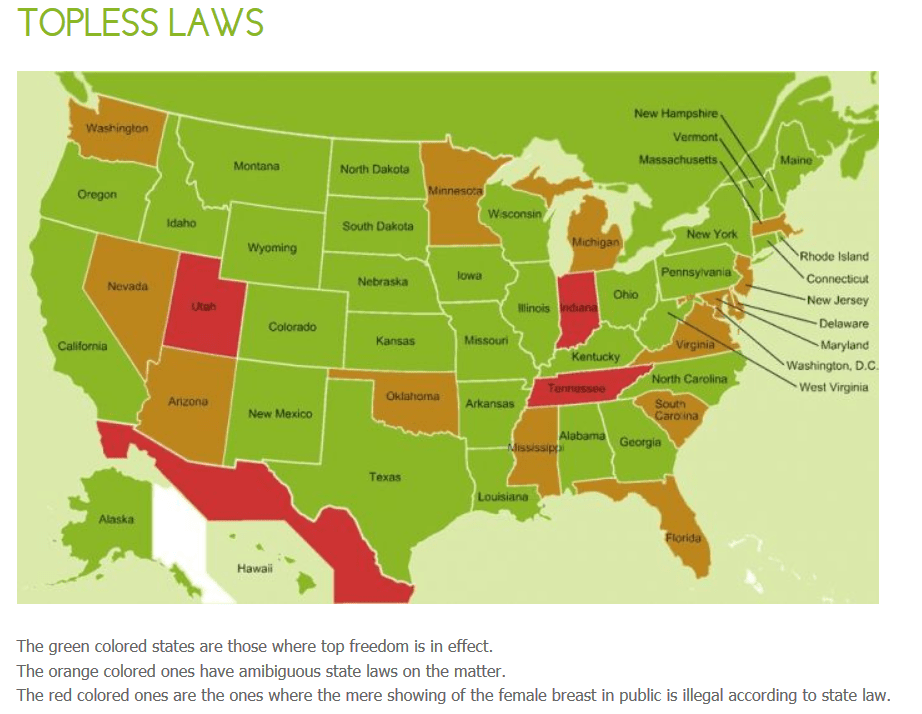 The following cities are officially topless "tested", and there are probably even more cities than that across the country, as there aren't as many laws on the books about this topic as you may think.
Asheville, NC
Austin, TX,
Boulder, CO
Columbus, OH
Eugene, OR
Honolulu, HI
Keene, NH
Key West, FL at Fantasy Fest
Madison, WI,
New Orleans, LA, at Mardi Gras
New York City
Portland, Or,
Santa Fe, NM
South Miami Beach, FL (on the beach)
Washington, DC
and Canada