Brought to you by Diamond Peak
Are you looking for run after run of powder stashes, tree lines, and challenging terrain? The first resort that comes to mind may not be Diamond Peak, but it should be on your list.
"We're actually proud to still be relatively unknown in the greater Lake Tahoe ski scene. We're the only community-owned resort in the Tahoe Basin, and that comes through in a laid-back vibe where customer service and friendliness come first. We've got locals who've been skiing here since 1966 who are bringing their grandkids back to learn on the same slopes they did back in the day, and most of them don't want us sharing how great it is here with too many folks."

– Paul Raymore, marketing manager for Diamond Peak
Diamond Peak in Incline Village, NV, is a true hidden gem of the Tahoe Basin. There may be a perception that the small (compared to some other Tahoe resorts) ski area is more of a beginner hill, but that is far from the truth.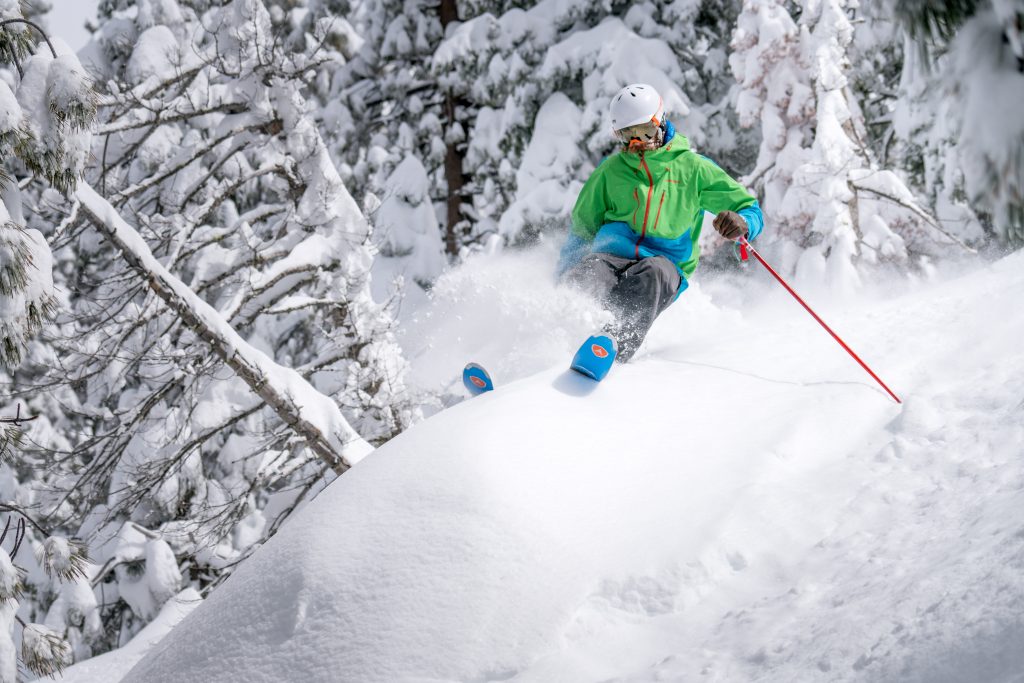 The 655-acre mountain offers terrain for all abilities, but much of that acreage is made up of steep groomer runs and gladed tree areas. 500 of the 655 acres of skiable terrain are gladed tree runs. How could you get bored with that much terrain to explore?
The resort also boasts 1,840 feet of "true vertical" drop (vertical drop that is actually skiable), which ranks it 4th among the Tahoe ski areas. That's some serious vertical, most of which is directly accessible from the Crystal Express chairlift. Lightning, Diamondback, Battle Born, and Luggi's are a handful of the most popular advanced groomer runs, and the gladed tree runs off Crystal Ridge provide a variety of lines and terrain.
"A lot of skiers and riders who've never been to Diamond Peak are put off by the relatively small size of the resort, by Tahoe standards," said Raymore. "We've got 655 total skiable acres – which is decently sized in most parts of the country but small for Tahoe. However, if you look at the terrain and the vertical we offer, you'll find there's actually an amazing number of fun steep groomers and hidden glades to explore – more than enough for even a bell-to-bell day of charging."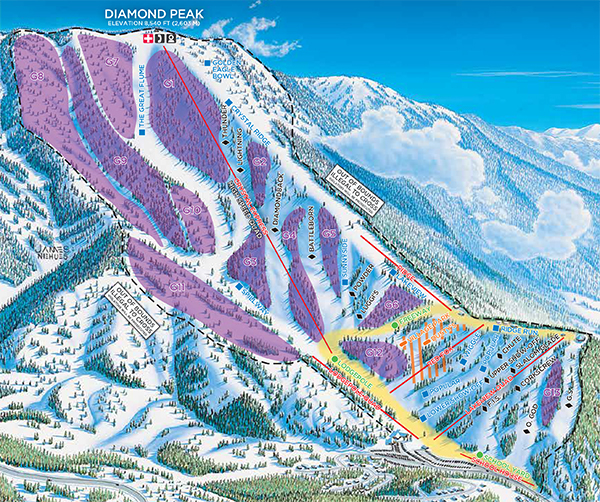 With almost 400 inches of snowfall so far this season, see if you can explore the glades listed below as conditions allow and be prepared to have your perception of small ski areas changed for the better:
G1 – The Crown Jewels (formerly The Glades)
G2 – Bonanza
G3 – Promised Land
G4 – Rollerglades
G5 – Glade Runner
G6 – Elevator Shaft
G7 – Area del Fuego
G8 – Boarder Line
G9 – Gnarnia
G10 – Nirvana
G11 – Outer Limits
G12 – Cappy's Corner
G13 – Zig Zag
While you are enjoying face shots and secret powder stashes, don't forget to stop and take in the amazing views of Lake Tahoe. With the slower pace of a small ski resort, short lift lines, and amazing terrain, you are sure to have an incredible day at Diamond Peak.