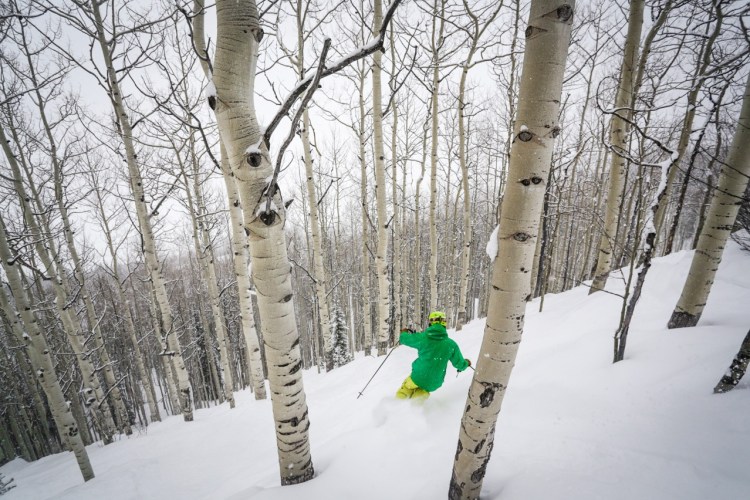 In the backcountry, avalanches are often skiers' number one concern. It makes sense that we are always looking for ways to reduce risk and consequence in the backcountry. Can trees assist in decreasing avalanche risk?
The answer: it's complicated.
Trees typically run vertically through the entire snowpack, and in doing so, they can hold the snowpack in place and prevent a collapse from turning into a full-blown fracture. 

With that being said, there are some limits as to how effective tree anchors can be. The general rule of thumb is that trees must be too tight to ski through to effectively anchor a snowpack.
On your average danger day, trees actually increase avalanche risk. Say you were skiing through a nicely spaced forest, and all of a sudden the snowpack fractured and you found yourself in an avalanche. Within seconds, you'd be moving at tremendous speeds, the avalanche could slam you into a tree with incredible force, causing you to sustain serious injuries and even death. About one-third of avalanche fatalities are from backcountry recreationists being slammed into trees.
Additionally, trees and other anchors (including rocks, shrubs, etc) add stress on the snowpack. As the snowpack strains against the anchor holding it in place, the stress on the snowpack increases, making a fracture more likely. This is why avalanche fracture lines tend to run from anchor to anchor. Essentially, triggering an avalanche when skiing through sparse trees can actually be more likely than on an open slope that does not have the same tension points.
Another consideration in snowpack anchor efficacy is slab stiffness. An anchor will be less effective at anchoring a soft slab, like a storm slab, than a hard slab, like a wind slab. This has to do with how much the anchor is "cemented" into the layers. An anchor in a soft slab is like pulling a stick through sugar; an anchor in a hard slab is like pulling a stick through hardened concrete.
In conclusion, while trees can help hold a snowpack in place and increase stability, generally, they are detrimental to avalanche risk. 
Final myth/fact verdict: MYTH.