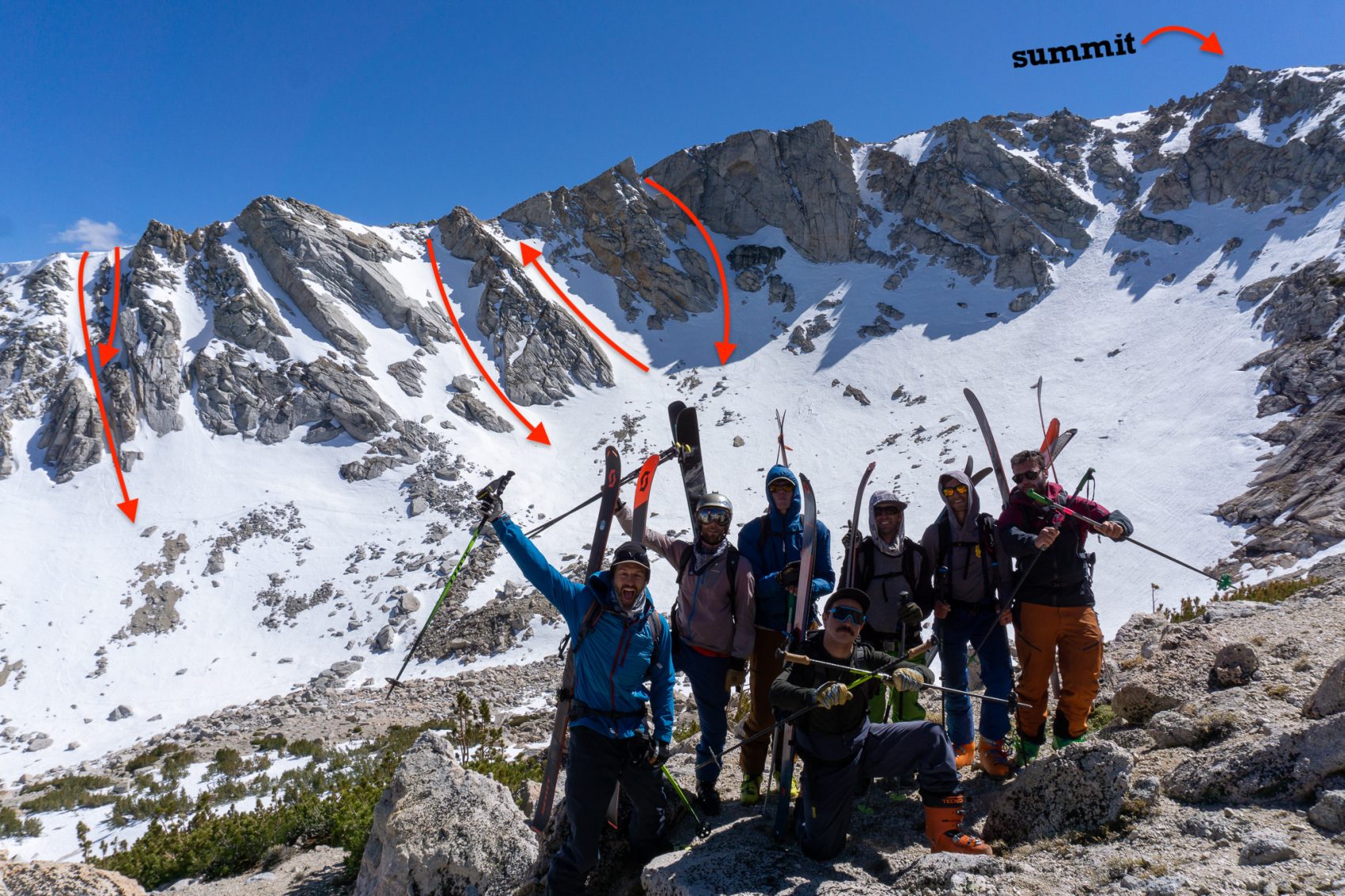 Brought to you by 10 Barrel Brewing 
Report from May 18, 2021
We'd been eyeing a new zone off 12,054′ White Mountain for the past week.
Yesterday, May 18, 2021, we decided to go for it.
First, we gathered a monster crew of seven close friends.
Once teamed up, we set out at the crack of 10 am.
It was a bit of a walk to get out there, but we were contented once in the high mountain amphitheater.
Steep, gorgeous chutes lined the walls all around us.
12,054′ White Mountain, CA – North Chutes Details:
Summit:  12,054′
Vertical from car:  we each climbed & skied 3 chutes this day for 3,000-vertical-feet
Vertical skied:  2,500′ 
Pitch at steepest point:  45º+
Aspect:  North
Distance:  10-miles round trip
Time from car to summit:  3 hrs to summit of White Mountain
Car to car time:  7 hrs 30 mins
Recommended Equipment:  crampons, ice axe, skins
Additional Notes:  This zone is composed of a myriad of short, steep chutes/runs from about 400-vertical-feet up to 1,000-vertical feet – pick what you want to ski then boot up and ski down
We picked out four couloirs that tickled our fancies and got started.
Booting up the first chute was a bit of a grind due to soft snow.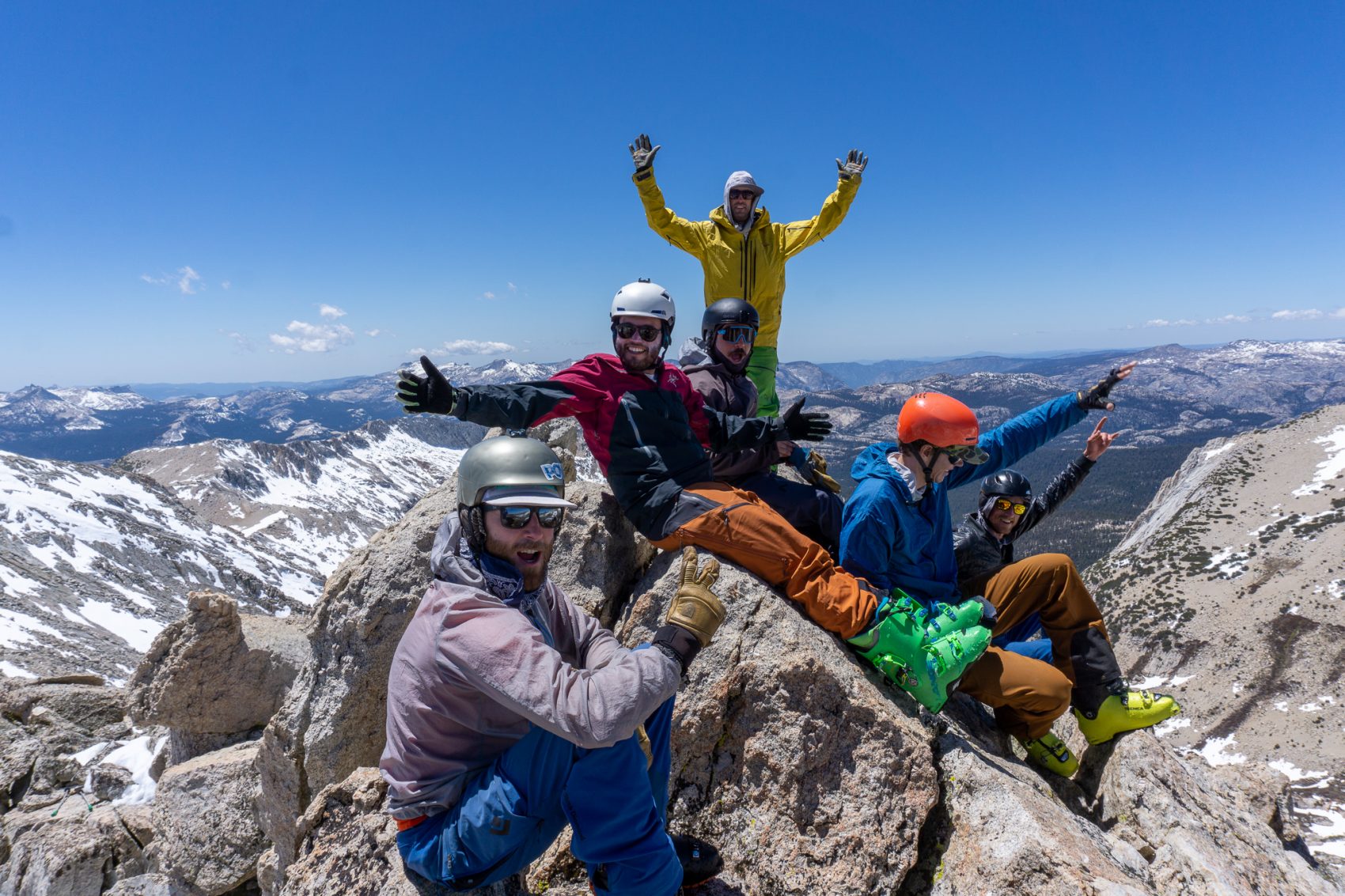 We ground up it to the top and realized that we weren't far from the summit of 12,054′ White Mountain so we skipped over and scrambled up the boulder pile summit.
The views were vivid with Cathedral Peak, Mt. Hoffman, Mt. Dana, Mt. Conness, North Peak, False White Mountain, Tuolumne Meadows, 13,120′ Mt. Lyell, and more dazzling in every direction.
Chute #1:  "One Wall"
The first chute was steep, open, well walled on one side, and happy.
We christened it "One Wall."
We ripped down "One Wall," giggling at how good the snow was because, on the way up, we thought it was going to be first too firm and then too soft.
In the end, it was just right all the way down.
We bootpacked up the chute just to the skier's right.
The booter went quick.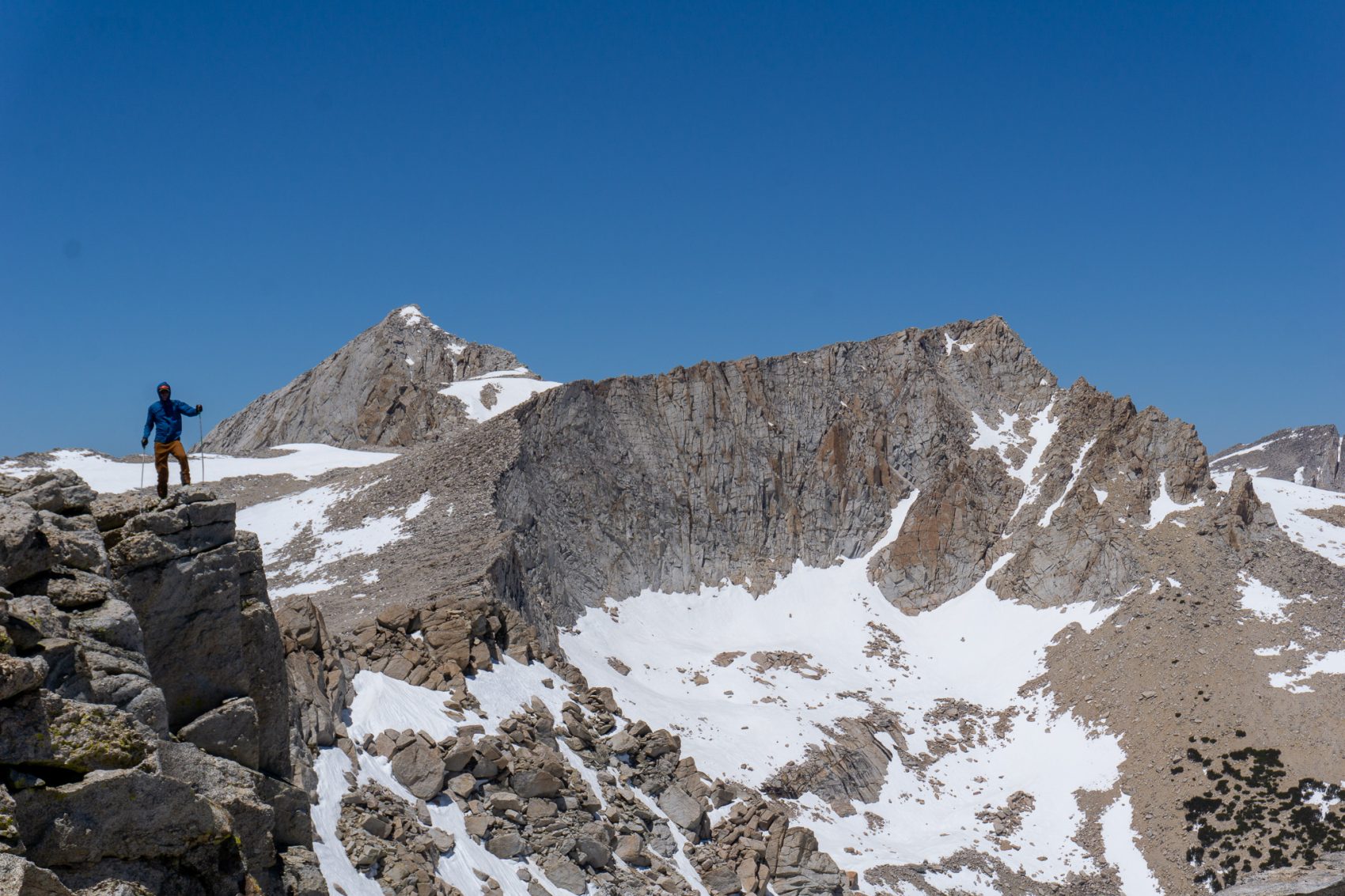 On the ridgeline again with views into Yosemite's high country.
The plan was to ski what we're now calling "Shift Chute" (due to Andy coming out of his Shift bindings in the runout).
We stumbled down the granite scree and through bushes to the double corniced entrance of "Shift Chute."
Chute #2:  "Shift Chute"
"Shift Chute" is actually two chutes right now.
Steep, tight, no-fall-zone, zig-zagging, and complicated on the left.
Steep, more open, no-fall-zone, and flowy on the right.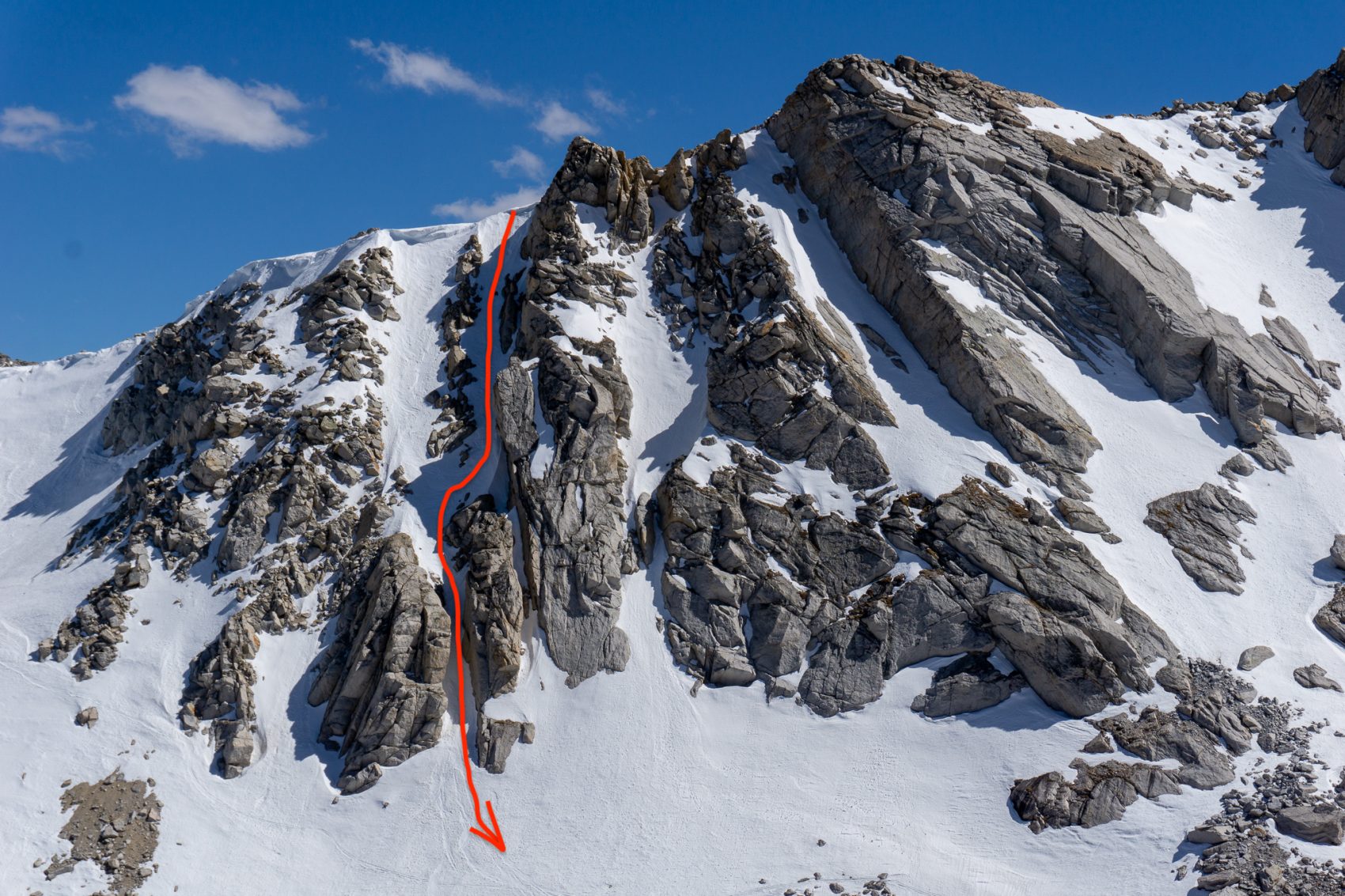 Both chutes funnel into the same tight little slot canyon at the bottom before bursting onto a rock-peppered apron below.
I dropped first and was the only one who opted for the tight left option.
The first two turns were in good, steep corn before I penetrated the shade and found brittle, firm but workable snow the rest of the chute.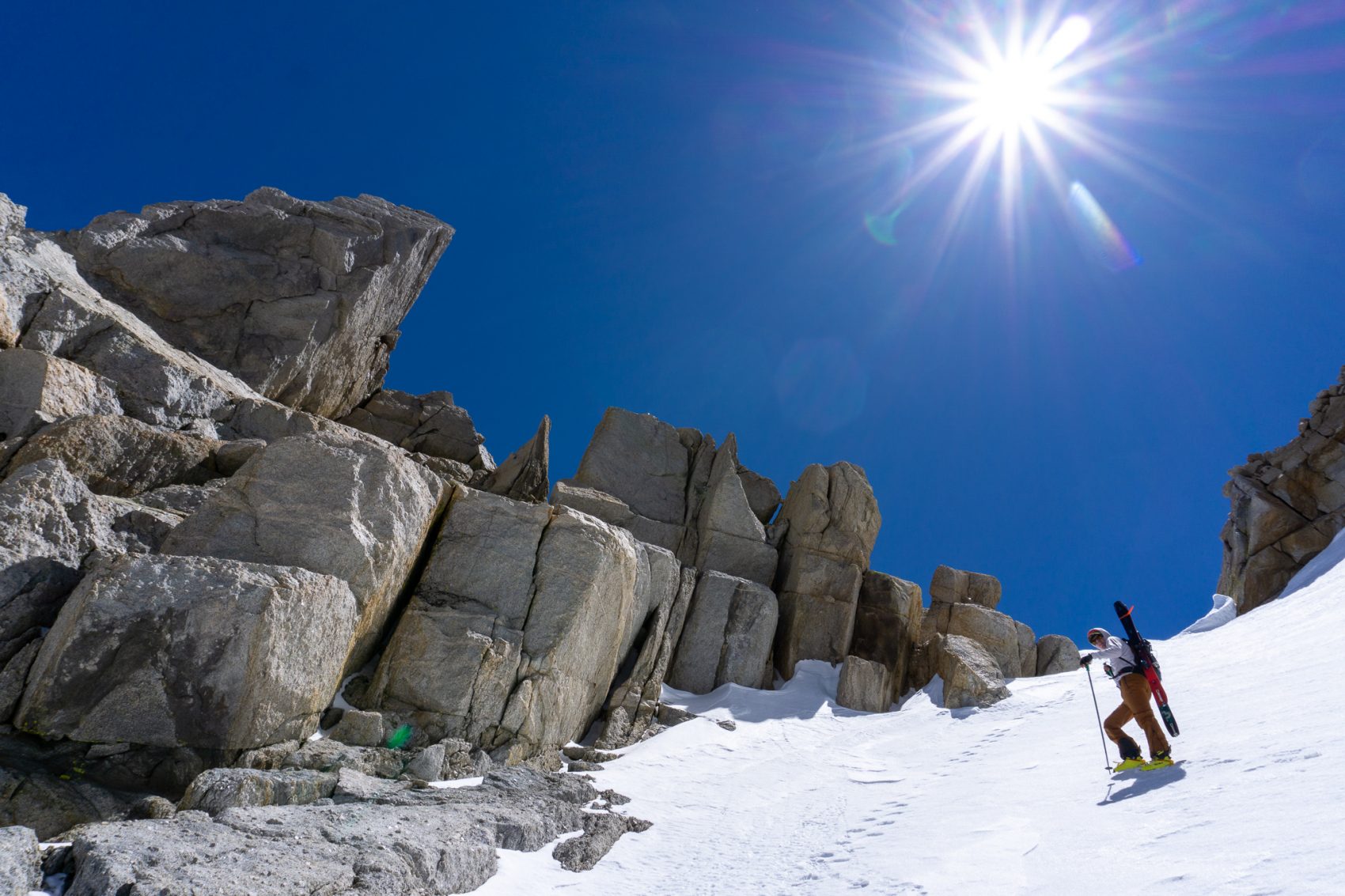 This chute challenged my skill set as it was tight, the snow was tough, the pitch was steep, and it was all bad if I fell.
I chopped my way down into the little slot canyon and hacked my way down very firm snow in there until I came rolling out onto the rocky apron.
Greggy was next in "Shift Chute," and he charged it (as per usual) and ended up taking a spill on the speed check turn just after straightlining the tight little slot canyon at the bottom.
He was fine.
View this post on Instagram

Andy was third.
He absolutely blasted the chute, pointed it through the slot canyon, and came out onto the apron hot.
In the middle of his speed check turn, his downhill ski (with Shift binding) popped off, and he started sliding like a baseball player into second base.
I tried to stop him with my mind…
It didn't work.
He slid right into a large rock in the runout, but it was a smoothish rock shaped like a turtle shell, and he miraculously slid up and over it and back onto the snow.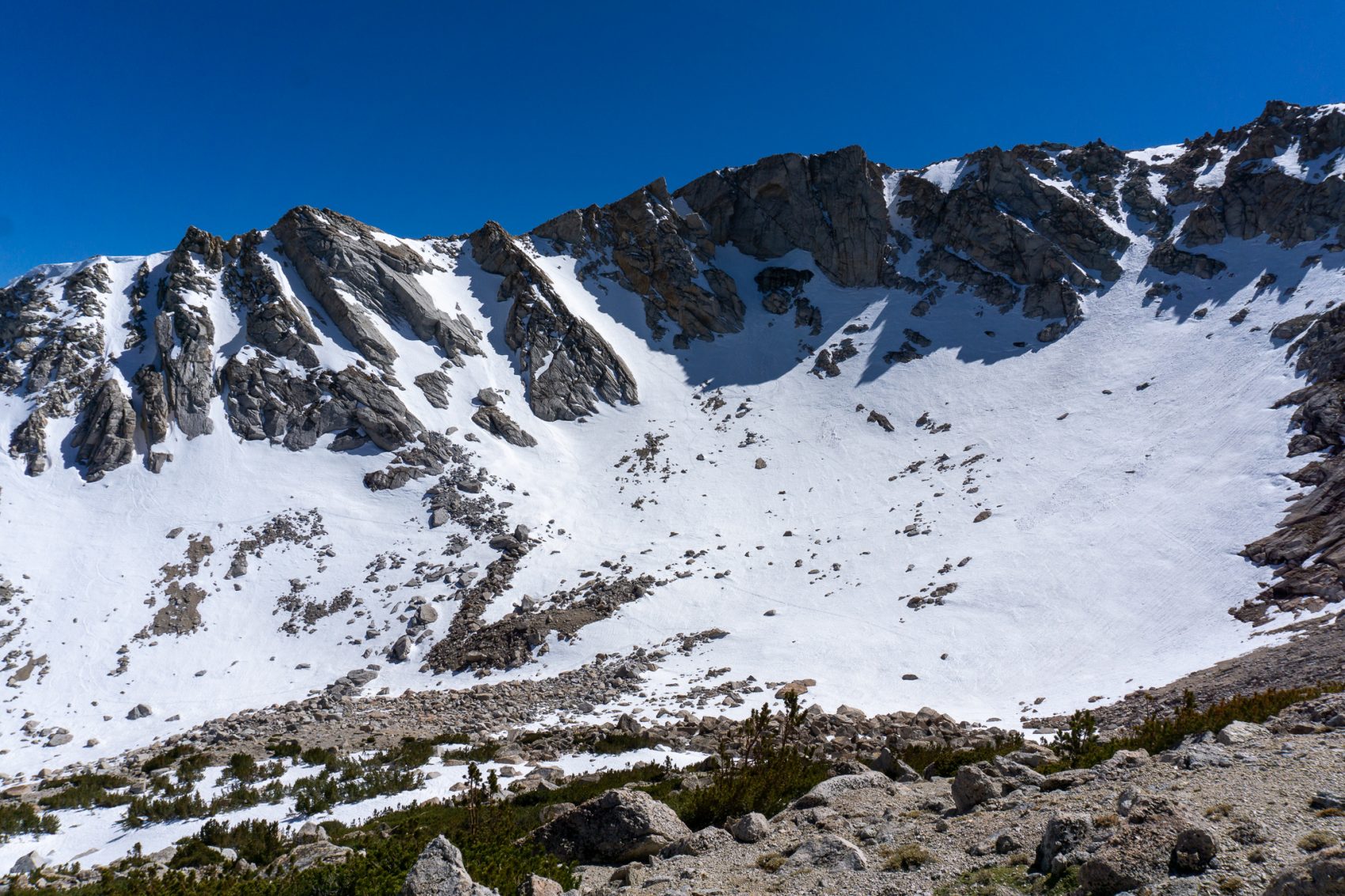 The footage is amazing…
Tall Carl, Kyle, and Fox all skied the chute without incident and we rolled on to our next zone – the zone we skied twice last week that is crazy fun.
Chute #3:  "Too Tight"
After all six of my buddies had skied down, I was still up top, and there was one little chute I hadn't skied yet, but it was tight.
Too tight, it turns out.
I'm not sure why I skied it to tell you the truth, but I know that variety is the spice of life.
I dropped in and it was a lot tighter than I thought.
I was able to make seven turns, had to make four "Schmidt Hops," accidentally made an awkward rock side slip, then I was out of the chute and into the fields of glory below.
High fives all around and it was time to head for Mobile Mart for fish tacos (we might be the only people skiing Tioga Pass right now as we haven't seen any other skiers nor riders on the pass nor at Mobile Mart…).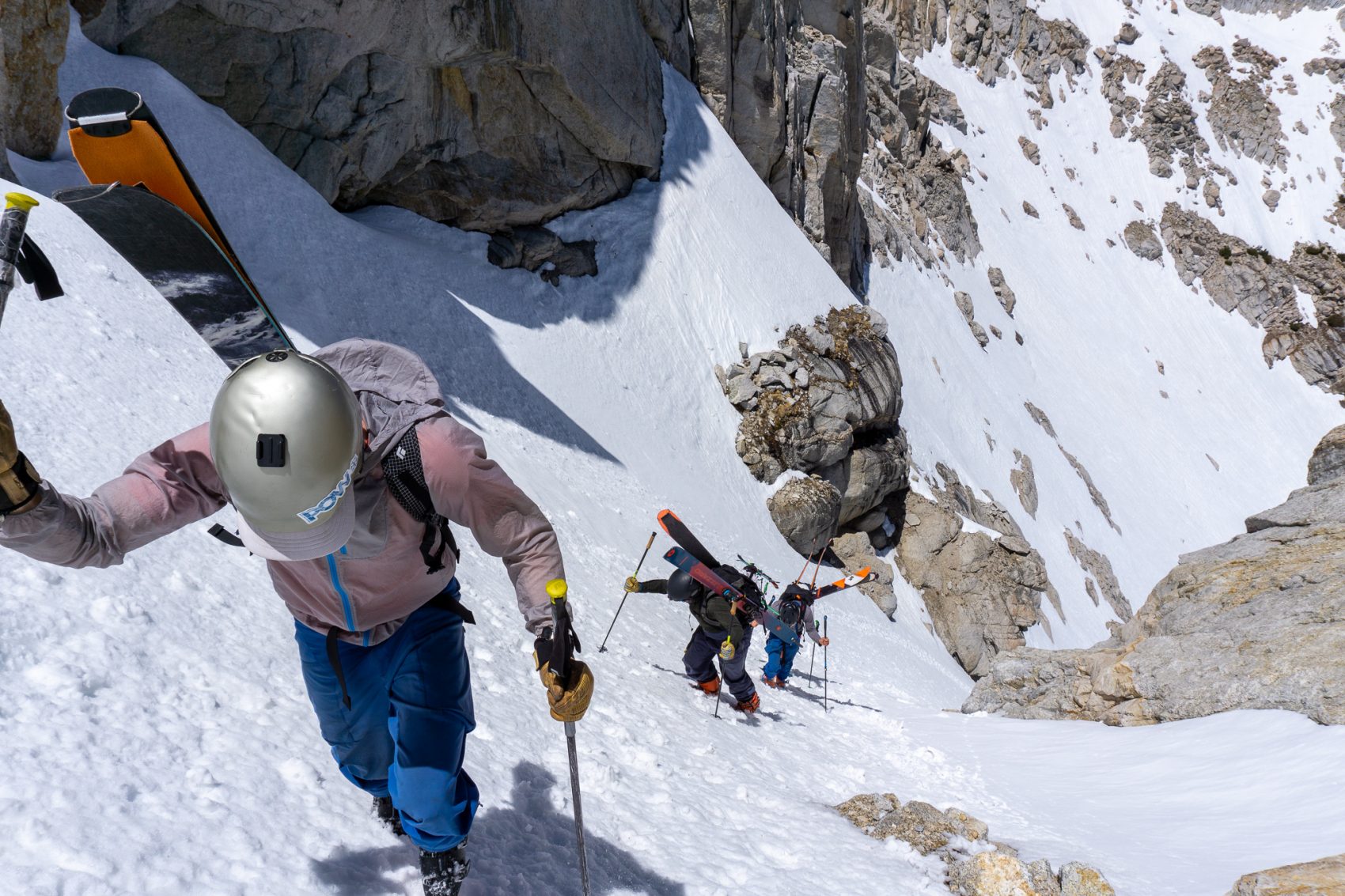 It ended up being a big day with ten miles of travel, 7.5 hours, three chutes skied myself, seven chutes skied by the group, seven good buddies, and one helluva good time.
These are the days.
The Eastern Sierra in May is simply spectacular – even with a five percent of average snowpack 🙂
Thanks, California.
Recent Trip Reports:
Photos in Chronological Order: