Recently, I went on one of my scariest Teton adventures yet.  My friend Brenden (my trusty guide up the Middle) and I decided to bag 11,943-foot Buck Mountain. We started a little later, closer to 7 a.m. since the approach was, allegedly, shorter than others.
Immediately, we lost our way trying to find the climbers trail that branches off from the main Death Canyon trail. We were both convinced we would find the trail after the third footbridge. Turns out the trail is just before the third footbridge.
Nevertheless, we found the trail and got moving. From the beginning the trail was unforgiving, starting to climb immediately and only getting steeper. There were also a lot of downed trees and snags to navigate.
After a couple of miles, we emerged from the trees and started climbing a steep scree field at which point we lost the thread of the trail. We noodled around on the steep hillside for a bit and eventually made our way through a boulder field over to some solid ground.
It was at this point when the winds came up.  And I'm not talking a breeze. Despite my best efforts to walk in a straight line, I was continually blown sideways and my final approach to Timberline Lake looked more like drunken stumbling than hiking.
We found shelter behind a large boulder and reconsidered our plans.  We were afraid this wind was the harbinger of an unforeseen storm and we were nervous. Luckily, I had service, and I was able to check the weather. I saw sunny skies, but wind gusts up to 40 mph. Great.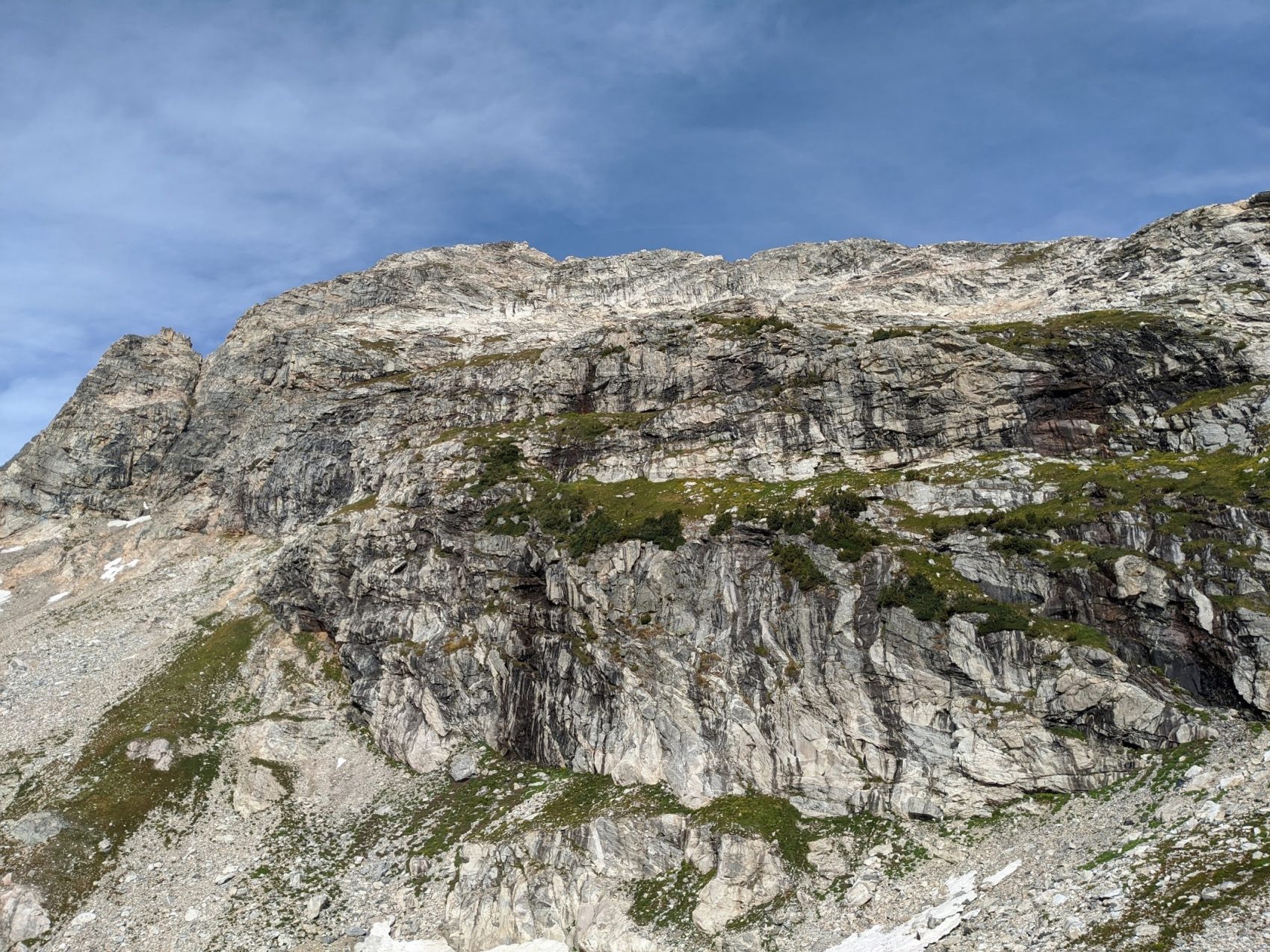 While sheltering by the lake we considered which route we wanted to take up Buck. Our original plan was to take the East Ridge up which is rated as a fourth-class scramble. The other option was the East Face which is a little tamer and goes at third-class.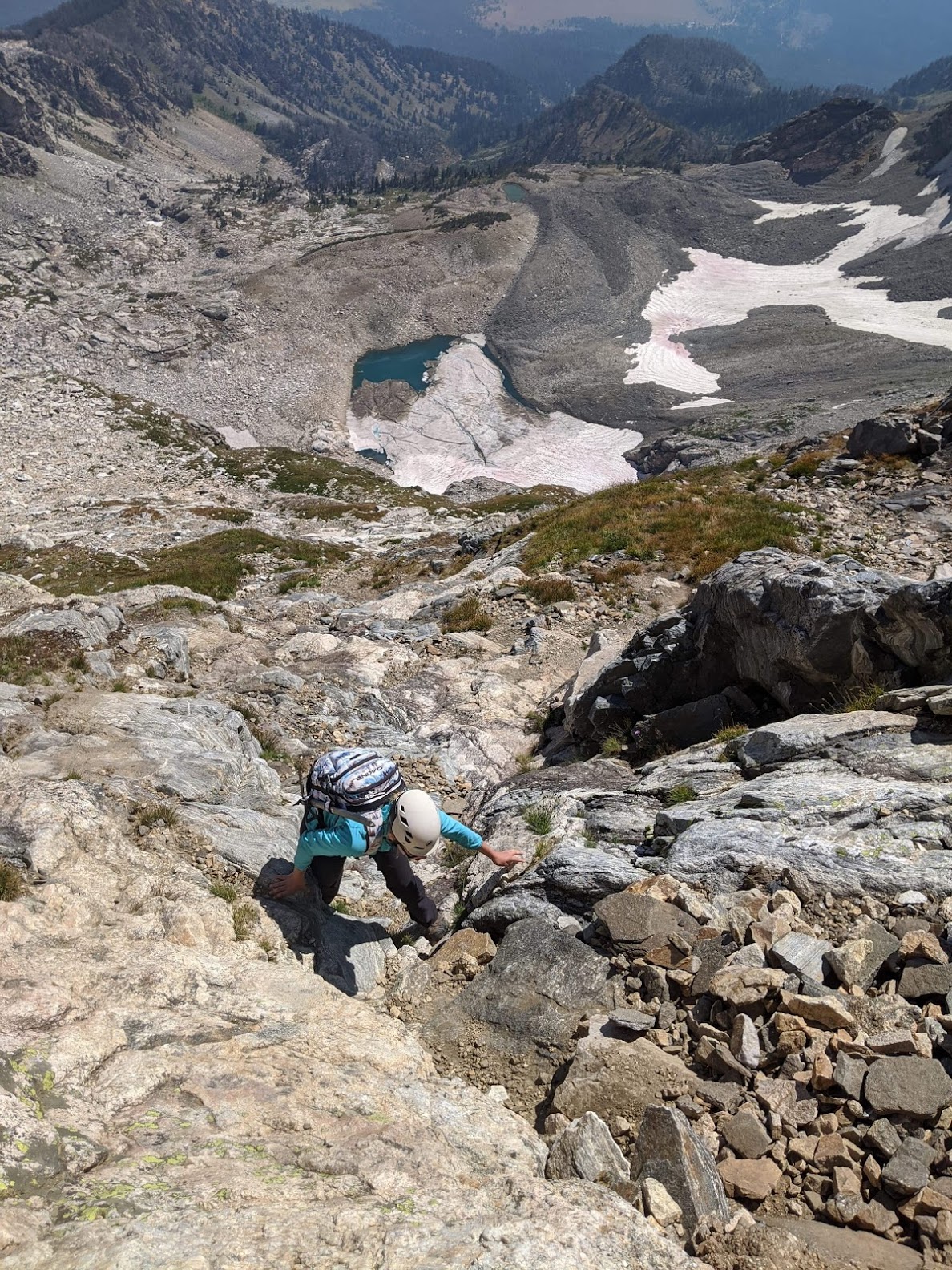 We were concerned about the winds but still decided to try the ridge. We scrambled up a short gully and made our way up to the beginning of the ridge. The first part was fun, very easy hiking and a little scrambling. The winds, however, were still strong and each time a gust came up we hit the deck to wait it out. It was a weird experience because, before the wind ever hit us, we could hear a gust whistling its way up and along the ridge towards us.
By being extra cautious and making sure to get down and hang on when the wind got really bad, we made our way along a large portion of the ridge. And then we hit a spot that taught us exactly what a fourth-class rating means. It is referred to as the knife-edge in the beta and boy is that name accurate. After cruising along a reasonably wide ridge with some exposure but relatively easy moves, we hit a very narrow section with steep drop-offs on either side. Not only was it narrow and extremely exposed, the moves needed to cross this section were insecure and balance-y, not something we wanted to try when a gust of wind could come up any time and pluck us off of the mountain.
So, we did exactly what the beta told us not to, we bailed off the ridge and instead of returning all the way back down to the gully, we retreated a few hundred feet and downclimbed a more mellow section of the cliffs. Once we were safely off the ridge and on the east face route, we had fun finding our way up, choosing to stick to climbing on the solid rock as opposed to the steep loose rock.  Thankfully, we did end up summiting despite our misadventures on the ridge. The summit had a great view of the Grand Teton, the valley, and out into Idaho.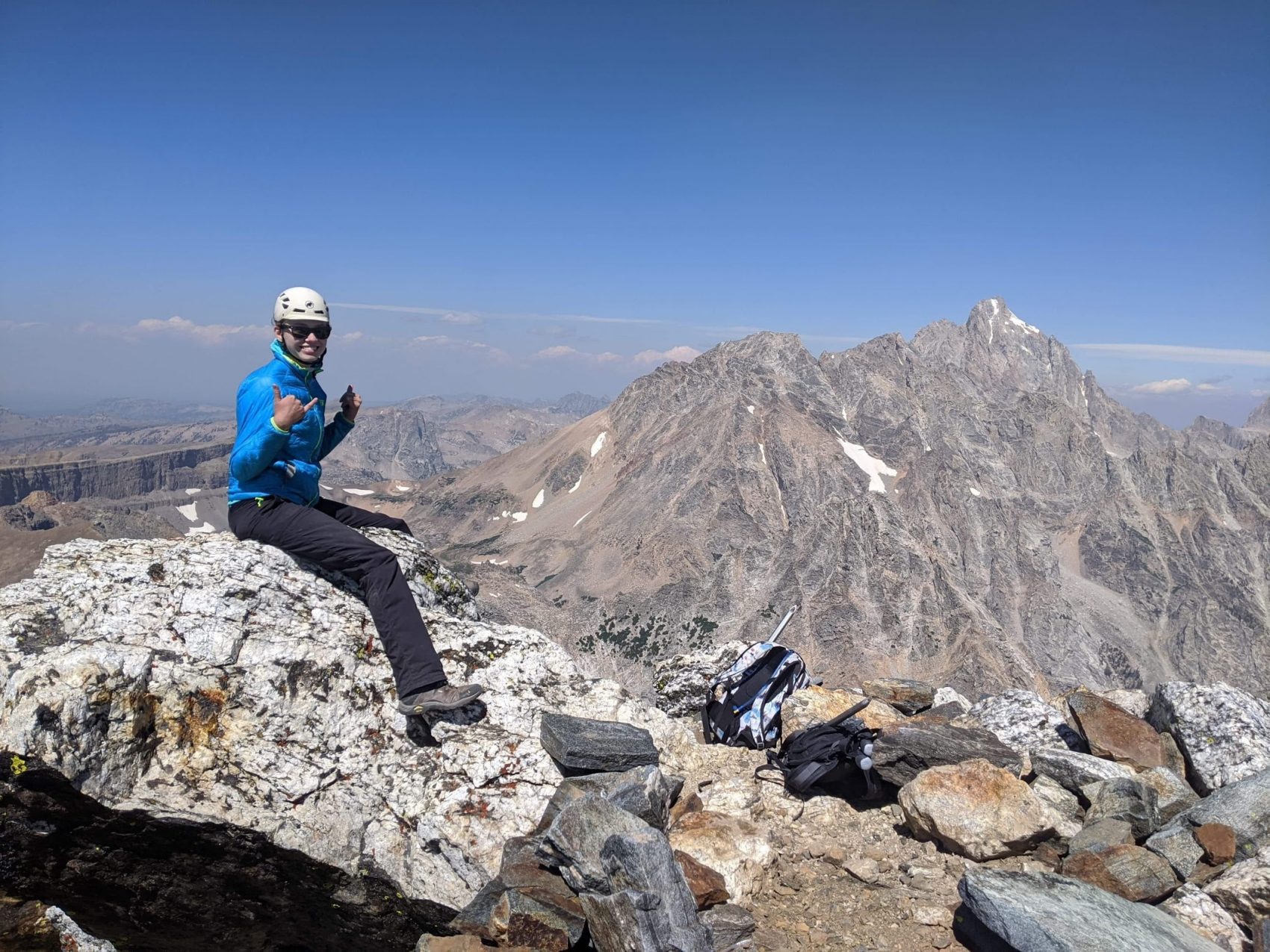 It was still super windy, so we didn't spend too much time on the summit.  Coming down from the summit of Buck was probably the most miserable descent I have done.  It was super steep and loose for quite a while and I slipped and fell more times than I care to admit.  It was like I was a cartoon character and the way down was lined with banana peels, just constant comic falls where my feet flew out from under me.
I did eventually make it down, and despite the misadventures, I had a great day.  At the very end when we rejoined the main trail, we made a sprint for the car and were even cheered on by some fellow hikers on the trail.  We did not in fact sprint all the way back to the car, but we gave it a shot and tired ourselves out even more.
Doing Buck Mountain was scarier and harder than other peaks I have done, but it was still fun and even more satisfying because of the challenges.  I also learned an important lesson about knowing your limits and being able to make the call to turn back even when you are close to your goal.