Brought to you by 10 Barrel Brewing 
Report from May 8, 2021
Yesterday, May 8, 2021, I tackled the 3,500-vertical-foot boot pack of Tanners Gultch in Little Cottonwood Canyon, Utah.
Tanners received Andrew McLean's mythical "The Chuting Gallery" guidebook's highest rating:  3-stars.
"With 3,500′ of fall-line skiing, Tanners is a tail twister in its own right, but also an excellent opening move to some of the incredible terrain that surrounds it. It's a gateway drug to a ton of good terrain." – Andrew McLean to SnowBrains, 5/21/20
Tanners Gulch – Little Cottonwood Canyon, UT Details:
Summit (actually a notch):  10,800
Vertical from car:  3,500′
Vertical skied:  3,500′ 
Pitch at steepest point:  40º
Aspect:  S, SE, SW
Distance:  3.5-miles round trip
Time from car to summit:  2 hrs 30 mins
Car to car time:  3 hrs 30 mins
Recommended Equipment:  crampons, ice axe, no skins (all bootpacking)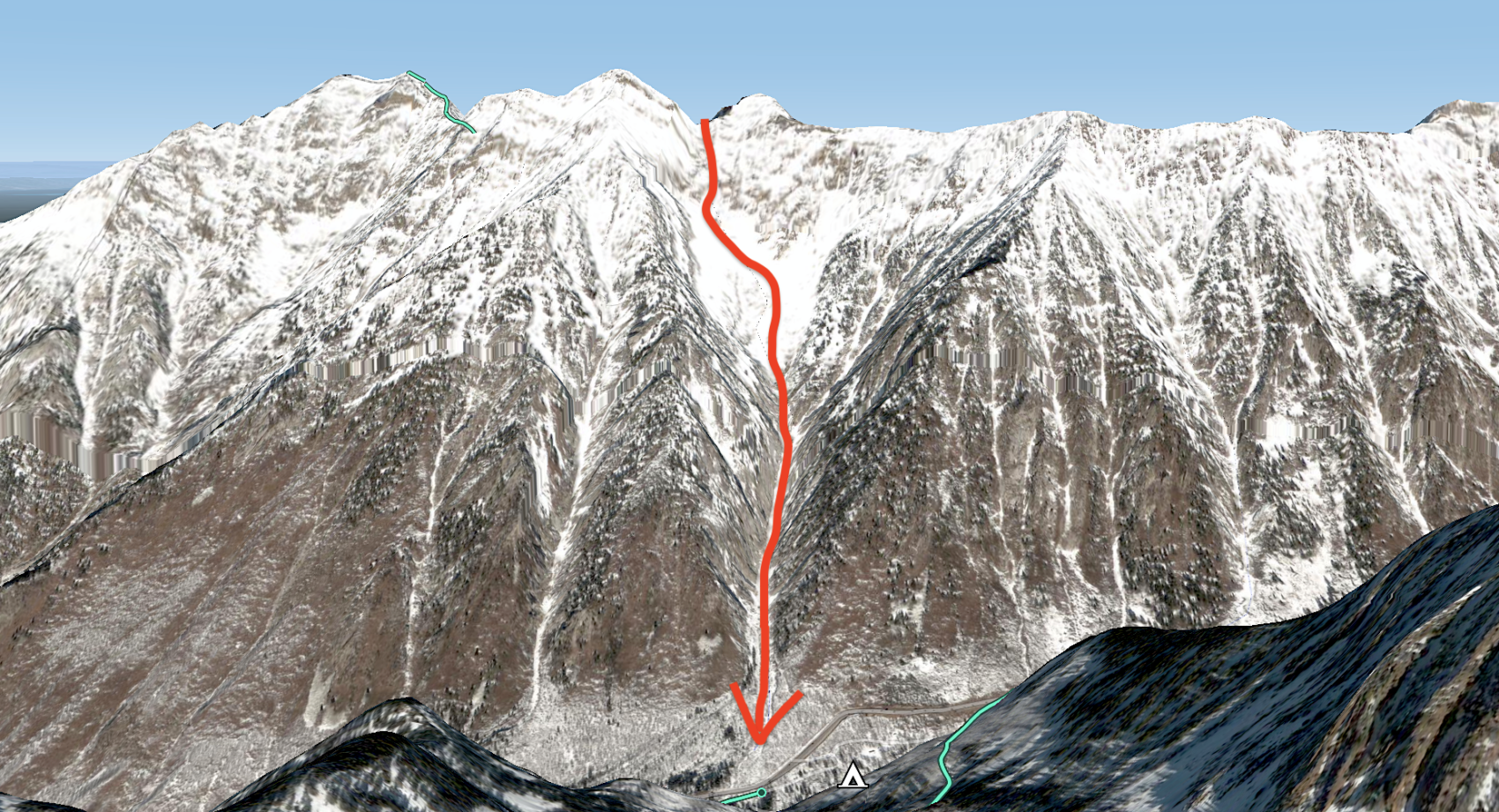 I'd skied this line once before on May 22, 2020, and it was definitely better last time but it was still damn fun yesterday.
Yesterday started cloudy and was forecast to be cold so I didn't start hiking until about 12:30 pm.
I knew that was a bit of a mistake when as I was parking a group of two came off the mountain and told me the skiing was great just then.
Ooooo…, I thought.
But I was there and was hoping due to the cold temps, the snow wouldn't get too soft this day.
I headed out the short trail and up the bottom of the couloir with a head full of steam on firm snow and a massive amount of avalanche debris.
And by debris, I mead vaporized pine trees, bushes, a dead snowshoe rabbit in its white coat, logs, dirt, and rocks.
The big February avalanche cycle demolished some forested zones and deposited the remnants here at the bottom of the couloir. 
When I skied Tanners last year, there was avy debris like this, but this year there was about ten times as much.
After about fifteen minutes, I was off the debris and headed up.
Last year, two bowling ball-sized rocks nearly missed me, so after about 45-minutes of hiking, I stopped and put my helmet and crampons on.
Avalanche debris (snow this time) choked much of the lower middle couloir, and I knew that was gonna be a tricky section on skis.
The middle of the couloir isn't a couloir at all as it opens up into a wide-open bowl-like zone with multiple aspects, waterfalls, birds, trees, bushes, cliffs, & large rocks.
The whole experience is very "Lord of the Rings"…
Once up the middle section, the snow got soft.
Too soft.
I was post-holing and taking huge steps in someone's previous boot pack that they'd also used to come down in (mountaineers).
I was making good time up until this point.
The deep, soft snow slowed me down got me a touch frustrated, but not too bad.
3,500-vertical-feet later, I was standing at the top of the notch at about 10,800′.
To the north, views down into the Salt Lake Valley, Antelope Island, and the Great Salt Lake were very cool.
To the south, impressive peaks like the Pfiefferhorn and Timpanogos dominated the skyline.
I didn't linger.
A couple of climbers were coming down from the summit of 11,275′ Sunrise Peak on belay, and I wanted to make sure I was out of their way.
I buckled up my boots, strapped on my pack, clicked into my skis, and dropped in for 3,500-vertical-feet of corn.
Right away, the skiing was tough.
The snow was a bit too soft and deep but workable.
Last year when I skied this line, I was able to ski it from top to bottom without stopping.
Yesterday, I had to stop eight times…
I slashed turns off the top and tried to figure out the snow and find a rhythm.
The snow was sloppy, splashy, firm, icy, bumpy, and corrugated.
It was tough to find rhythm in the upper chute.
Once out of the chute and into the open middle section, the angle lessened the snow, and texture improved, and I was able to rip some turns and open it up a bit.
Below the middle section, avalanche debris and creeping shadows firmed up the snow and made for some very sporty adventure skiing.
Lower down in the big-walled gully, the shadows and blown-to-bits trees had taken over. 
I was able to ski over the vaporized trees for a while, but eventually, they got too thick to slide upon.
Skis off and onto the pack, and I had to walk down the big gully for the last five minutes of the ski.
The short trail back to the car was quick, and soon, I was happily taking my ski boots off and stripping down to shorts and flip-flops.
Was this my last run of the season in Utah?
I think so.
Off to California tomorrow for some late season turns off Tioga Pass and park skiing at Mammoth Mountain.
Recent Trip Reports:
Photos: