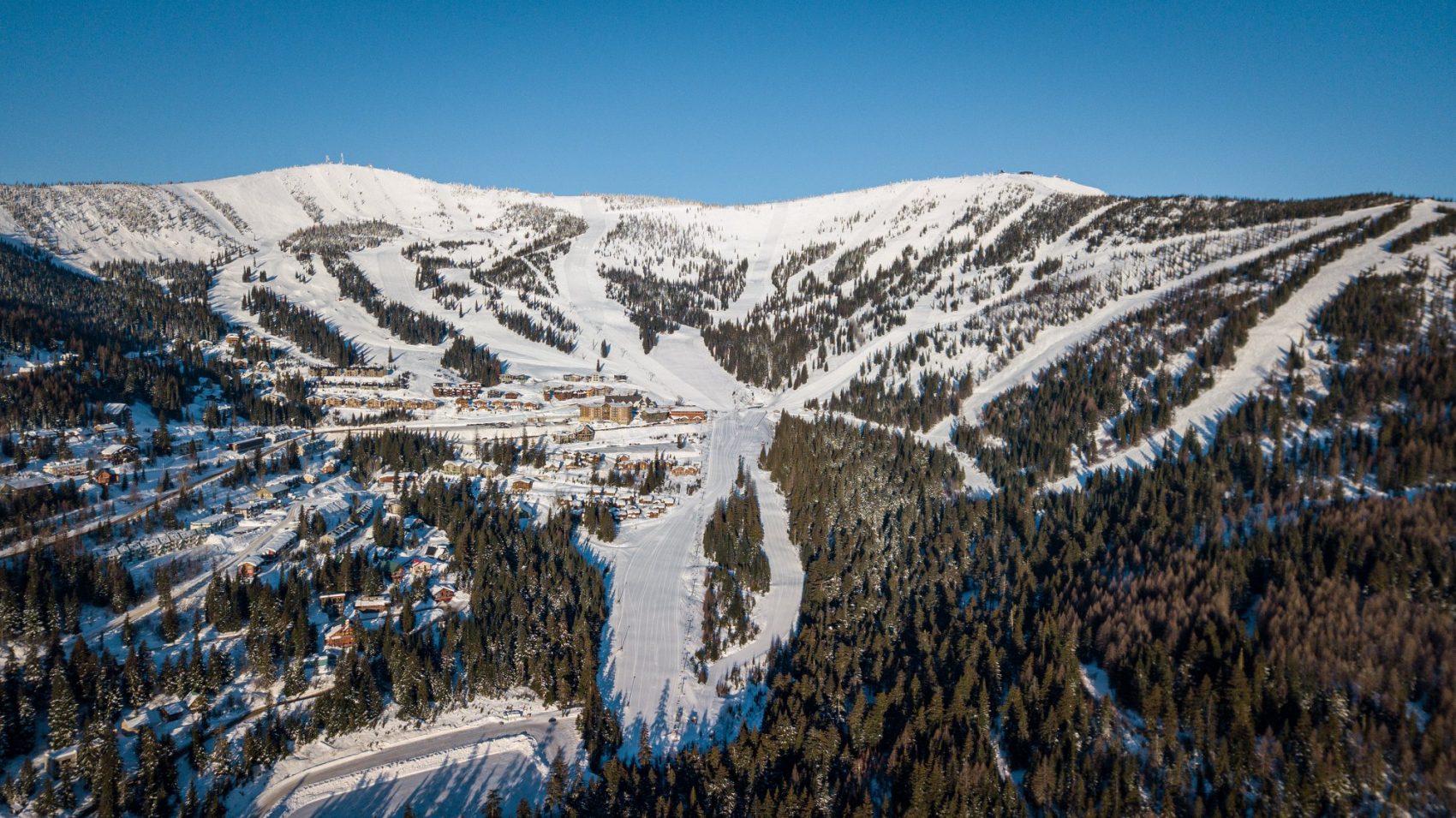 Brought to you by 10 Barrel Brewing Co.
Every season, I like to make a trip out to a completely new ski area. With the Coronavirus pandemic still ongoing, I wasn't sure how my chances would be this season. However, it also gave me the inspiration to find an area that would have easy access with minimal people, uncrowded slopes, and consistent snow. Pipe dream, right?
After some research, I stumbled upon the Inland Northwest region of Spokane, WA and Coeur d'Alene, ID. With 5 ski areas within 90 miles, high snowfall, relatively easy access, and low population centers, I had found my spot. I gathered 3 of my friends, and 4 negative coronavirus tests later, we were off into unchartered territory none of us had ever been.
Our flight landed at Spokane Airport at 8:30 am, and by 10:30 am we were pulling into the Schweitzer parking lot at Musical Chairs. Based on the snow report, Schweitzer had reported "trace to 1 inch" of fresh snow overnight, but we were in for a pleasant surprise. The snow was coming down heavily and was looking deep as we rode up the Great Escape High-Speed Quad towards Outback Bowl.
We started off hot by dropping into Lakeside Chutes. While the visibility was low, the snow was deep and the stoke was high. After riding up Colburn triple chairlift, we made our way to Idyle Our T-Bar and ducked into the trees between Colburn School and Study Hall. There was a good foot of fresh, bottomless, cold smoke powder and we were smiling ear to ear.
We hooted and hollered all the way down to Stella High-Speed 6-place chairlift and rode Kathy's Yard Sale. While the snow wasn't as deep, the glade had perfect tree spacing for lower angle powder turns. We made our way back over to Idyle Hour T-Bar for a few more laps of what felt like endless refills before heading to the front side.
It was a complete whiteout at the top of Lakeview triple chairlift, so we headed for the trees. K-Mac's and South Bowl Chutes gave us the perfect cover for more powder turns as the snow continued to fall and fill in our tracks. After several more laps, we decided to call it a day and grab a few ice-cold Kokanee's at Taps Bar at the base to talk about our powder-filled day.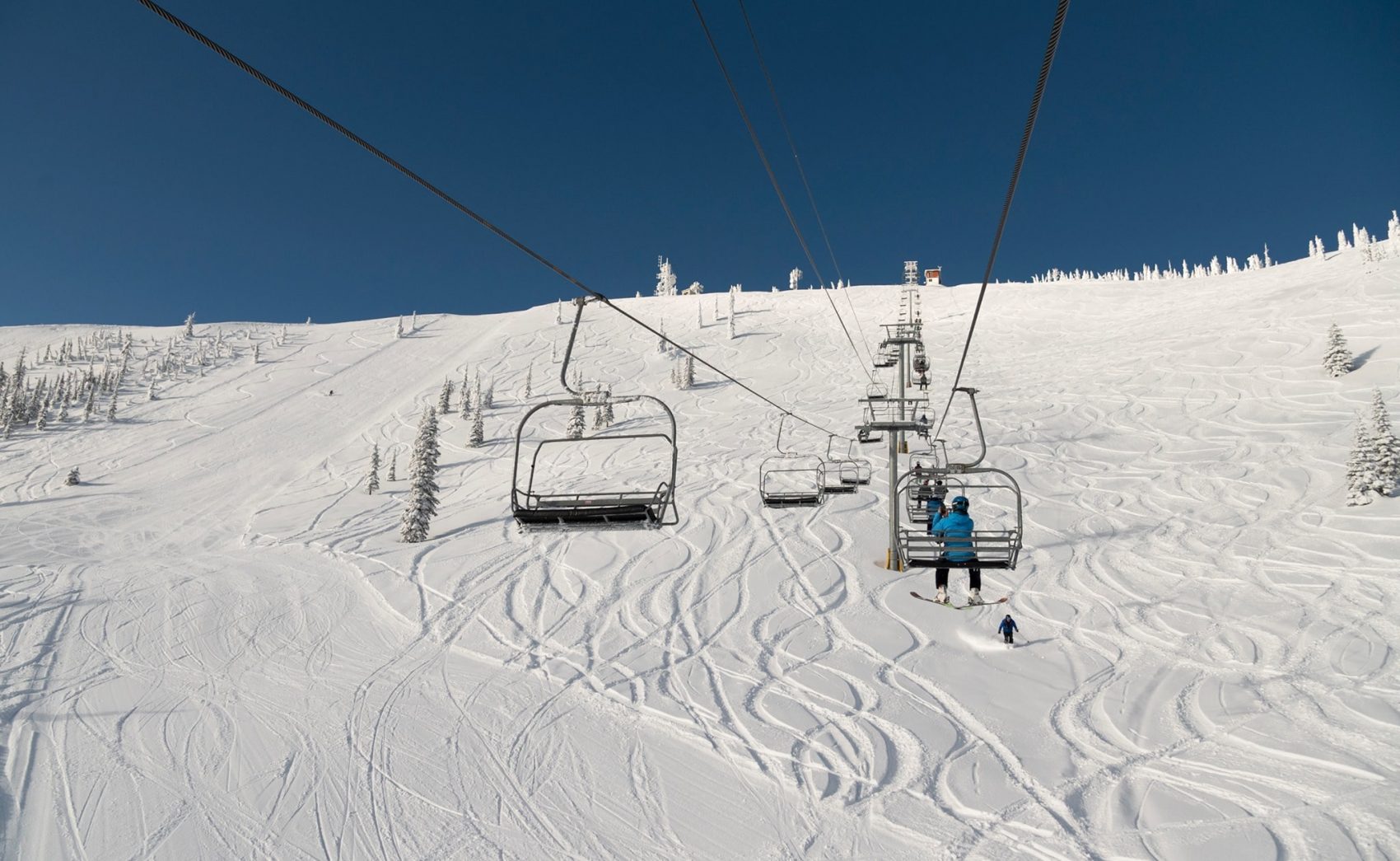 On Super Bowl Sunday, we headed out to Mt. Spokane Ski & Snowboard Park located in Mount Spokane State Park. The drive out was picturesque, as we drove through endless farmland and forest before sharply rising into the mountains.
If you're a fan of Riblet double chairlifts, this ski area is a must visit. We started out the day lapping Vista Cruiser double chairlift (Chair #1), enjoying a couple of inches of fresh snow on South Meadows, Teakettle, Elbow, and Hourglass. The trees held some deep stashes of powder still and it felt like we were the only ones around for miles.
We then moved to the backside of the mountain to check out their newest chairlift and terrain expansion, Northwood triple (Chair #6). While the trail map may show this area as more mellow, there is plenty of variety for any ability. We headed for the trees and found amazing glading between the cut runs of Caren's Colors, Pinball, and Slingshot.
Next up was what I would call the side mountain of Mt. Spokane, better known as Hidden Treasure double chairlift (Chair #4). As usual, we dipped into the trees between Lu's Lane, Geronimo, and Skid Row. The top half of these glades were amazing, with great tree spacing and untouched snow. As we made our way down, the trees became tighter, the forest grew darker, and the snow became thinner. Luckily, we made our escape to the cut trails before going too far, but it's definitely something I'll remember for next time.
We finished up our day on Illuminator double chairlift (Chair #3), bouncing between the trees in Meadows, Smuggler's Notch, and Rollercoaster. We grabbed a quick 10 Barrel Brewing Pub Beer in Lodge #2 before heading back to the city for some Super Bowl action.
Highway 395 is a road I'm used to taking from Southern California to Mammoth Mountain every season. I never expected to be on this section, making our way from Spokane to 49 Degrees North via Chewelah, WA.
It was the Monday after the Super Bowl, and everyone must have been sleeping in because the mountain was absolutely empty. The sun was out, the mountain was ours, and the snow was crisp and light. We started our day on Bonanza double chairlift, and unlike the previous days, ripped a few high-speed groomers down Klondike, Mahre's Gold, and New Prospector.
We then made our way to the trees and found plenty of leftover powder from the storm a couple of days before. Between Chewelah Peak and Angel Peak, the glades of Stockholder's, Cyr's, and Concentrator were firing on all cylinders. Perfectly spaced trees and fun little snowdrifts had us launching and bouncing about. Unfortunately, Angel Peak chairlift wasn't open, but almost all of the terrain it serves is accessible via traverse or a short hike.
Next up was Sunrise Basin on the east side of the mountain. While it appears small on the trail map, this expansive area is a large bowl in itself that funnels down from two ridgelines. With no one around, we made it a mission to experience the whole area. We rode groomers on Big Bear, Broadway, and Classifier, and ducked into the trees, and found leftover powder stashes in Sunrise and Dreamline. Even Right Wing, far down Huckleberry Ridge with a short mandatory side step, held great snow at the end of the day.
We took the opposite loop home along the border of Washington and Idaho as we headed back towards our home base for the trip to Couer d'Alene, ID. From open farmland and lush forest to mighty rivers and old mining/logging towns, this drive had it all. Of course, we had to stop for a couple of cold ones and poutine at Westwood Brewing in the small town of Rathdrum to finish off the day right.
The last day of a trip is always bittersweet. Luckily, Silver Mountain decided to send us out with a bang.
The drive from Coeur d'Alene to Kellog, ID couldn't have been easier, cruising along I-90 through huge forests and vast lakes. It wasn't snowing in town, but as we ascended 3,300 feet up the mountain in their access gondola, the flurries started.
We started off on the east side of the mountain on Chair 2 and the snow kept getting deeper as the chairlift ascended. Silver had reported 4 inches of fresh snow overnight, but it was riding double that at the peak. We sprayed and slashed our way down the quick tree runs of Steep & Deep and Tall Paul, before turning our attention to the backcountry gate off Sunrise. Without our normal backcountry gear and this being our first time at Silver, we stayed close to the boundary ropes while still enjoying the fresh powder and pillow drops.
We then made our way over towards Chair 4, the original terrain of the mountain. On our way over, luckily we made the wise decision to drop into The North Face Glades. The terrain was expansive and the trees were perfectly spaced, with unlimited lines to maneuver your way down the bowl. We got on Chair #4 at midway and made our way to Wardner Peak.
We hiked the cat track up and around the backside of Wardner Peak and emerged atop 16-to-1 and Sheer Bliss. Whoever named Sheer Bliss is a genius, as the snow felt bottomless as we descended from the peak into The Meadows and Silver Basin. We're still debating if that was the run of the trip compared to the Idyle Hour T-Bar area at Schweitzer. We lapped Chair 4 several more times, changing it up each run as we knocked off 16-to-1, Solitude, Last Chance, Prospector, Moonshine, and Shaft.
We had a flight to catch at Spokane Airport, but as we were riding up Chair #3 to get back to the access gondola, we decided on one last run. We ducked into the trees between Collateral and Saddleback, and while the snow wasn't super deep, it was still soft and untracked, and a perfect low angle glade to finish the trip off. As we descended back to Kellog in the Silver access gondola, we sipped on tallboy Montucky Cold Snacks and reminisced about our 4 days in completely new territory.
As I write this, I feel the need to book a flight back immediately. On the other hand, I also may regret writing this and exposing this great area. However, I believe there's plenty of terrain in this region of the US, and why not share it with those willing to make the effort to embrace and enjoy a little adventure? I'm not sure when I'll be back to the Inland Northwest, but I know it definitely won't be my last.