Report from May 4, 2022
Today we skied 1,800-vertical-foot Kidney Chute off the Dana Plateau on the edge of Yosemite National Park, CA.
The thing skied like a 5-star corn dream.
Its 35º pitch is designed for cool, cruisy fun that just won't stop.
No, it literally won't stop.
We timed it and this thing took 2-minutes and 40-seconds to ski top to bottom!
We also skied Kidney Chute in June 2020 from Ellery Lake:
Kidney Chute  – Dana Plateau, CA Details:
Summit (actually a plateau):  12,300′
Car:  7,900′
Vertical From Car:  4,400′ (includes up and down Banana & Kidney Chutes & across plateau)
Vertical skied:  2,800′ (1,800′ in Kidney Chute)
Max Pitch:  35º 
Avg Pitch: 32º 
Aspect:  Southeast
Distance:  10-miles round trip 
Time From Car to Top of Kidney Chute:  4.5 hours 
Car to Car Time:  7 hours & 30 minutes 
Recommended Equipment:  Crampons, Ice Axe, Skins
Video of Skiing Kidney Chute:
After a heinous experience in 2 north-facing chutes off Tioga Pass yesterday, we decided to ski a south-facing chute today hoping to get great corn.
We settled on Kidney Chute and we chose to hit it from the east – something we'd never done before.
We had an all-star crew today of Matty, Garret, & Fox.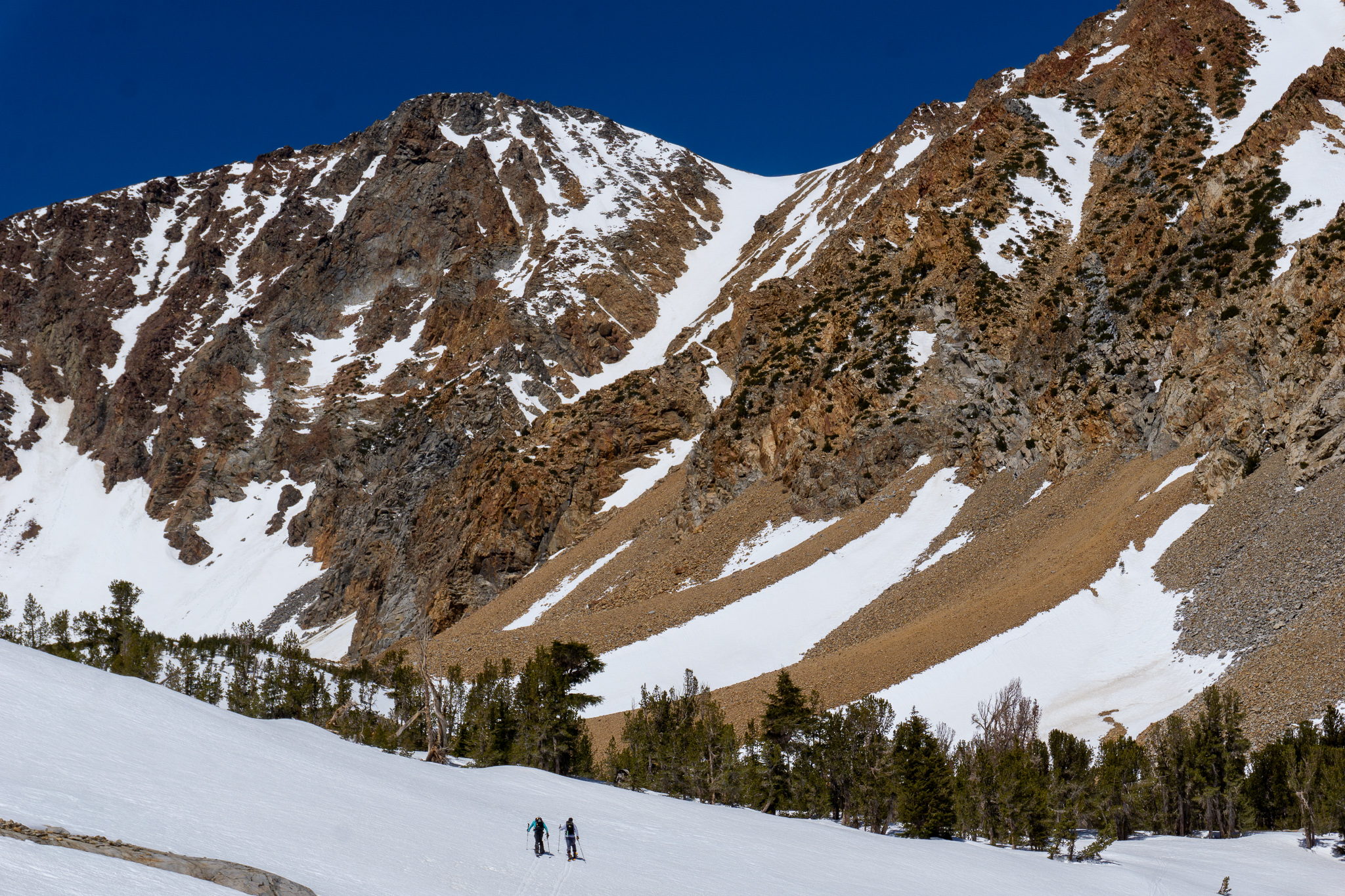 We drove to the Upper Horse Meadow trailhead and started walking about 9am.
Unlike yesterday's frigid, windy experience, today was hot and windless.
We snuck in sneakers up to Gibbs Lake in an hour and a half where we switched to skis and skins.
Another quick jaunt and we were staring at Kidney Lake.
From Kidney Lake, it's a pretty straightforward situation:  skin and boot straight up the 1,800′ Kidney Chute.
We did just that.
Garrett and crew got to the top in only 1-hour and 15-minutes.
No rockfall.
I was a bit behind them and fired up to be on top.
The views looking down the chute and out into the Mono Cones and White Mountains were noticeable.
They let me drop first at about 1:30pm and upon my first turn I discovered that the chute was blanketed in perfect, 5-star corn.
I let 'em roll.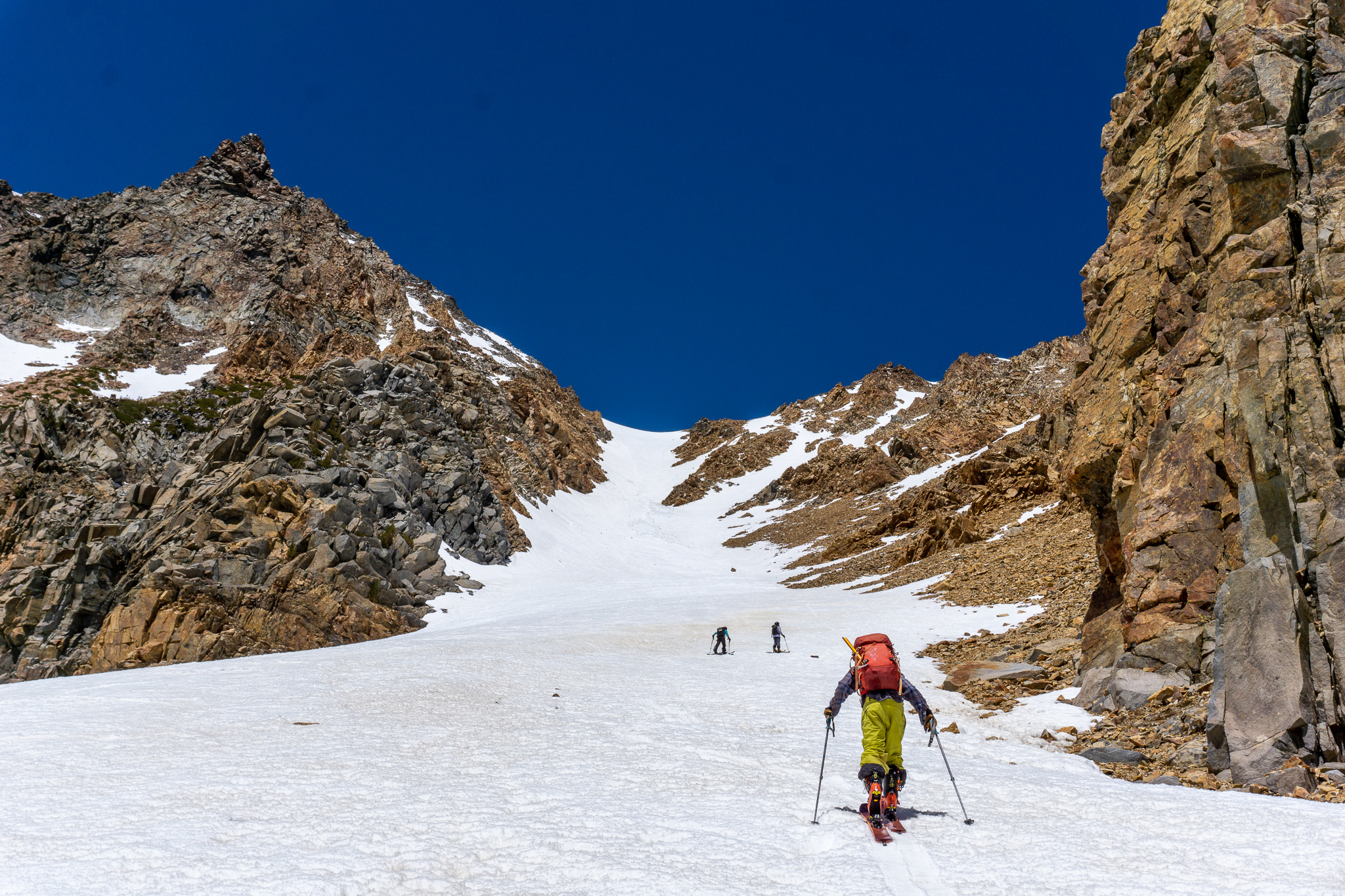 Big, fast, fun turns in the upper right chute where the corn was smooth and lightly textured for optimal grip.
Rhythm.
Halfway down some old avy debris broke my cadence.
I busted through it and dug into the right side again.
Sporadic avalanche debris littered this zone but it was soft and visually stimulating at speed.
 Things smoothed out again and speed increased.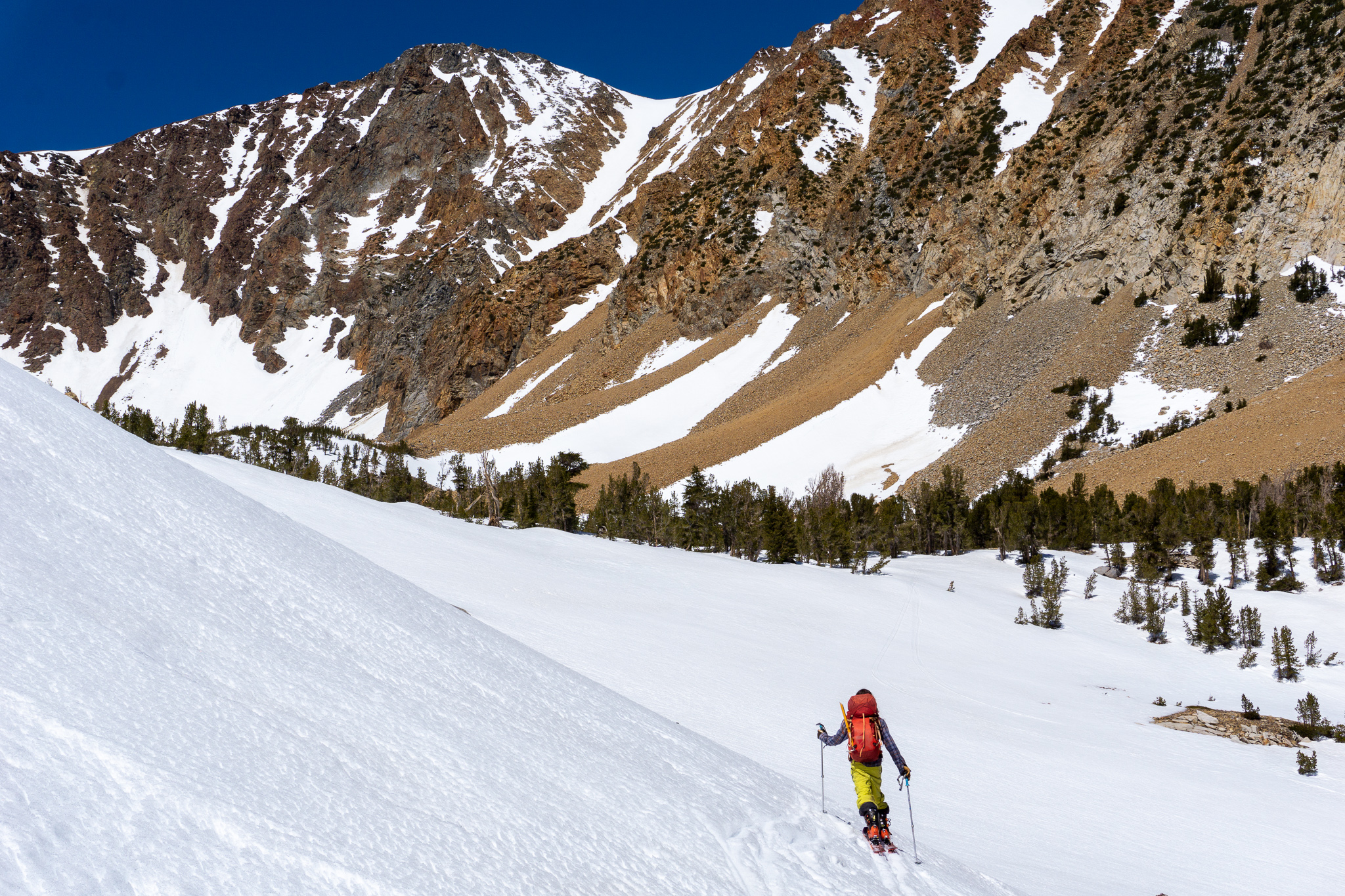 The final apron was the firmest snow of the chute allowing for long, sweeping turns without consequence.
I stopped just before the lake and did my best to shoot and film the rest of the squad as they ripped down the 1,800-vertical-feet of Kidney Chute.
Once all down, we took a break in the shade before attacking the bonus turns down to Gibbs Lake.
At Gibbs Lake we harvested the shoes we'd ditched there and ski on.
Patch to patch, dirt crossing, log slides.
The last 1,600-vertical-feet were done in sneakers and it didn't hurt that bad except for the very last steep section.
My bad knee was a little pissed, but I think my new brace helped reduce a lot of the shock.
Back at the cars I was euphoric.
"I needed that!"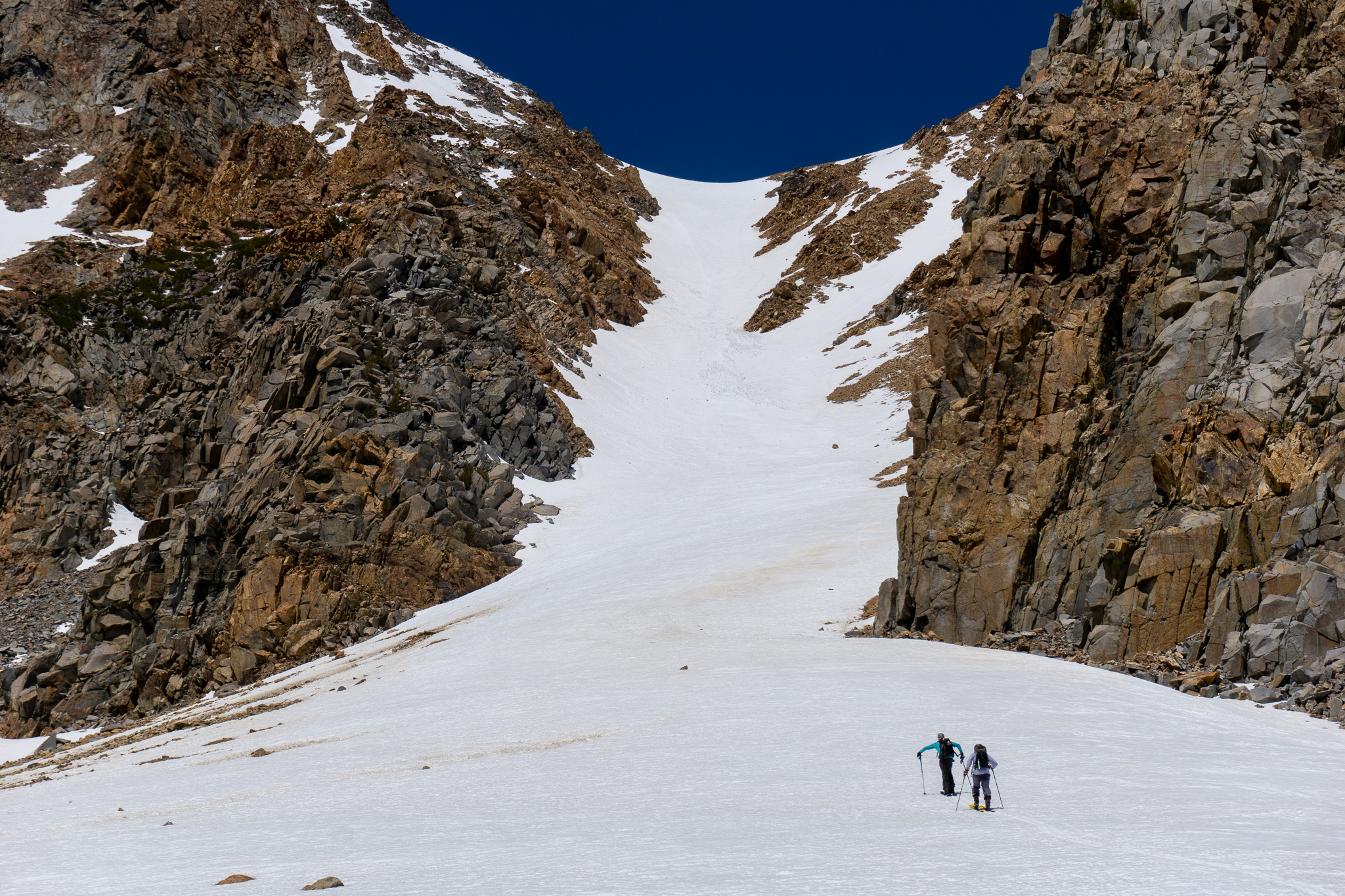 We drove straight to Mono Cone for burgers, fries, and ice cream.
Life is good on the Eastside.
It's gonna be a great month.
Thanks, California!
Photos in Chronological Order