April 4, 2019 Report from Laura and Rob Pilewski – Tuolumne Winter Rangers
New snow: 21 inches
Total settled snow depth: 90 inches (at 8,600 feet)
High temperature: 49°F (April 1)
Low temperature: 4°F (March 29)
Per NPS: Our Tuolumne Meadows winter rangers enjoyed some blue skies this week while trekking to the tallest peak in Yosemite, Mt. Lyell (13,114 feet). Mount Lyell divides the park's two main watersheds, and as you can see the views are endless! Mt. Lyell doesn't only have snow in winter but has a permanent ice field (formerly one of the last remaining glaciers in the park). With this year's snowpack, it looks like we may see snow on Mt. Lyell for quite a while; our most recent snow surveys measured 176% in the Tuolumne River drainage.
Ski Conditions and Weather
This week saw typical unsettled spring conditions with everything from thunder-snow squalls, high winds, corn snow, and soft powder. In between all of that, we had three full days of Sierra Nevada blue skies and temperatures near 50°F which made for a good melt-freeze cycle below 9,500 feet on most aspects. The higher elevation northerly aspects, however, remain winter like. The sun is getting higher in the sky each day so the snow surface is constantly changing.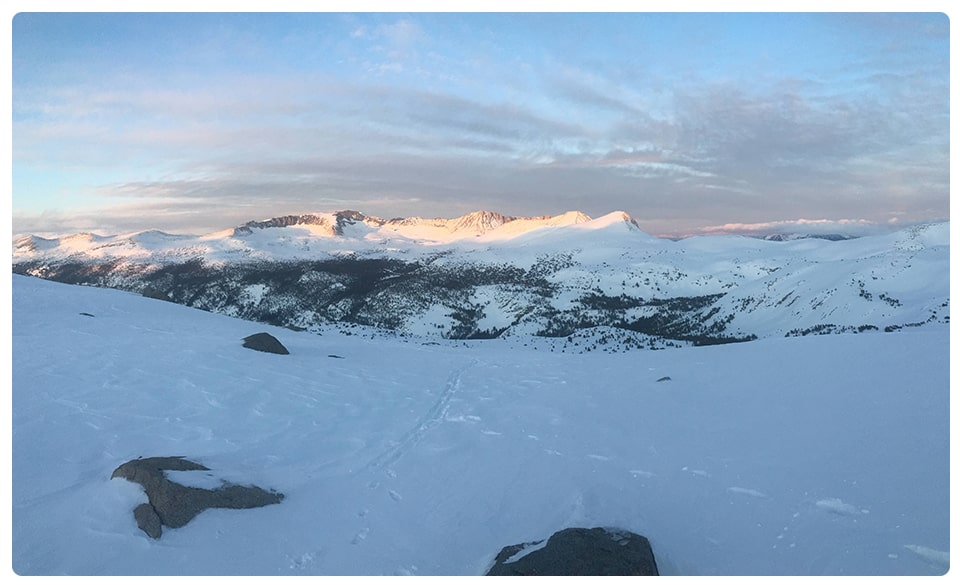 It's going to be a long ski season this year. Coverage is good above 7,000 feet in the central Sierra Nevada and judging by our recently finished monthly snow surveys, snow depth and water content are at least 150% of normal. This is great news for the water runoff that California depends on for its water supply and for those of us who enjoy sliding on snow through the Sierra Nevada wilderness without the crowds.
Park visitors approaching from the east via the Tioga Road and Lee Vining Canyon should not expect a road grade. Along the road, there is one steep side-hill section between 8,000 and 9,000 feet that requires particular caution. Visitors have been taking both the road corridor and Lee Vining Canyon proper to get to Tuolumne Meadows and it's just a matter of personal preference. We still recommend carrying an ice ax and crampons for times when the snow is firm.
Avalanche and Snowpack Conditions
Please refer to the Eastern Sierra Avalanche Center (ESAC) for the avalanche advisory for this part of the Sierra Nevada.
There was definitely a brief period last week where wind slabs were sensitive. Otherwise, the snowpack was rather stable. The upcoming forecast is still for unsettled weather, so real-time hazard assessment this time a year is a must. Once again, pockets of wind-deposited snow and/or rapidly warming new snow will be the primary hazards to look out for.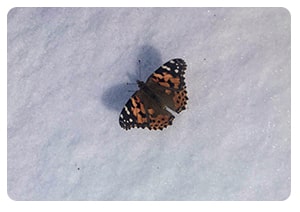 Wildlife
We spotted violet-green swallows darting about the skies a couple of times this week. In the alpine zone, the gray-crowned rosy finches could be found looking for food and water among a few wind scoured rocks and boulders in an otherwise inhospitable zone. And, if you think these birds are tough, imagine being a painted lady butterfly trying to cross this mountain range. You too might need to take the occasional break.
General Information
The Tuolumne Meadows Ski Hut is open. There is firewood, and 8 bunks that are available on a first-come, first served basis.
There is no phone service in Tuolumne Meadows. We can be contacted regarding winter travel to Tuolumne Meadows via email, but we may be delayed in responding if we are on patrol.
For those visiting the Tuolumne Meadows Ski Hut from the east (only) permits are self-issued at the ski hut. For those entering from other areas, visit: https://www.nps.gov/yose/planyourvisit/wildpermits.htm or you may contact the wilderness office at 209/372-0740.
Come prepared, and please make good decisions while traveling in the wilderness!
Welcome Spring!