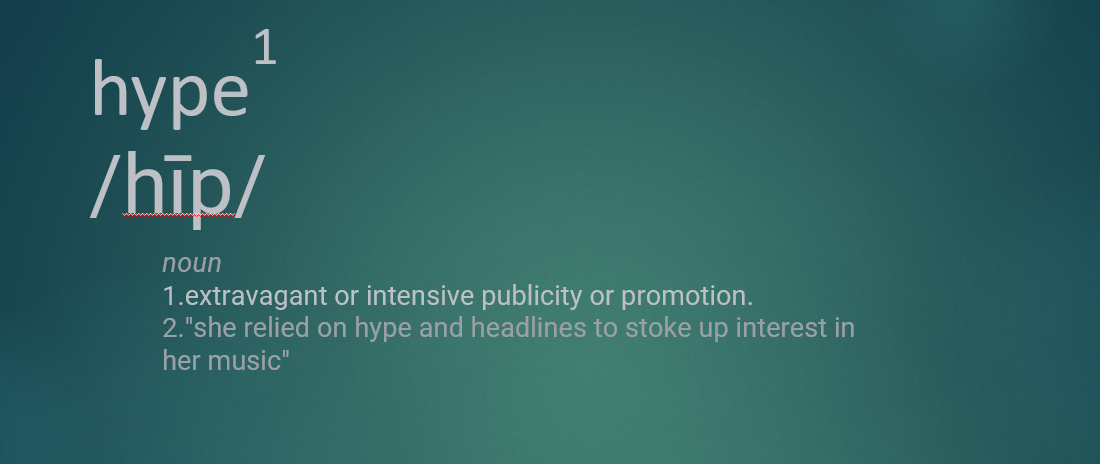 Forecast by SnowBrains Meteorologist Andrew Park
10/3/2021 0900 MST 
Forecast Summary
Today:
Things start drying out for the west. Isolated showers/thunderstorms for higher terrain across Utah. 
Cutoff low deepening, reaching a maximum, off the southern coast of California.
Southerly flow begins to swing in moisture from Baja to the far south regions of CA and AZ. 
Monday into Wednesday:
Cutoff low begins to eject to the north east over the desert southwest bringing precipitation to California, western Arizona. 
By Tuesday precipitation will trickle into southern Utah.
Precipitation maximum for Utah by Wednesday. Showers, thunderstorms.
Thursday into the Weekend.
A longwave trough will deepen and position off the western seaboard.

How far south cold 700mb

temperatures make it will be vital to the weekend and production of snow. 
By Friday the trough will begin to eject onshore and impact the Great Basin into the weekend.
Discussion
Today into Wednesday
By and large things will begin to start drying out across the Great Basin, with an exception to higher terrain in the mountains of southern Utah. Enjoy the dry and pleasant fall conditions throughout the region; things will begin to change moving into the week. As we move through today a cutoff low, off the southern California coast, will deepen and reach a maximum before moving onshore Monday. Southerly flow on the eastern periphery of this low will advect moisture into the desert southwest which will result in showers and thunderstorms. Tuesday showers and thunderstorms will begin to impact the southern part of Utah but nothing to lose your minds about. By Wednesday showers/thunderstorm activity will be in "full swing" across Utah, with SPC mentioning scattered Thunderstorms for AZ and UT (spc.noaa.gov, to the left) and GEFS Total Accumulated Precipitation (TropicalTidbits.com, on the right). I don't expect widespread thunderstorm destruction or chaos, just isolated thunderstorms and some showers.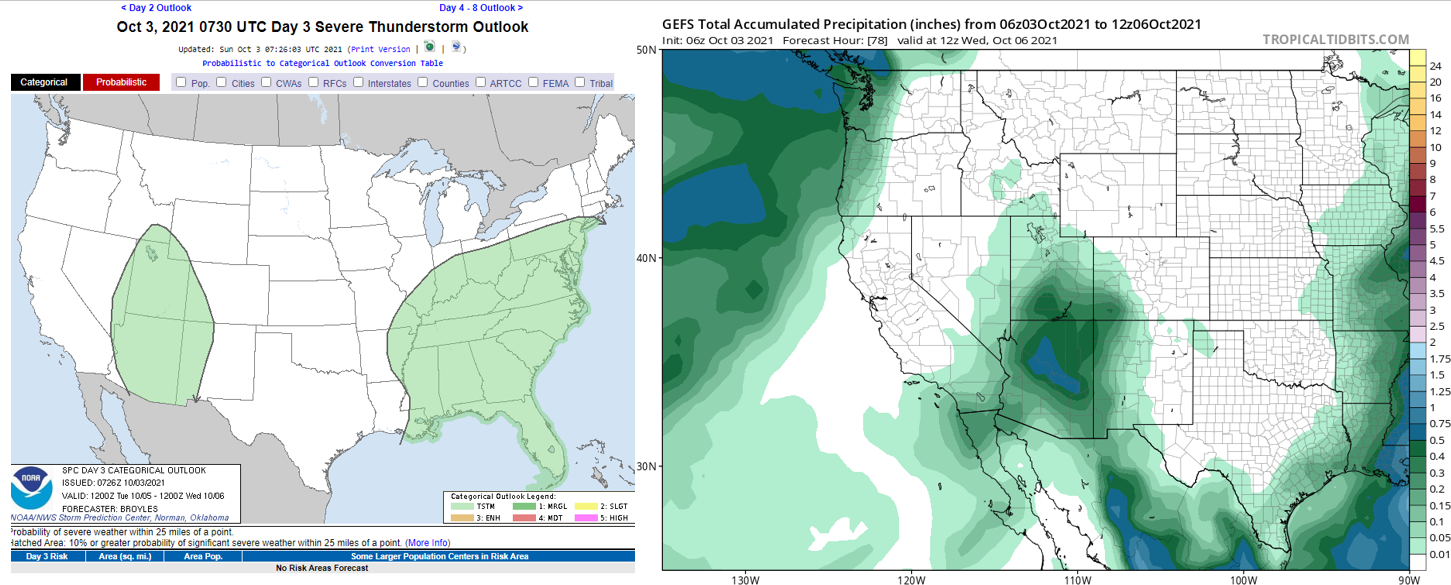 Wednesday into the weekend
As this cutoff low ejects across Utah and east, a longwave trough will move down the west coast of Alaska/Canada before positioning itself off the coast of California. This system will bring southwesterly flow across the majority of the desert southwest and the Great Basin. Now things we need to pay attention to are how cold the 700mb airmass will get with this trough deepening and potential for moisture advection. Ensemble solutions are pinpointing a prime location for this longwave trough as we need specific flow to get things cooking for Utah. Specifically, we need moisture to move around (so to speak) the higher terrain of the Sierra Nevada mountains. Below is a USGS map indicating where moisture advection would be most appropriate for this particular scenario.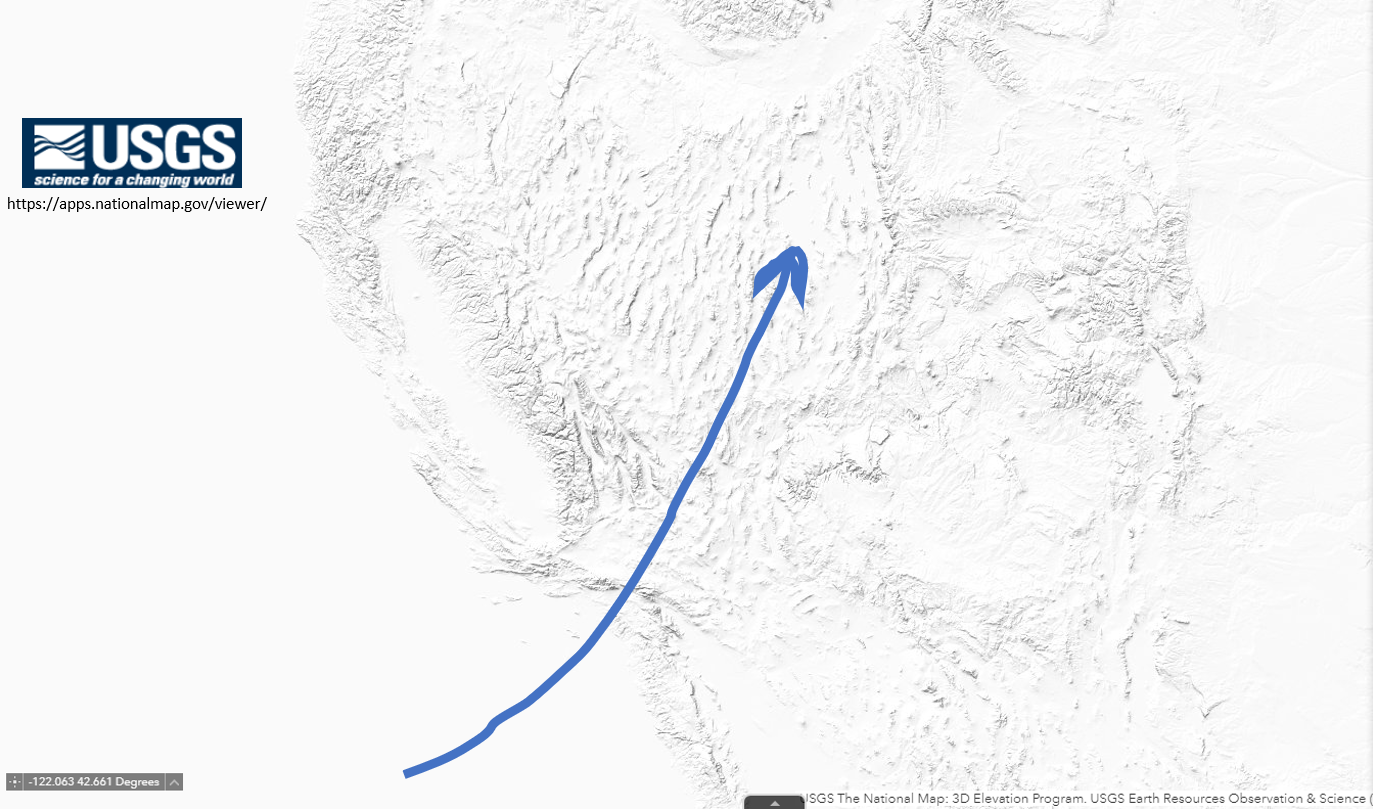 Checking out current GEFS ensemble guidance from pivotalweather.com we can see the evolution for the scenario above.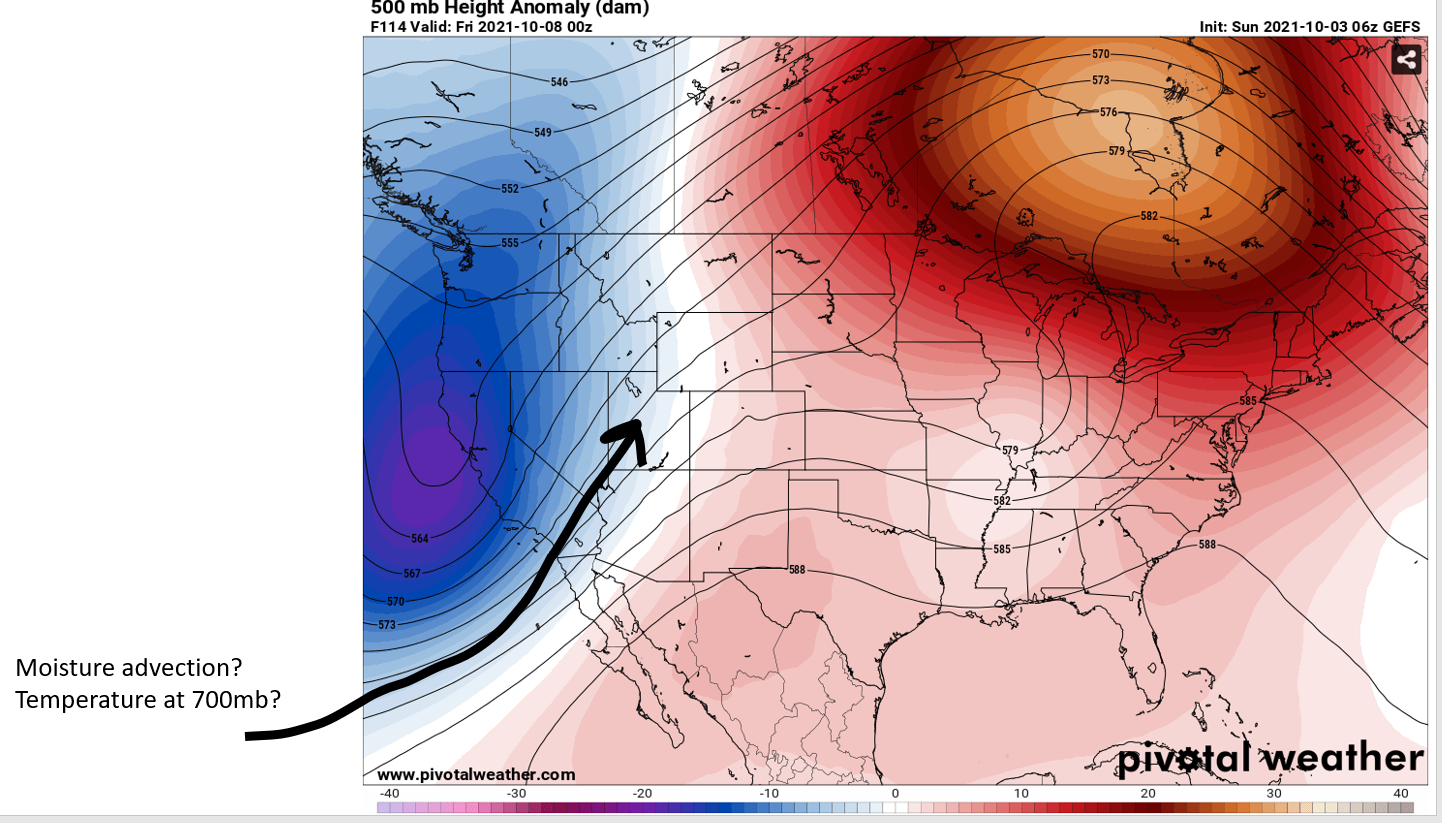 Euro, Canadian, and American Ensemble guidance are in good agreement with cluster means; however, there is uncertainty with depth of this trough. The depth, and thus temperatures, will be vital to how things play out for the weekend. What are current IVT Probability tools saying from the Center for Western Weather and Water Extremes? (in collaboration with Dr. Jay Cordeira, Plymouth State University). The image below represents Integrated Vapor Transport for Thursday evening which is a great proxy on moisture advection into the region. I like using the probability tools because it gives a better picture of things to come; much more so than a single model run.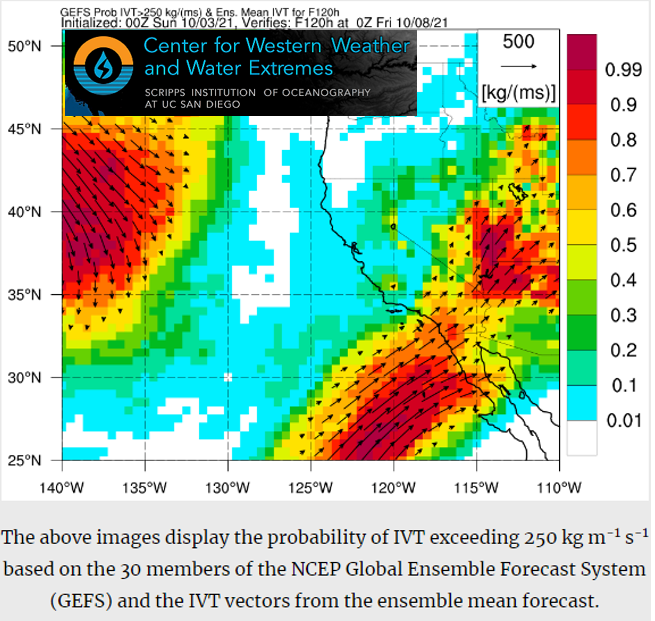 So what is the impact timeline as we move into Thursday and the weekend?
Thursday-Friday (Oct 7-8)
Ahead of the main trough, southwest flow will bring in dry conditions, warmer temperatures, and gusty winds at the surface. As we move into Friday GEFS plumes begin to pick up on the potential for precipitation in the Salt Lake Valley. NBM has been consistent with this event regarding QPF but snow has uncertainty around it. The depth of the trough, and 700mb temperatures, as it reaches a maximum off the California coast will be vital to the potential for snow across the higher terrain of the Wasatch Front.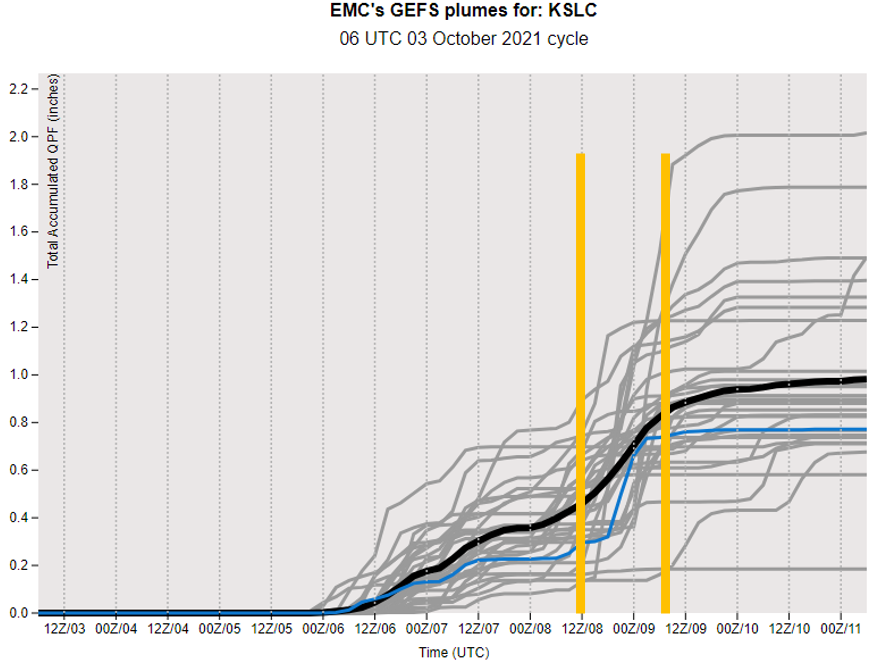 Weekend (October 9-10)
As the trough lifts and moves across the Great Basin it will weaken, but this doesn't mean we wont see moisture. We know this event will bring quite a bit of rain into Utah but snow is still out there. We can use ensemble guidance to get a better idea of snow impacts. Current Downscaled NAEFS guidance indicates snow for Alta, but again this is pretty far away. Stay tuned as we move closer to this weekend.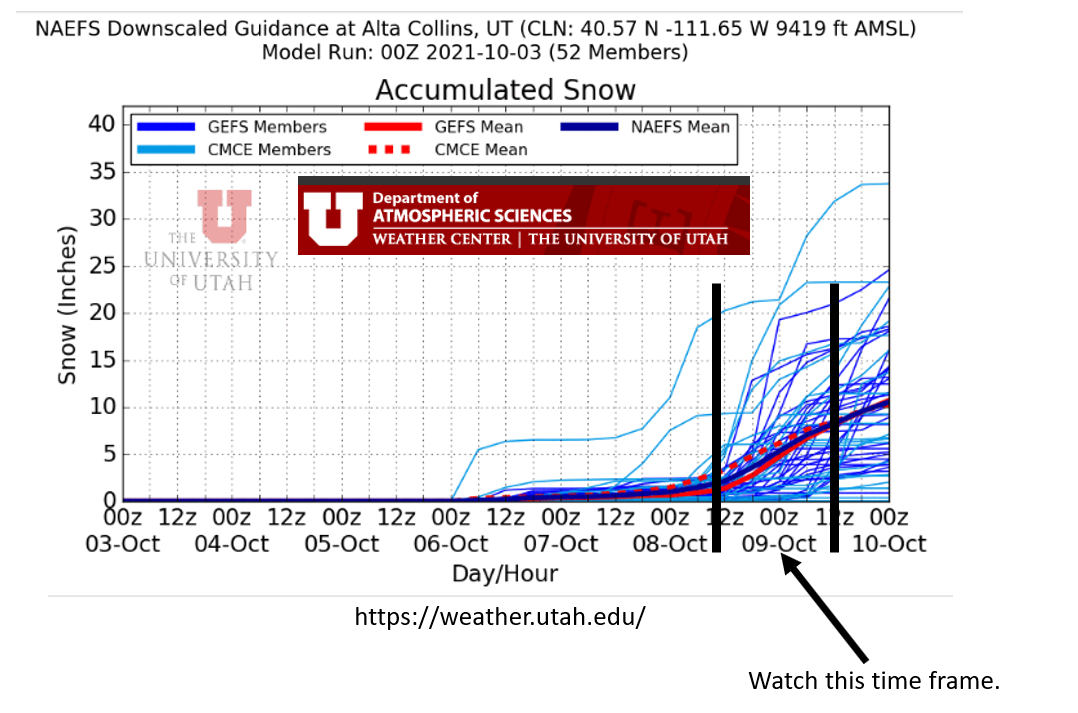 References, Top to Bottom:
Storm Prediction Center Severe Thunderstorm Outlook Day Three. https://www.spc.noaa.gov/products/outlook/day3otlk.html. Accessed 3 Oct. 2021
GEFS QPF Image from Tropical Tidbits. https://www.tropicaltidbits.com/analysis/models/?model=gfs-ens&region=wus&pkg=apcpn&runtime=2021100306&fh=162. Accessed 3 Oct. 2021
USGS Terrain map. https://apps.nationalmap.gov/viewer/ Accessed 3 Oct. 2021
Pivotal Weather 500mb height anomaly. https://www.pivotalweather.com/model.php?m=gefs&p=500h_anom&rh=2021100300&fh=loop&dpdt=&mc= . Accessed 3 Oct. 2021
IVT Probability from the Center for Western Weather and Water Extremes. https://cw3e.ucsd.edu/iwv-and-ivt-forecasts/#IVTP. Accessed on 3 Oct. 2021
Salt Lake Airport (KSLC) GEFS QPF Plumes. https://www.emc.ncep.noaa.gov/users/meg/gefs_plumes/index.html?stationname=KSLC. Accessed 3 Oct. 2021
NAEFS Downscaled Plumes, University of Utah Dept. of Atmospheric Science. https://weather.utah.edu/index.php?runcode=2021100300&t=naefs&d=PL&r=CLN. Accessed 3 Oct. 2021