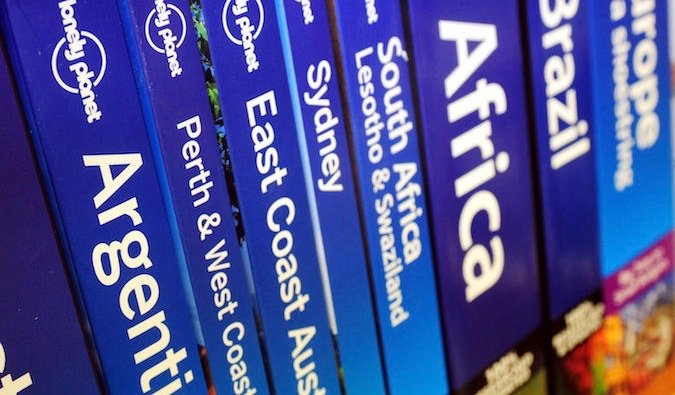 COVID-19 has changed everything about travel. Everything. Travelers are no stranger to change, but no one could have expected global industry changes like these that we are currently experiencing due to the pandemic.
Travel publication and world-class travel guidebook producer Lonely Planet has announced that it is closing its Melbourne and London offices "almost entirely," as well as its magazine and Trade and Reference Division, according to The Guardian. The famous guidebooks will continue to be published through the company's Dublin, Ireland and Tennessee offices, but it is reported that job cuts will likely occur within those offices.
"Ever since company founders Tony and Maureen Wheeler stapled together their first guidebook after an epic trip across Asia, Lonely Planet has put travellers at the heart of everything we do, informing and inspiring them with trusted content for print and digital from experts who visit every destination." — Lonely Planet
Here are some facts about Lonely Planet, provided by Wikipedia:
Lonely Planet is a large travel guide book publisher.
Lonely Planet was founded by married couple Maureen and Tony Wheeler. In 1972, they embarked on an overland trip through Europe and Asia to Australia, following the route of the Oxford and Cambridge Far Eastern Expedition.
Lonely Planet's first book, Across Asia on the Cheap, had 94 pages and was written by the couple in their home. The original print run consisted of stapled booklets.
As of 2011, the company had sold 120 million books since inception.
Founded in 1973, Lonely Planet has grown to become the world's largest travel publisher, accounting for 31.5% of the global guidebook market.
They have travel guides for all 7 continents and virtually every country.
In 2016, Lonely Planet's online community topped 10 million.
Lonely Planet has 400 staff, 200 authors.
They own Teton Gravity Research.
In 2007, the Wheelers and John Singleton sold a 75% stake in the company to BBC Worldwide, worth an estimated £63 million at the time.
Lonely Planet also had its own television production company, which has produced series, such as Globe Trekker, Lonely Planet Six Degrees, and Lonely Planet: Roads Less Travelled.
If anything is certain about the travel industry right now its that nothing is certain about the travel industry right now. There's no telling how this pandemic will unfold and when nationwide lockdowns will let up, allowing people to travel again. However, whenever people do become blessed enough to be able to travel again — after this pandemic subsides, or when we figure out a way to live with it, travel with it — then trustworthy travel information will be invaluable. According to the Lonely Planet, some of their writers are already starting to emerge from the lockdown in Beijing. And they have a view of the road ahead. They are adapting. They are hopeful.