National Fire News
as of July 12 at 7:30 a.m. MDT (on a scale from 1 to 5)
Current hours for the National Fire Information Center are
(MST) 8:00 am – 4:30pm, Monday – Friday
208-387-5050
This report will be updated on Monday through Friday.
Please check the IMSR for more information.
July 14, 2022
Currently, 84 large fires and complexes have burned 2,952,845 acres in the United States. Alaska continues to be busy with wildfire activity and fire managers are overseeing 63 large incidents. Six new large fires were reported yesterday, four in Alaska, one in Florida and one in Oklahoma. More than 5,400 wildland firefighters and support personnel are assigned to incidents across the country.
Since January 1, 36,401 wildfires have burned 5.2 million acres. Lightning has ignited about 2,230 wildfires, and people have caused more than 33,500 of them. Predicted hot and dry weather conditions in many states and very dry fuels have increased the potential for wildfires. As many people get out to enjoy our public lands, wildfires can change your plans. Check for fire restrictions and abide by them. If a campfire is allowed, use an existing fire ring, keep it small, and make sure it is completely out and cold to the touch before leaving. Now more than ever, wildland firefighters need you to do your part to prevent wildfires and recreate responsibly.
As we head into the hottest months of the year, stay up-to-date on weather, fire danger, and outlooks by visiting the Predictive Services website. Check out the National Significant wildland fire potential outlook and Predictive Services monthly deasonal outlook podcast that highlights what we can expect in July, August, September and October.
Weather
Cooler temperatures will spread across much of Alaska, but humidity will likely drop below 30% in much of the Interior. Showers are likely in southern and western Alaska into portions of the Interior. Monsoonal thunderstorms will continue over the greater Four Corners region, with drier storms likely in portions of eastern Nevada into southeast Idaho. Additionally, isolated dry thunderstorms are possible in central Nevada, the southern Sierra, and the Peninsular Ranges. Strong to severe storms will spread from eastern Idaho through southern Montana and northern Wyoming onto the northern Plains, with heavy rain likely on the central Gulf Coast and scattered to numerous thunderstorms across the Southeast. Hot and dry conditions are expected on much of the southern and central Plains, including some breezy winds, and in most of the West away from monsoonal thunderstorms.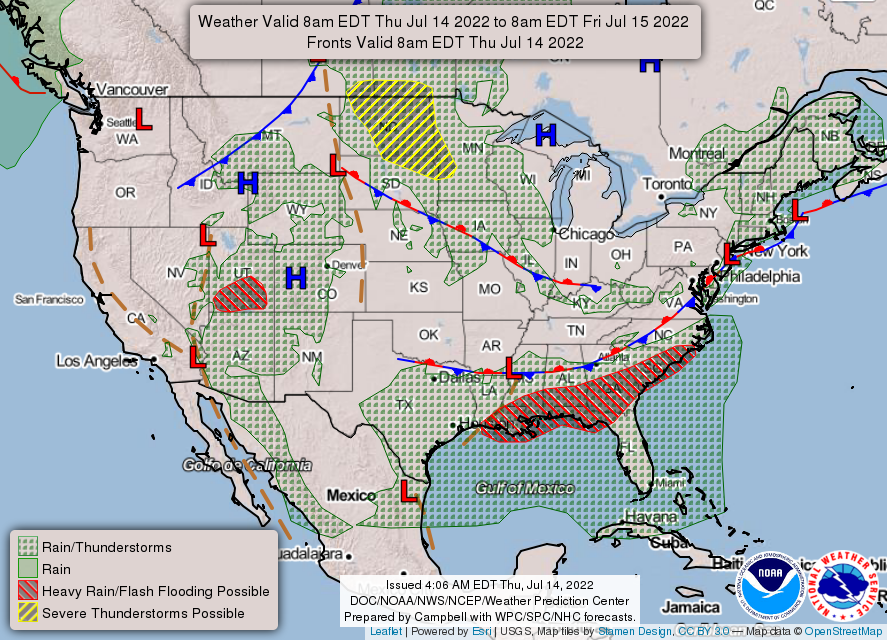 More Info: