Spring is officially here. Warm temps, t-shirt skiing, good vibes, spring snow—spring always brings a multitude of good things for skiers and snowboarders.
But with spring conditions come spring hazards such as wet avalanches and glide avalanches. 
The Utah Avalanche Center wrote in the Thursday, April 1 avalanche forecast: 
"Slopes receiving direct sunshine should have plenty of predictable, small, wet loose avalanches today. They will start happening as the snow becomes wetter and wetter and you see clues like other slides or more and more snowballs rolling downhill. Even slopes facing north at mid and low elevations should have some wet avalanche activity. I worry more about these slopes because I'm unsure how they will react. They have experienced melting and refreezing in the top few inches of snow, but still have dry snow underneath which should start to become wet today and even more this weekend."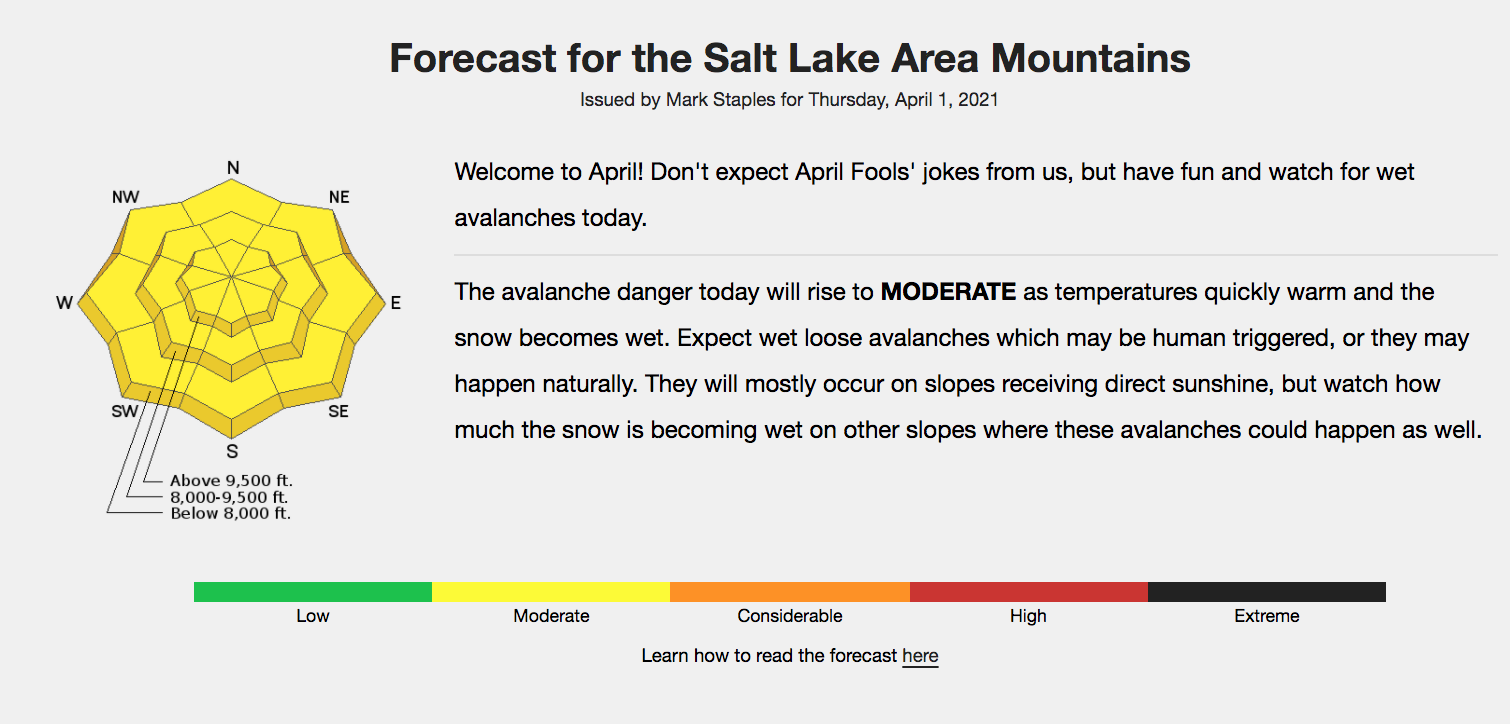 The UAC also listed glide avalanches as an avalanche problem today, which are more unlikely than wet avalanches but equally as dangerous—if not more so. This is what the UAC wrote about glide avalanches in today's forecast:
"What the heck are glide avalanches and gliding snow? They are avalanches that happen when the entire snowpack starts moving downhill on top of some smooth surface like a rock slab, and then at some point, the snow releases and produces an avalanche. Don't get too worried, these slides only happen in a few specific places.

It is impossible to predict when these slides will happen, BUT we usually know where they will happen because they are almost always preceeded by a visible glide crack which is a large crack in the snow that extends to the ground. These glide cracks can exist for minutes, hours or days before producing a glide avalanche. Or they may not produce an avalanche at all.

What to do? With such warm weather expected, I wouldn't be surprised to hear of a few glide cracks opening up and possibly a few glide avalanches. Look for glide cracks in the snow and avoid traveling underneath them.

The good news is that they only happen in a few specific places like Broads Fork and Stairs Gulch where large slabs of rock exist under the snowpack. There were several glide avalanches that happened in Broads Fork on March 2nd and March 5th. Two people died in a glide avalanche in 2001 on April 28th in Stairs Gulch."
Enjoy the Spring conditions and please make safe decisions out there!