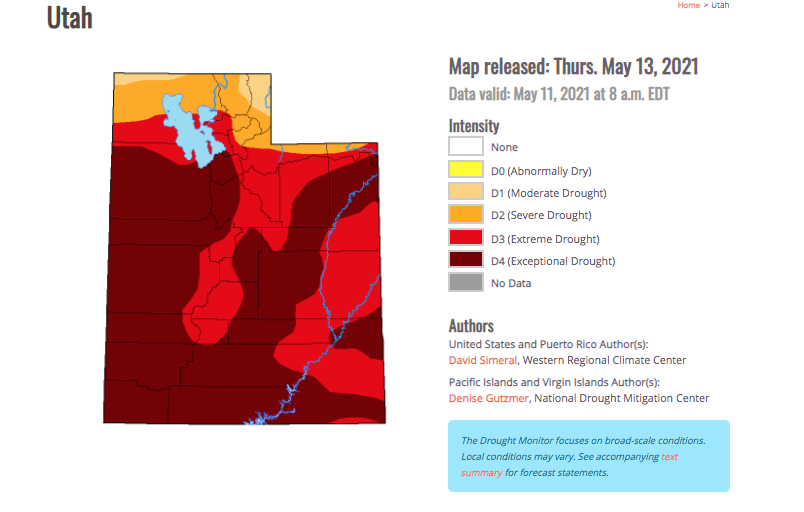 Utah's  Gov. Spencer Cox recently issued another executive order regarding the current drought in Utah. This time, the executive order puts Utah in a 'state of emergency.'
What's a state of emergency? 
A state of emergency declaration is a critical step a governor takes in the event of a major disaster, or in preparation for one. The order gives the governor certain emergency powers.
Oftentimes, a governor will declare a state of emergency in order to gain federal funding (which is more than state funding) to combat an issue. 
Following a record dry summer and fall — and with winter snowpack currently at 70% of normal levels — Utah Gov. Spencer Cox signed an emergency order declaring a state of emergency due to drought conditions.https://t.co/1TtG97mCoQ

— The Salt Lake Tribune (@sltrib) March 17, 2021
How this latest executive order affects Utah
This latest executive order declares a state of emergency in Utah and will allow communities and agricultural producers affected by the drought to have access to federal emergency resources, ABC 4 News reports. 
According to the Utah Department of Natural Resources, 100% of Utah is currently experiencing drought, and 90% of the state experiencing "extreme drought."
Gov. Cox previously declared a state of emergency on March 17 because of the ongoing drought in Utah. Then he issued the current executive order on May 13 requiring water conservation at state facilities.
"We've been monitoring drought conditions carefully and had hoped to see significant improvement from winter storms," Cox said in March. "Unfortunately, we have not received enough snow to offset the dry conditions. I ask Utahns to evaluate their water use and find ways to save not only because of current drought conditions but also because we live in one of the driest states in the nation."
The May 13 executive prohibits irrigation at state facilities between 10 a.m. and 6 p.m., requires sprinklers to be shut off during rain storms, and ensures landscape water systems are operating efficiently, according to ABC 4 News. 
Currently, 2,763,885 Utah inhabitants are affected by drought.
For more information about droughts in Utah and how they can be managed, visit http://water.utah.gov/water-data/drought.