Report from February 17, 2023
Yesterday, we found another ethereal zone that altered our very perspective on life and skiing.
South faces beckoned between crumbling, red rock hoodoos.
We stared awestruck.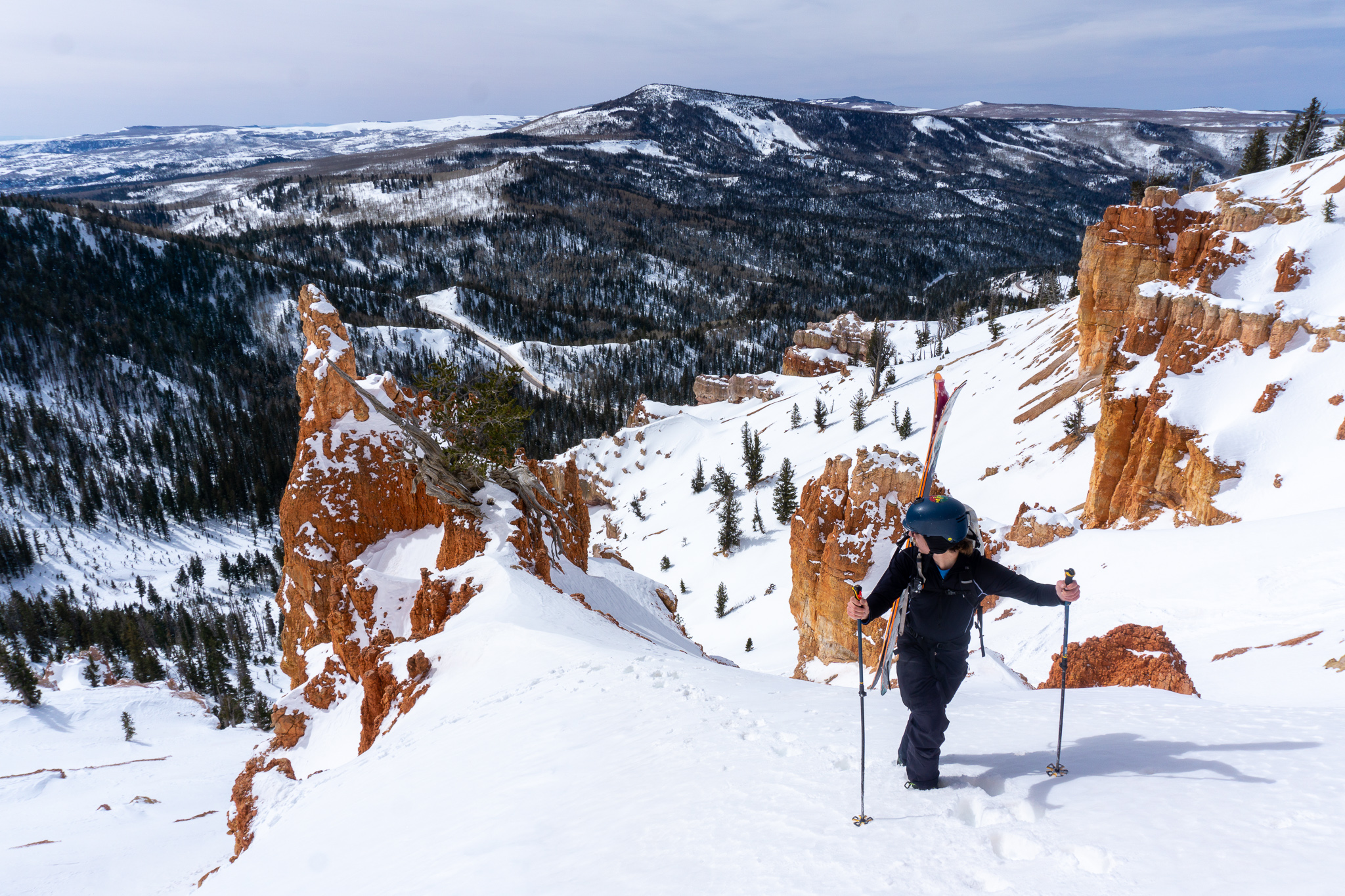 We hoped for better snow than we'd found the previous day.
As we climbed, we realized the snow was going to be unideal.
It mattered not.
The red hoodoos soared above us and teased us with small rolling offerings.
The hoodoos don't feel timeless here.
They feel ephemeral and timefull.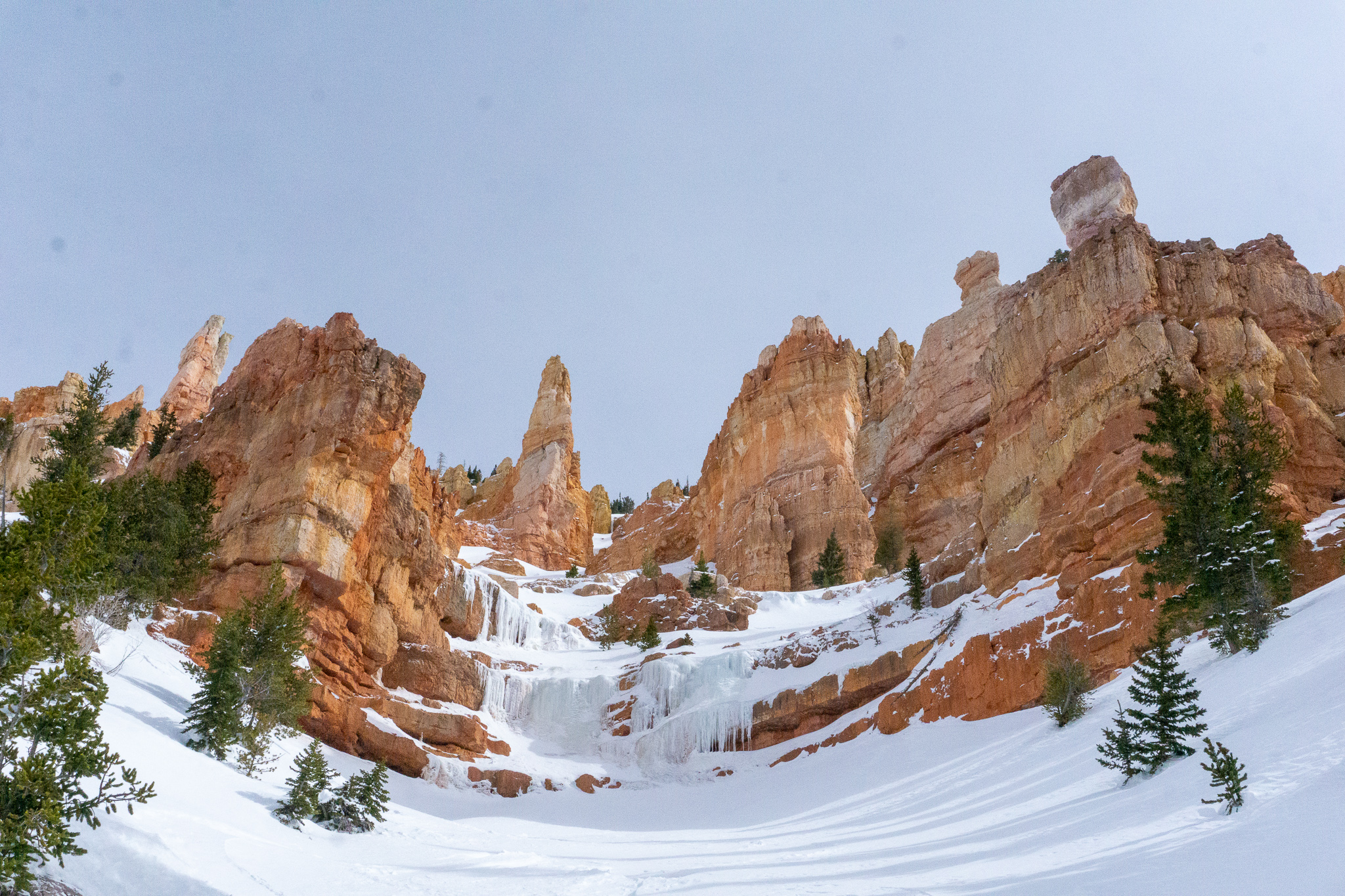 We watched them falling apart before our eyes.
We witnessed a bristlecone pine that had caught a huge chunk of the rolling red rock and paid for it dearly – bent, bruised, skinned, and crooked from its encounter.
Another bristlecone clung impossibly to the downhill side of a hoodoo, having delicately slithered its roots into every crevasse it could find in turn, shredding the rock and eroding its holdfast.
Reshaped from the sights, we reached the top.
The snow was a vulgar mix of sun crust, wind crust, soft ice, and hot pow.
I was so spooked by the amiss snow that I decided to ski on our bootpack in predictable soft ice.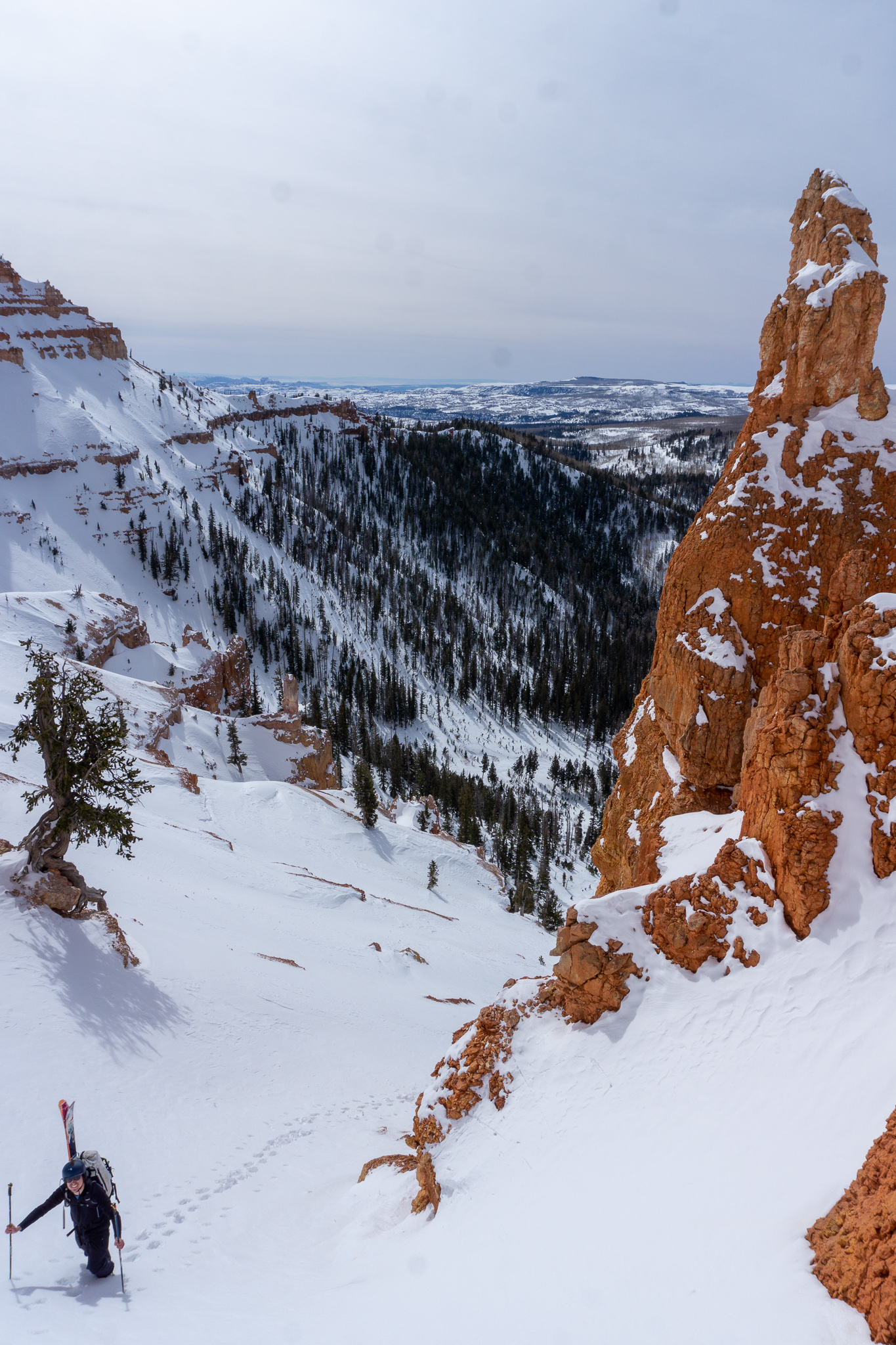 It was a good call at first.
After I'd made a few turns on the spine we'd booted up, I cut into the unwelcoming snow and found it less rancid than I feared.
The searing desert sun softened the crust to a funky yet skiable mank I should have dove straight into.
Lesson learned.
I struggled to the bottom of the upper zone and delved into the lower.
The snow only got worse as I plunged down.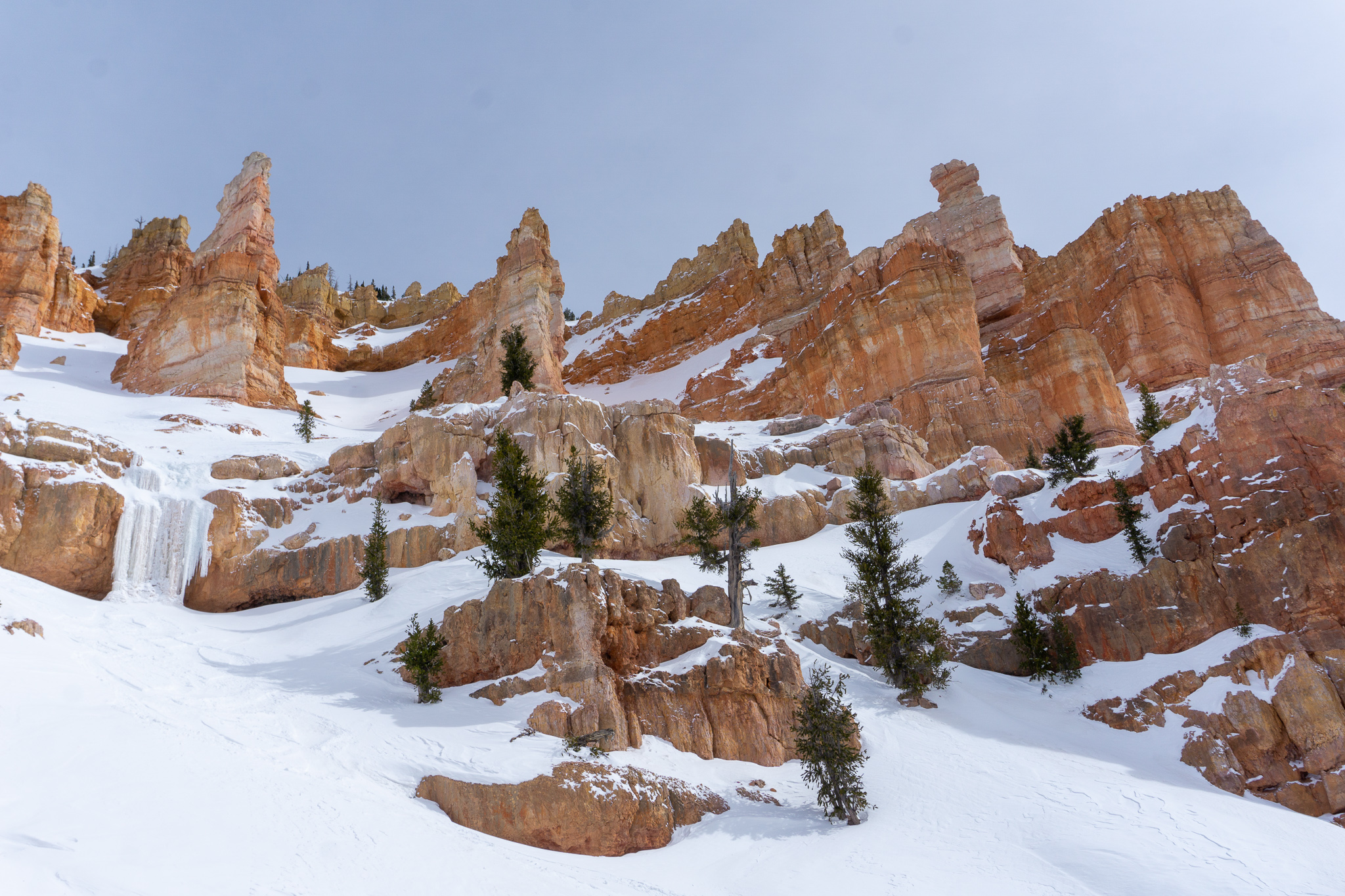 Eventually, I couldn't link two turns together and gave up.
Martin chose a proud line and ripped right down the main spine into the skier's left chute linking turns beautifully.
He kept it together far longer than I was able.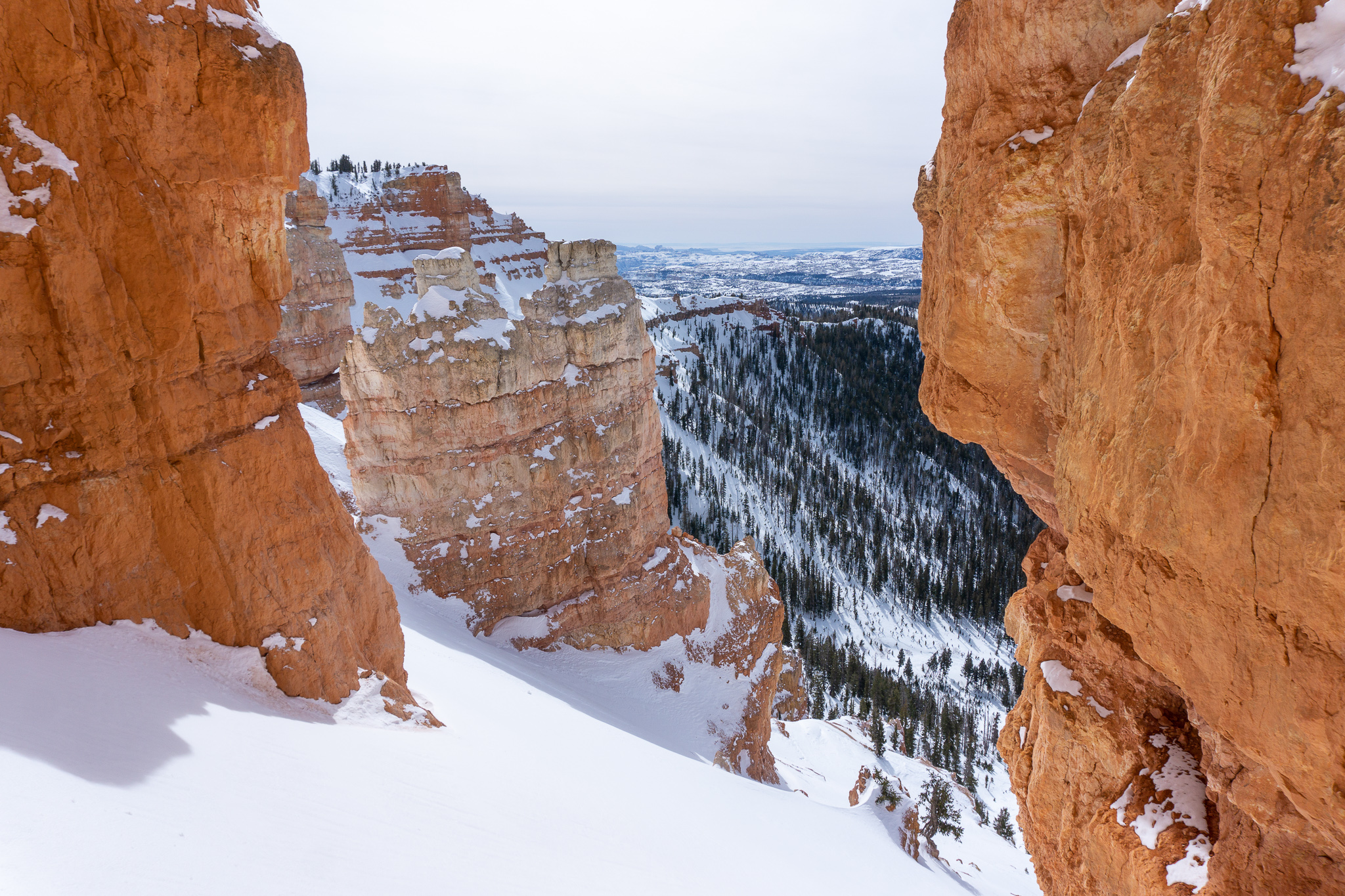 We'd planned on multiple runs, but the snow was so dreadful, and we'd enjoyed the experience so much that we decided to move on.
I can't say how many times I stopped and looked back…
This was one of the most impactful, sensational places I'd ever been.
It may have been the most beautiful zone I'd ever skied.
I didn't know if I'd ever come back to this place.
That feeling haunted me.
We drove home high off our experience.
Off our willingness to drop everything and go for a dream.
Off having executed the strike mission safe and sound.
Thanks, hoodoos.
PHOTOS