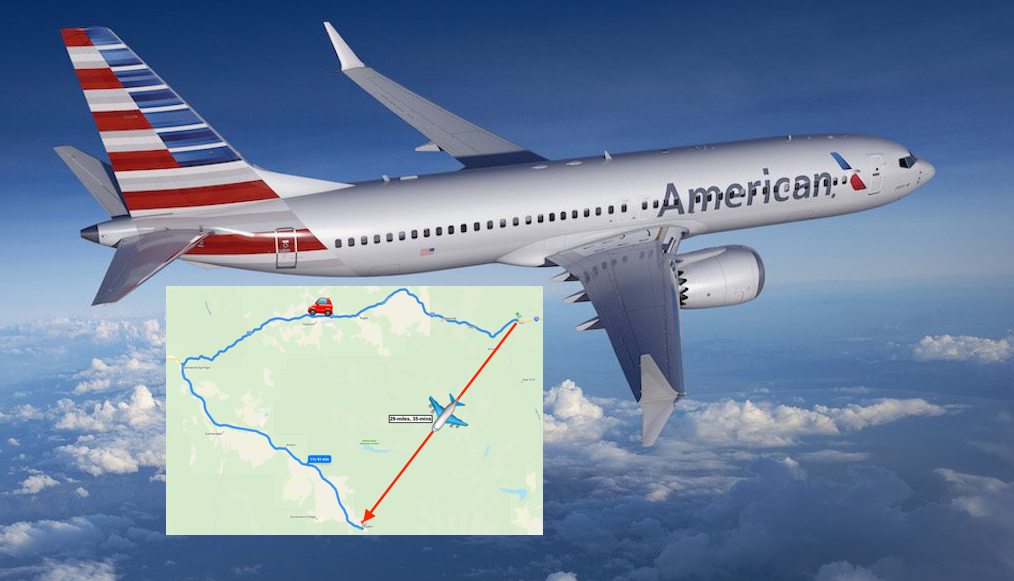 American Airlines just opened the shortest flight route in the US, connecting two of the wealthiest resorts in the world – Vail and Aspen in Colorado.
The 29-mile flight takes just 35-minutes and negates the need for a 2-hour, 100-mile drive, half of which is on the nightmare that is I-70. The flight is part of a circle route that connects Aspen, Vail, and Montrose, CO, with America's Dallas-Fort Worth hub. The flight will begin on May 21st until at least 1st June.
The ridiculous route is thanks to the conditions to receive funding through the CARES Act, which was signed into law in late March, and is currently the shortest commercial airline ride you can take in the United States. The previous shortest route was a 31-mile trip by Alaska Airlines.
The reason these two resort towns are now connected stems back to the CARES Act, the $2 trillion stimulus package signed into law in late March. Airlines may only suspend service to up to 11 cities that they served pre-coronavirus in order to receive much-needed aid through the CARES Act. But passenger travel has collapsed by 93%, so flying these so-called "ghost planes" on a longer route would not be profitable, explains Business Insider. As a result, airlines are adding cities onto other routes. The Vail-Aspen plane journey, part of a larger circle connecting Texas and Colorado, is an example of that.
A quick check on American Airlines shows that the very first day of the service, the 29-mile flight will cost you $251, the best part of ten bucks a mile. The days following the price halves, to $121.