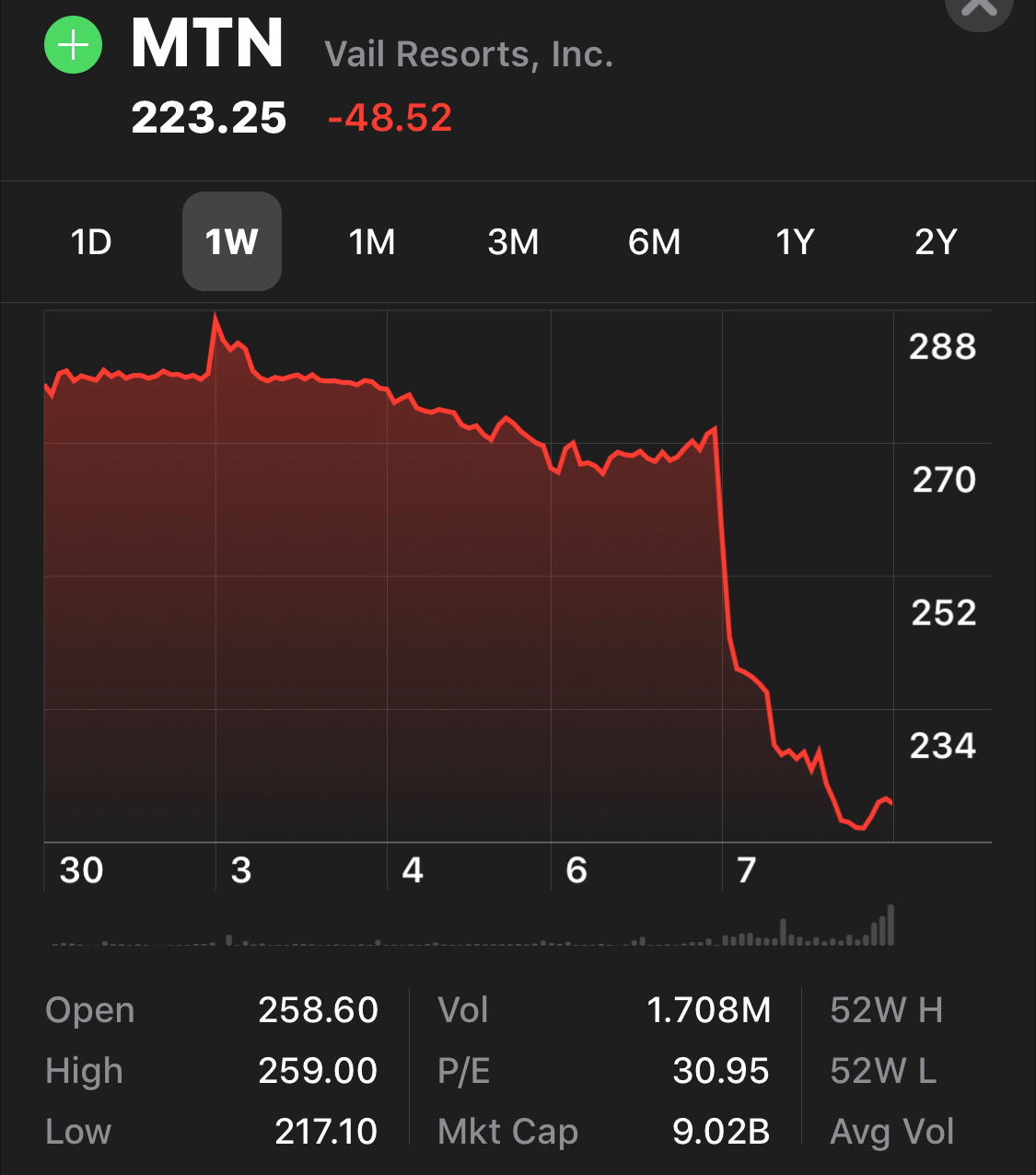 Vail Resorts' stock price fell off a cliff Friday, enduring the biggest single-day loss in its history when they reported bigger than expected losses and slower than expected revenue gains for season pass sales for its most recent financial quarter, reports the Denver Post.
The company began the day at $258.60 per share, but then plummeted 17.85 percent during another rough day for the market, closing at $223.25. The previous worst loss was 17.3 percent on Nov. 14, 2008, according to Marketwatch.com, a decline that came when the market was imploding due to the mortgage crisis.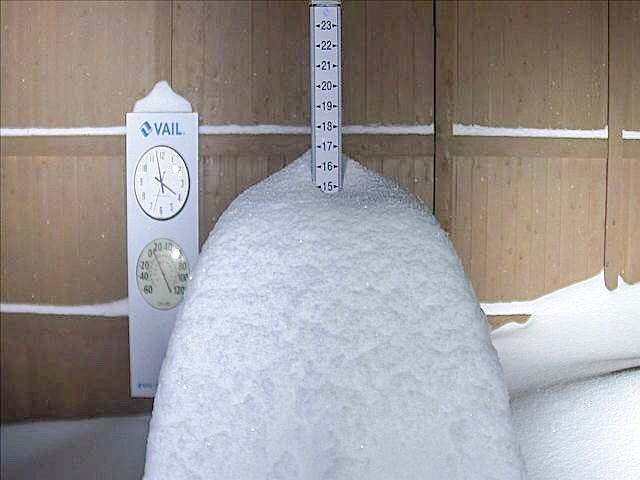 Strong early season snow that allowed Vail Ski Resort to open early this year may have hurt the company. While pass sales remained "relatively consistent" during the reporting period compared to the fiscal quarter immediately preceding it (25 percent growth in units sold and 15 percent growth in revenue) "the bar had drifted slightly upward in recent weeks as favorable early season weather trends unfolded across the portfolio," KeyBanc Capital Markets analyst Brett Andress wrote.
"Our first fiscal quarter historically operates at a loss, given that our North American mountain resorts are open for ski operations during the period," CEO Rob Katz said in a statement that accompanied the financial results.
When looking at sales declines in Utah and Northern California, analyst Brad Boyer pointed to the "presence of a new competitor", a clear reference to Denver-based Alterra Mountain Co. and its Ikon Pass, as to the reason season pass sales "likely fell slightly below buy-side expectations".
"We are very pleased to see double-digit revenue growth in our season pass program after a very strong record performance last year," Katz said. He added that, excluding military passes, "we achieved solid growth in our Colorado, Destination and Whistler Blackcomb markets, while experiencing declines in both the Northern California and Utah markets."
Vail Resorts Inc. reported a net loss of $107.8 million for the period Aug. 1 to Oct. 31, compared to a loss of $28.4 million over the same span last year.
"Vail's recent acquisitions and new season-pass offerings aren't enough to sustain demand and will likely hurt its fiscal 2019 growth prospects," Bloomberg Analytics wrote in response the Vail's release, referencing summer buys that included Crested Butte and three other U.S. resorts.
The company's geographic diversity means its long-term outlook remains strong regardless of how its stock fared Friday, according to Bloomberg Analytics:
"Its global resort network provides alternative destination options and is an added benefit to pass holders," Bloomberg wrote. "Recent acquisitions further enhance the season passes' value, helping Vail to secure its position as North America's leading ski-resort operator."
By the numbers:
17.85% – biggest single-day stock price loss in the company's history on Friday
17.3% – previous biggest stock-price loss in Nov 2008
$107.8-million – net loss between 8/1 – 10/31, compared to $28.4-million the previous year
$175-million – capital improvement plans for 2019
925,000 – Epic Passes the company expects to sell this year
750,000 – Epic Passes sold last year
+21% – North American pass sales are up 21% (although the introduction of a $99 military pass meant this volume increase didn't translate directly to a revenue increase. That was only a 13% increase)
$50-million – share buyback during the quarter
$1.47 – quarterly dividend paid to shareholders