Will Sperry, an AMG trained ski guide can take you to the places you've always dreamed of. PC: Alpenglow Expeditions
In this world of strong-minded athletes willing to learn by trial and error and DIY attitudes, we've forgotten about an easier way of learning and progressing in the backcountry. The guide. Out there every day assessing snowpack, evaluating terrain and implementing the best safety techniques are incredible mountain guides who have chosen to make it their livelihood spending time outdoors and passing on their knowledge to those who ask. These leaders of outdoor education and travel are incredible resources to any backcountry enthusiast from the hard-charging local to the tourist visiting a new area just looking to ride some powder.
The value of well-educated, personable, confident and safe guides cannot be compared to any piece of information gathered from the Internet or found at the local bar. Makes sense but how do you actually go about finding the right guide for your travels? Let's skip Craigslist and the local watering hole and turn to some of the finest guides to learn the best way to make your guided adventure worth every penny.
"I think the real value in hiring a guide is that the guide is able to push a client's comfort zone in a way that will make them grow, learn, and gain valuable experience a lot faster than if they were trying to figure things out on their own" – Will Sperry, AMGA Trained Ski & Rock Guide
Founded in 2004 by IFMGA certified guide Adrian Ballinger the Lake Tahoe, California based company, Alpenglow Expeditions, has become one of the premier full-service mountain guiding companies in the world. Offering a full range of programs from guided backcountry skiing and split boarding, rock climbing, international mountaineering expeditions and Rapid Ascent programs to basic and advanced AIARE Avalanche and Rescue courses. Using a guide service such as Alpenglow Expeditions will accelerate your learning process of everything outdoors from efficiency to safety to pushing your own personal boundaries. With guides through a service like this you'll receive direct access to what works in any situation from simple to complex all while being under the supervision of someone with your health and safety as their top priority.
Where To Hire A Guide And What To Look For
"When anyone goes into the backcountry the first considerations are usually, "where do I go and where are the best and safest conditions?" A guide dials in these questions." – Dave Nettle, Lead Guide for Alpenglow Expeditions
Tim Dobbins, AMGA Certified Guide for Alpenglow says in the United States the first place to start looking for a guide is with the American Mountain Guides Association. From their website, you can search for a certified Mountain Guides or guides certified in any chosen discipline such as alpine, ski or rock. Internationally the only certified guides are those part of the IFMGA and can be found in any local Guide Office where you're located. You can browse both of their websites here.
American Mountain Guide Association
International Federation of Mountain Guides Association
Formal training through the AMGA and IFMGA creates a very high, minimum standard for guides to become certified. Backcountry ski guiding can easily be labeled as one of the most dangerous and objectively hazardous disciplines in the guiding world and it takes a well educated, experienced and strong person to make the right choices for their group. By hiring guides only under the scope of practice of these institutions you'll be more likely to experience a safe, fun and boundary-pushing day. These high standards set for guides also help to create a safer industry, leading to making guiding a viable way of making a living.
"The program director of any given guide service should be a certified IFMGA mountain guide and all the guides should be under the AMGA's scope of practice or S.O.P. this way you know that any given guide you are working with is guiding within their level of training & expertise." –Tim Dobbins, AMGA Certified guide for Alpenglow Expeditions
Having a good understanding of where you want to go and what you want to do will further help you find the best guides for you and your group. With this in mind call up the guiding service you've found and discuss your expectations, wants and needs. They'll be more than happy to find and pair you with the best guide to help you achieve your goals.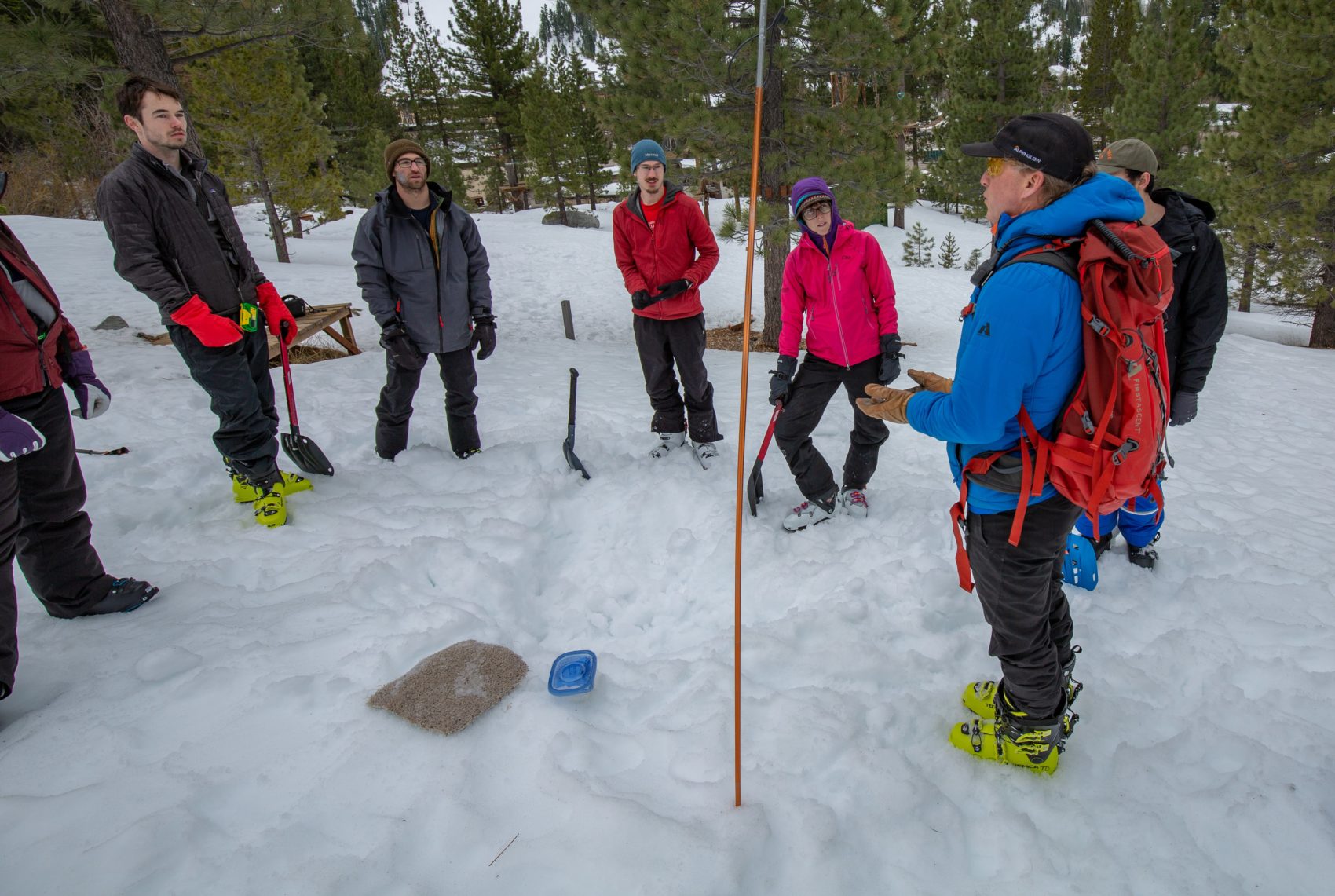 A True Guide Will Teach You Along The Way To Powder
Will Sperry of Alpenglow Expeditions will tell you that he and his fellow guides like Lead Guide David Nettle are, at heart, educators passionate about what they do and willing to share with their clients anything they are interested in learning. A good guide will always be on the lookout for ways to help their clients improve efficiency with their equipment and movement. From suggestions on how to make a smother kick turn to streamlined transitions to even managing clothing comfort, Will believes even the most experienced person will benefit from a few tips. Even if a guide is taking professionals or very experienced skiers and riders out to just "get the goods" there will always be some teaching about the terrain and conditions, safety protocols and specific ski descent strategy being used for the day.
"Any guide worth his or her salt is not only going to show you the best snow and terrain but instruct you along the way." –Tim Dobbins
A worthy guide knows you're spending good money for not just their knowledge of great places to ski but to learn from them about every aspect of the tour. Risk management, terrain selection, detailed snowpack evaluation, and rescue techniques are all topics guides are happy to teach and share their knowledge on. After all the more you learn the safer everyone is. When you're out with a guide ask as many questions as you can and soak up the knowledge, remember you are paying for it.
Regardless Of Ability Level, A Guide Can Always Improve Your Day
Hiring a guide isn't just about keeping you safe but a great way to maximize your experience. Keyword, maximize. Just because you've been backcountry skiing your entire life and have educated yourself to the best of your abilities doesn't mean a guide is a waste of money. Guides are out there enough to know what the conditions can provide to you and your group without wasting time assessing different areas constantly or killing hours with poor travel routes. A good guide can present you with great options to ski and provide a fun, safe experience for everyone involved.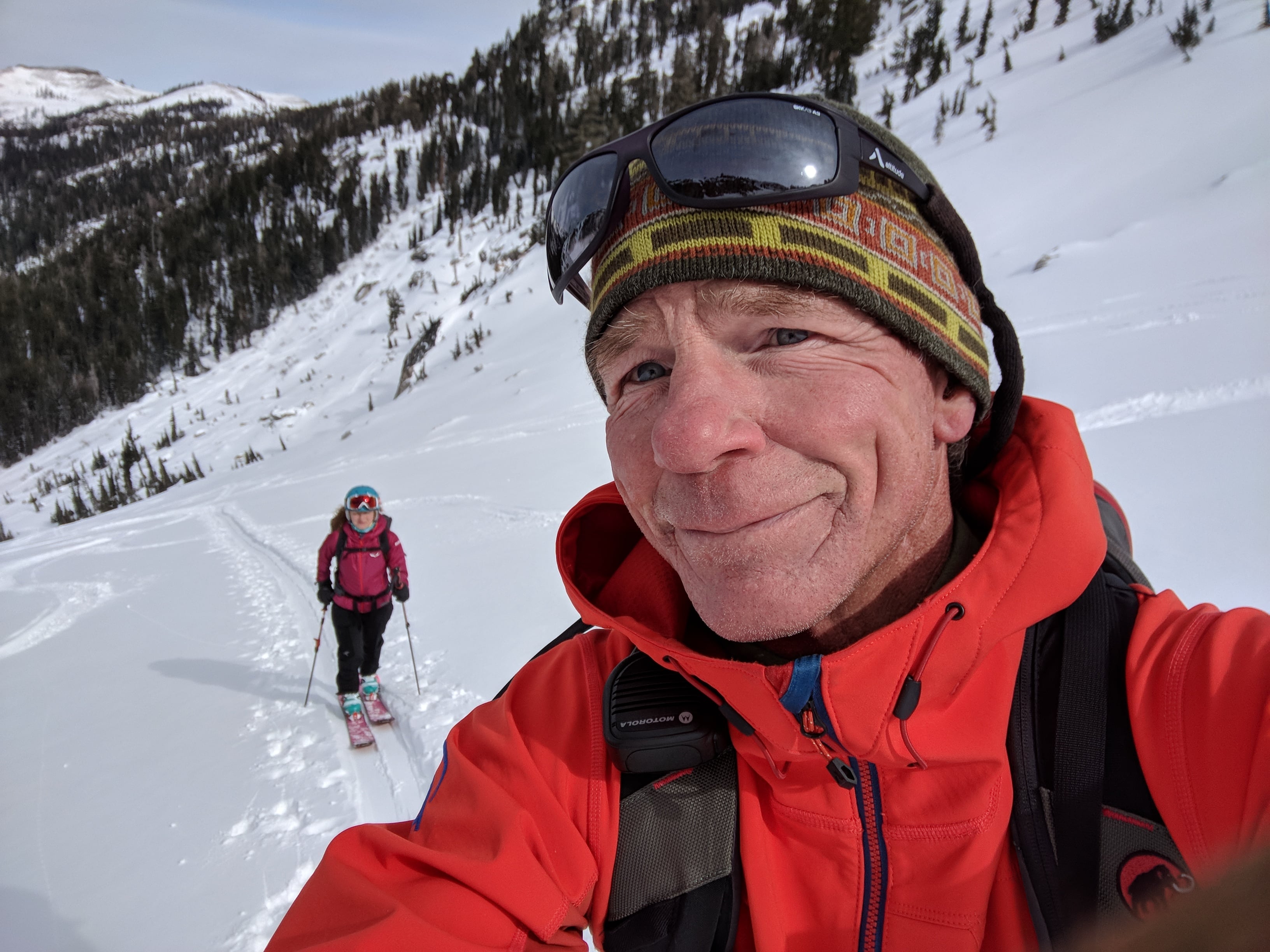 Even the best professionals and camera crews in the world will work with guides to enhance their day and to be as efficient and productive as possible. If your group is talented, experienced, hardworking and most of all patient your guide will work with you to make your dream lines a possibility. Additionally, guides will provide that extra layer of safety in the possibility of an injury or rescue scenario. Having a member of your team with the knowledge and experience to deal with injuries and evacuation while deep in the wilderness can many times be the difference between life and death.
"Good guides know when to turn the heat up and push a client… pushing that comfort zone into what we call the arousal state of learning is true for both the first timer hiking lines or the veteran looking to get into steeper more complex terrain. –Will Sperry
Costs And Tipping
What you'll end up paying for a guide ultimately depends on the time you spend with them. A single day or half day backcountry ski tour with Alpenglow and other guiding services will range from $199 to $400 depending on the group size and length of the tour. Bigger expeditions to foreign countries and remote areas can jump the price tag up into the tens of thousands of dollars covering all of the logistics, housing, travel and safety measures needed to complete your goal.
Tipping, while always a personal choice is considered normal for your guide and tipping similar to what you would in a restaurant, 15-20%, is reasonable and generous. Your guide is a professional athlete who has combined years of personal on mountain experienced with grueling training in safety and technical skills to take you on a challenging adventure with the highest level of safety in mind. They're providing an incredible service in objectively hazardous situations in order to make a living for their families so take care of them. Buying a round of beers is always a nice gesture but it doesn't help to pay the bills.
Think of a time where a guide would have improved your day of backcountry skiing or riding. From safety protocol to knowing where the best conditions lie to improving your travel technique a qualified guide like those from Alpenglow Expeditions are ready to maximize the time you spend outdoors. You work hard to have the free time to enjoy the mountains away from the crowds so why not take advantage of an incredible resource like a qualified, educated, passionate and fun guide to enhance that experience. As most will tell you, it's worth every dollar.
Alex K
For more information on working with or hiring a guide from Alpenglow Expeditions check out their website at Alpenglow Expeditions