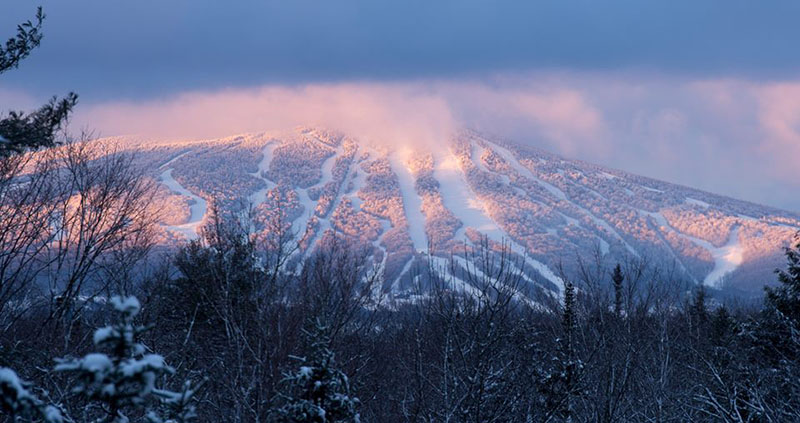 Several Vermont ski areas are investing in new infrastructure in order to better the experience of their guests. The majority of these improvements are focused on both winter and summer activities.
Bolton Valley: The mountain biking trail system at Bolton Valley expanded to 26 trails this summer. This addition has more than doubled the mountain biking trail area. Furthermore, the BV Skatepark had its grand re-opening on June 8th. The park features larger quarter pipe walls, a full-sized bowl and much more.
Killington Resort: The construction on a new $29 million lodge at the base of Killington has begun. The old base lodge, which was built in the 1950s, will remain in use through the majority of the 19/20 season. The new structure will be much larger and designed to be more user-friendly. Heated sidewalks, ADA-approved ramps, and a redesigned traffic flow are all part of the plan.
Magic Mountain: Magic has increased its access to more water through the Act 250 permit allowing a new dam to be built in its snowmaking pond. This increased water access has the potential to lengthen the resort's ski season by expanding its snowmaking capabilities. In addition, the mountain's first quad lift will be installed, which will increase the mountain's uphill skier capacity.
Mount Snow: Snowmaking operations will be increased by 17 acres at Mount Snow. With this additional acreage, 83% of the mountain will be covered. The resort's snowmaking investments have totaled to $30 million over the last three years. Mount Snow's last year's development has already been paying off. The $22 million base lodge is a four-season building and is currently being used to hold weddings and other events.
Stratton Mountain Resort: Stratton announced more than $6 million in capital spending for the 2019-20 season.  Guests will see this investment through the improved experience at the resort. The money will be spent on mountain biking, terrain-based learning, lift operations, and other resort refinements.
Sugarbush Resort: Sugarbush Resort has focused on property maintenance this summer. The Lincoln Peak courtyard is being rebuilt and a new roof has been put on the Sugarbush Inn.
Other Vermont ski areas have made similar improvements in recent years. Suicide Six Ski Area has recently automated and computerized its snowmaking operations,  Bromley Mountain invested in a family-friendly progression park during the 2018-19 season and Jay Peak Resort built two synthetic-turf athletic fields.