After skiing at Kicking Horse Mountain Resort in British Columbia for the past 15 years of my life, I thought I had covered all of the heart-stopping terrain that the mountain had to offer, but I saw it in a whole new light this summer when I found myself on their Via Ferrata, hanging on a swinging suspension bridge over one of my favorite bowls! Since 2015, Kicking Horse has expanded their summer activities beyond hiking and mountain biking to include one of the best Via Ferratas in North America. Meaning "iron road" in Italian, Via Ferratas have been around for almost two hundred years, but they have only recently been commercialized and now they are popping up all over the world.
In the most basic sense, a Via Ferrata is an assisted climbing route where climbers use permanently attached cables, handholds, steps, rungs, ladders, and more to help them ascend securely. They are very popular because the controlled nature of the route and equipment means that, unlike rock climbing, you do not require significant training or physical prowess to be able to safely manage a Via Ferrata, especially because you will also have a trained guide with you at all times. In fact, kids as young as 10 years old can conquer most Via Ferratas while feeling like a real rock climber hanging off of a mountain!
Kicking Horse's Via Ferrata is promoted as the "most exhilarating in Western Canada" and with a 200ft suspension bridge, a 23ft metal tightrope wire, and reaching 7900ft of elevation I can definitely confirm that it felt like it! They offer three different route lengths and difficulties to cater to all levels of interest and ability. My family chose the middle option, the Discovery Route, that took just over 2 hours and turned out to be perfect for me, my parents, and my younger siblings.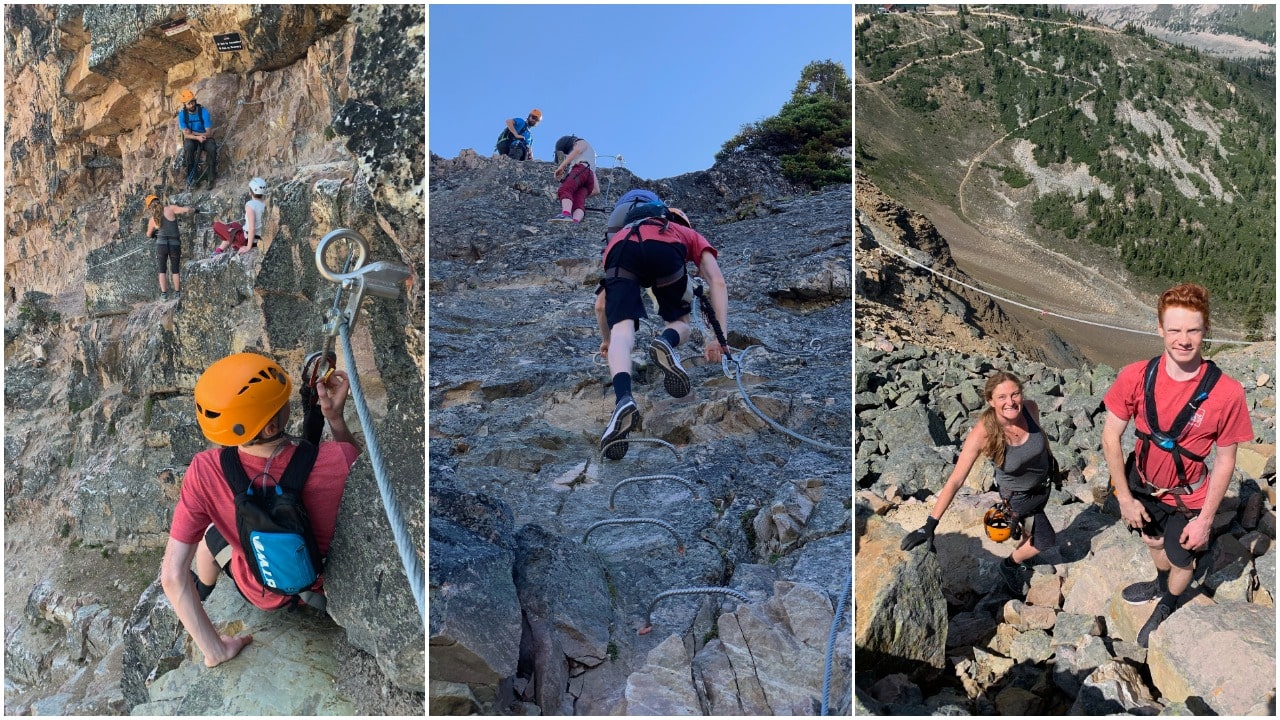 Before starting, we had a quick orientation and training to learn how to use our harnesses and safety clips, especially since Kicking Horse uses a unique "Aeroline" carabiner system that keeps you attached to the face at all times for maximum safety. Then we set off with our guide along the Terminator 1 Ridge until we reached the Glory Bridge that hangs over the T1 face into Bowl Over (one of the best runs to ski in the winter!). After swinging off of the bridge in our harnesses for some extra adrenaline, we continued along the route all the way until we reached Terminator Peak for one of the best views in the Rockies.
Overall, the entire experience was incredible and gave me a whole new appreciation of a resort that I already loved. If you're looking for a fun and exciting way to spend the last couple of months before hitting the slopes, I highly recommend checking out any Via Ferratas in your area and going along with some friends to make some unforgettable memories. Even better, since Via Ferrata tour groups are usually pretty small, this is a relatively safe activity for quarantine while still allowing you to get out and enjoy nature in a whole new way!
Have you tried any other good Via Ferratas lately? Let us know in the comments!